7 Ways To Get Better Messages On Dating Apps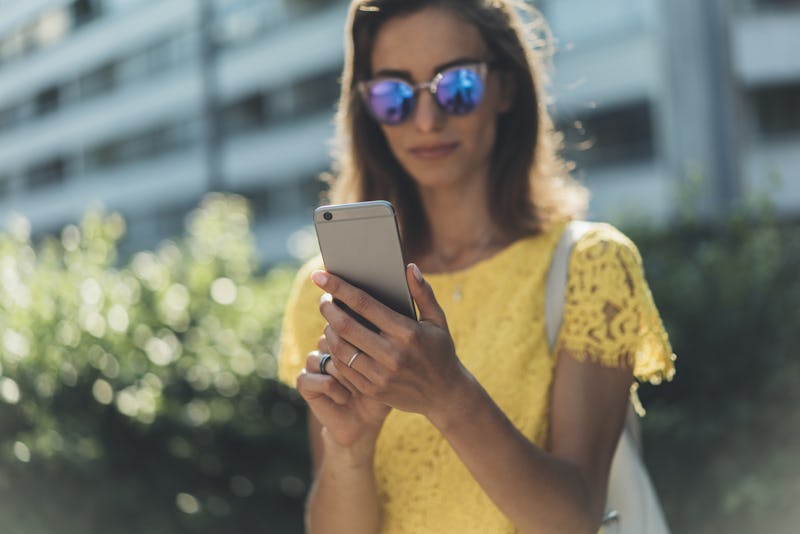 Anyone who does any online dating knows that the messaging system can be harrowing. Whether it's unsolicited dick pics, brilliant one-liners that just say "sup?", or just never getting a response, the back and forth of messaging on dating apps and sites can get exhausting. Luckily for you, however, there are ways you can fill out your online dating profiles that will ensure you actually get messages and, if you're really on it, good messages.
Demetrius Figueroa, founder of the dating blog and podcast Tao of Indifference, has plenty of experience with online dating. His best line in his own dating profiles is "All of my shirts are made of boyfriend material," which you can't deny is pretty brilliant. I asked Figueroa if it's even worth it to craft a great online dating profile, considering how stressful it can be.
"Online dating can be hard, but what makes it worthwhile is how it allows you to broaden your dating opportunities, in a really convenient way," Figueroa tells Bustle. "If you're dating online, you've got a chance to meet people outside your social circle, people that you might never come across, people who might be a great fit for you. And it's all from the comfort of your smartphone."
So how can you ensure your online dating profile will elicit the kind of messages you want? Here are Figueroa's seven top tips.
1. Fill The Damn Thing Out
"I cannot stress this enough," Figueroa says. "If you want messages that have even the remotest amount of thought or effort put into them, you need to put that same amount of effort into your profile. It doesn't need to be a dissertation, but you should at least put something on your profile."
2. Show Your Personality
"Showing your personality gives you an opportunity to filter out people who aren't a fit for you," Figueroa says. "If you mention — directly or not — your personality type, you're making it a lot easier for folks who wouldn't want to date you to not message you."
3. Put Conversation Starters In Your Profile
"Conversation starters are going to be different from person to person, but try to include things in your profile that will elicit a conversation," Figueroa says. "It can be something as simple as 'I am always looking for a book recommendation. What are you reading?'"
4. Highlight What You Are, Rather Than What You Aren't
"You might want to say 'I'm not here for hookups' but you'd be better served by saying 'I'm looking to meet someone who's looking for more than a just a hookup,'" Figueroa says. "You get the same point across while making your profile about what you are, rather than what you are not."
5. Be More Than Where You've Been
"While it's cool that you've traveled a bunch, or lived in a few different cities, you are more than just where you've been," Figueroa says. "Include the places you've lived or traveled to as conversation starters if you'd like, but travel or living in random cities is not a substitute for personality. If your profile is only about your travels, all you'll be messaged about is your travels."
6. Leave Room For Questions
"Don't be afraid to leave a little mystery in your profile to garner some questions," Figueroa says. "Instead of spelling out things hint at them. Give them room to ask a question besides 'How's your day?'"
7. Only Put Things On Your Profile That You Want To Be Messaged About
"Online dating can get repetitive, and you can't control the content of the messages you receive, but at the very least you can control what you show people," Figueroa says. "No guarantee that you won't still get a bunch of generic or copy/pasted messages, but if you do have a profile with content that sparks a message, you'll quickly be able to see who read your profile and is maybe worth responding to."
Images: Giphy (7); Fotolia