5 New Dating Apps To Try ASAP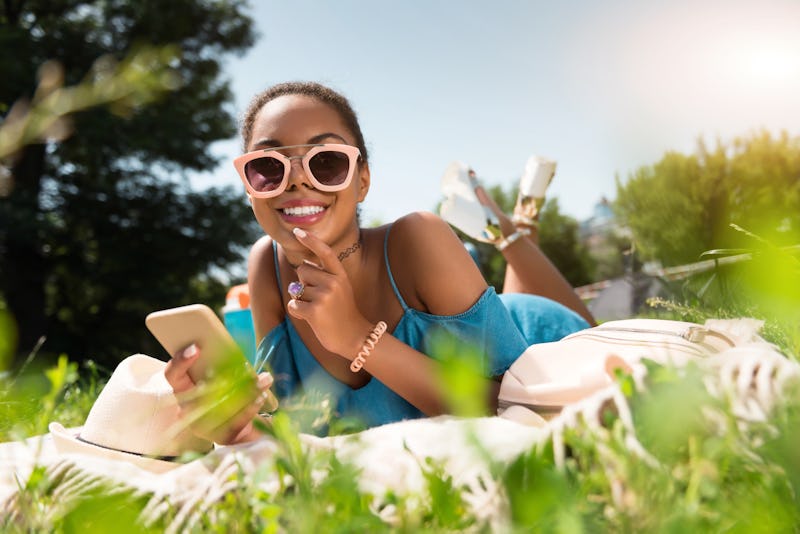 When it comes to finding love digitally, there's no denying that Tinder holds the throne for most popular dating app — it has millions of users all over the world and is prevalent enough that even your parents are probably familiar with it. But why settle for just one pool of potential matches? If you're tired of the same old swiping experience, there are tons of alternative new dating apps. Some of them have no specific requirements for joining, while others cater to niche groups, making it all the more likely you'll find someone you're compatible with. There's a dating site for every romantic quirk you might have, whether you're into kink, only want to date fellow vegans, or are searching for a threesome.
But with so many to choose from, how do we know which dating apps are worth our time? The Dating Awards, founded by London-based blogger and dating expert Charly Lester, are here to help. With categories like 'Best Niche Dating Site', 'Dating Blog Of The Year', and 'Best New Dating App', the awards aim to shed light on some of the most exciting things happening in the world of digital dating. App companies nominate themselves, then of the entries, five finalists are selected. After that, a panel of judges made up of industry experts trial every app and site and rate them on everything from safety to user experience, then the winners are announced at the Dating Awards ceremony.
Fortunately for us singles, online dating no longer carries a stigma of social awkwardness: People of all orientations, ages, and interests are turning to dating apps to find love. "I think dating apps are in a great place at the moment — they have really disrupted the dating industry and attracted a whole generation of users who would have never considered online dating before," Lester tells Bustle. "As apps develop, they seem to be becoming more and more tailored to specific niches — so people can more easily find like-minded people."
However, that doesn't mean that some apps aren't better than others. According to Lester, there are lots of things that could turn users off. "[A dating app] needs to be engaging, and get you back using it regularly," she says. "The company needs to understand its audience and tailor the app to that audience. Safety and data sharing are particularly important features behind the scenes — it needs to be easy to block other members, and report people. From a user experience angle, apps need to have a modern feel and be easy to navigate the first time you use them."
For those of you who want to stay ahead of the online dating curve and expand your romantic horizons, here are the five finalists for Best New Dating App — be sure to find out who won at the 2016 Dating Awards, which take place September 15 in NYC.
When you're dating as an adult, 'playing games' is generally frowned upon, but that all might be about to change thanks to The Catch, a question-and-answer game and dating app rolled into one. After swiping through and getting matches like any other app, hetero women then make the first move by creating a game, setting up questions for matches to answer — like 'What kind of things really make you laugh?' — then inviting men to play. The men then have 24 hours to answer the questions anonymously, after which the woman rates their answers. Whoever gets the highest total rating wins and is 'revealed' to the woman, and the two can begin to chat. Essentially, it's a fun, unique way to meet new people and get to know them quickly, and hopefully pair you with someone who has tons in common with you.
For many, having dissimilar religious views is a huge romantic deal-breaker. If your faith is important to you, it makes sense to try a religion-specific dating app so you know a match has long-term potential before getting emotionally attached. Crosspaths is a new app for Christian singles that lets you choose where you fit on the 'faith spectrum' — for example, are you a weekly churchgoer or just a cultural Christian? — and then get matched with people who are like-minded.
If you're obsessed with updating your story on Instagram or Snapchat, this could be the perfect dating app for you. Lively, a new app from the creators of Zoosk, allows you to "create a moving story of who you really are" by uploading photos from Facebook, Instagram and your camera roll. You can browse the stories of those around you, and express interest if you want to chat with them. If they like you back, it opens up a chat room and the two of you can discuss important things — like the best angle for selfies and the pros/cons of using flash.
For all you minimalists out there who prefer quality over quantity, this app might interest you. Once a day (get it?), you'll get matches handpicked for you by Once's team of matchmakers. You and your potential matches will see each other's profiles at the same time, and you both have 24 hours to make a move and chat before getting a fresh batch of matches the next day. That small window of time gives users a gentle nudge to put aside any shyness they might feel and start talking before it's too late, so it's perfect for anyone who wants to get the romantic ball rolling quickly.
What's better than dating by yourself? Being able to bring your BFFs along for the ride. 'Social dating' — as seen in Tinder's new feature Tinder Social — is fast becoming popular with Millennials, because it takes away some of the pressure of traditional dating. Squad is a swiping app for groups of friends that lets you browse other friend groups and open up a group chat with all of you if there's mutual interest. Whether you all just want to hang out platonically or if you want to have a group date, you can meet up with other squads and expand your social circle. Because no one is smothered by romantic expectations and typical first date jitters, romantic connections might form more organically when you're out with your squad.
Images: Fotolia; Apple App Store (5)