The 12 Best Sales On Fall Boots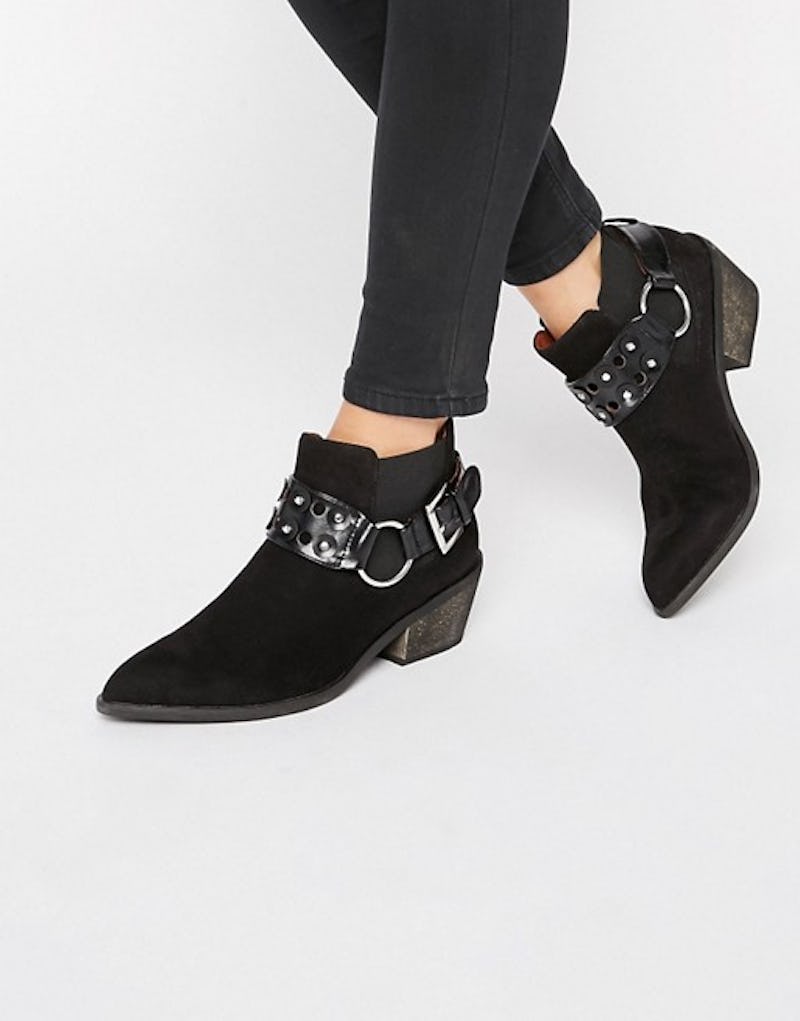 As someone who swears by denim shorts in 60 degree weather and listens to the Beach Boys year-round, fall season has never been my forte. While most are sipping their ninth PSL of the week and Instagramming this strange phenomenon called "changing leaves," West Coast me is struggling to understand it all. I'll confess: I'm not completely sold on the idea of autumn, unless we're talking fall boot sales.
With that being said, I'm willing to make the switch to closed-toe footwear if it means I get a side of retail therapy action (but there's still a slight chance that I'll have separation anxiety from my trusty Sam Edelman sandals). Shoe-shopping can be daunting, but at least when it comes to fall boots, it is only a matter of taste preference. Heel or no heel? Suede or leather? Ankle or knee-high? Truly a Sophie's choice, if you ask me.
Now that autumn is upon us, it is time to delve into the sea of fall footwear. Boots, especially, can rack up a hefty price tag, but have no fear: I've rounded up the 12 best deals, with everything from the classic Chelsea to trending fringe. Rest assured, you won't be betraying your piggy bank anytime soon, and that's a relief — I mean, every dollar saved just means another dollar for your Starbucks PSL fund anyway.
As for me, I'm incredibly tempted to hit "add to cart" on all of these boot bargains. I guess you could say I'm a changed woman.
1. The Western Boot
London Rebel Western Ankle Boots, originally $96.74, now $67.72, asos.com
Hello, modern day Annie Oakely — meet the western ankle boot, perfectly paired with shearling vests and bolo necklaces.
2. The Fringe Boot
ASOS Riley Suede Western Fringle Ankle Boots, originally $80.62, now $56.43, asos.com
Blame it on my newfound obsession with Westworld, but I think my love affair with fringe just got a touch more dangerous.
3. The Cut-Out Boot
Vince Camuto Peera Cut-Out Bootie, originally $149.95, now $129.90, nordstrom.com
For those who like to indulge in the game of teasing, cut-out booties are the answer.
4. The Over-The-Knee Boot
Truffle Collection Scuba Over The Knee Boots with Contrast Heel, originally $99.96, now $72.55, asos.com
Give a woman over-the-knee boots, a perfect hair day, and her daily AM caffeine and she can conquer just about anything. It's all in the power dressing.
5. The Chelsea Boot
Ravel Buckle Strap Leather Chelsea Boots, originally $137.05, now $83.84, asos.com
I'm a firm believer that one can never do any wrong with Chelsea boots — it's a versatile staple for every and any shoe collection.
6. The Rain Boot
Sam Edelman Tinsley Rubber Rain Boot, originally $55, now $39, samedelman.com
Time to beat the forecast and prep yourself for the coming winter months (and now, I shall go back to pretending that rain is non-existent in NYC).
8. The Velvet Boot
Truffle Collection Unlined High Ankle Boot, originally $85, now $59, asos.com
Go for full-on seventies flair with velvet boots. I can imagine the loop of getups already — flare jeans, striped polos, corduroy jackets, the whole package.
9. The Riding Boot
Sam Edelman Penny Boot, originally $169.95, now $149.90, nordstrom.com
How's that for equestrian chic?
10. The Snakeskin Boot
ASOS Rosa Wide Fit Leather Boots, originally $80.62, now $40.31, asos.com
Make a statement this autumn with a splash of snakeskin. Goodbye, mundane uniforms.
11. The Lace-Up Boot
London Rebel Lace Up Kitten Heel Boot, originally $102, now $62, asos.com
You love your kicks, but you also love your boots — how is one to overcome indecisiveness? Two words: lace-up boots.
12. The Wedge Boot
Modcloth Against All Auditions Suede Bootie, originally $84.99, now $41.99, modcloth.com
Because, trust me — those extra inches of glory matter.
Images: Courtesy Brands