Superman Won't Steal The 'Supergirl' Spotlight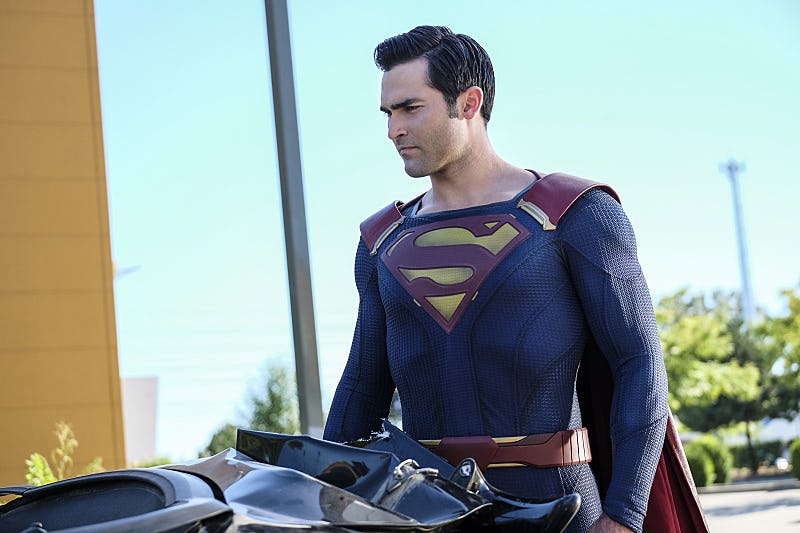 The first season of Supergirl avoided actually introducing grown-up Superman, finding ways to obscure the famous hero in most of Kara's memories. But now, Teen Wolf's Tyler Hoechlin has been cast as Clark Kent for the upcoming second season, so the question is, how many episodes of Supergirl will Superman will be in once we finally get to meet him? Right now, it seems like he'll be a major part of the very beginning of the season, as executive producer Andrew Kreisberg said in a statement when Hoechlin was cast, "Superman will be appearing in the first two episodes of the new season." Though it's always possible that Clark could return from time to time and check in with Kara or lend a hand when needed, executive producer Ali Adler made it clear to TV Guide that the show will always focus on Supergirl, including during those two episodes.
"Clark isn't the person calling the shots during his two-episode arc," Adler told TV Guide. She also said that Clark and Kara working together shouldn't overshadow the fact that this show isn't about Superman, it's about Supergirl. It was simply time to add another hero to Kara's story. "Last year was the year where we very much proved that she took the mantle of Supergirl and she became so powerful that she ended up saving the world," Adler said. "I think it was a natural time to tell the story of her very famous cousin. If we hadn't told that story, it would have been the elephant in the room - the very powerful, flying elephant."
So if Superman ever returns to Supergirl after those two episodes, it will be because it's a situation that calls for him. Most of the season's small-scale weekly adventures likely wouldn't require Earth's most famous hero, as Kara is more than capable of battling National City's threats on her own. Besides, Hoechlin may be a little busy this year, as he could be appearing on Teen Wolf for its final season, according to hints from the series' New York Comic-Con panel, and will play Boyce Fox in the Fifty Shades of Grey sequel.
When Entertainment Weekly asked Hoechlin asked if he'll ever return to Supergirl, he said, "You know, I don't know. I know that's a big discussion between Warner Brothers and Berlanti, so those are all decisions left up to people that have much different jobs than I. I let them handle that and we'll see where it goes and what happens next, but for the time being, I'll have to wait and see." The magazine also asked if there could be a Superman standalone series next, to which he gave a similar response, saying that it's not up to him. But for anyone hoping to see Hoechlin again after those first two Supergirl episodes, it's definitely a good sign that as recently as a few days ago, he posted an Instagram of what looks like the Daily Planet set.
Superman will definitely be a big presence in the first two episodes of Supergirl, but the people behind the series are committed to letting Kara remain the star of the show. Whether Clark returns to National City later in the season remains to be seen, but in the meantime, we should just be excited to see more of Supergirl's own adventures.
Image: Robert Falconer/The CW