'Brooklyn Nine-Nine' Can't Come Back Soon Enough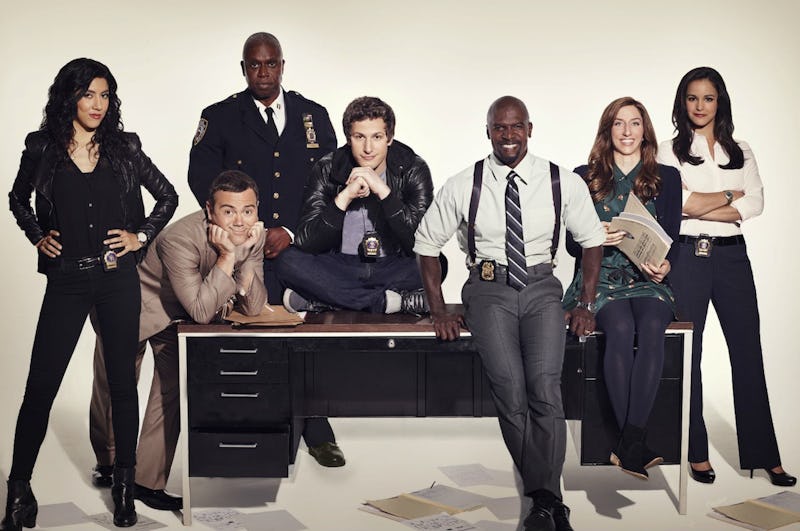 In early March, it was a pleasant surprise earlier in March to learn that Fox is bringing Brooklyn Nine-Nine back for Season 2. Along with that news, the network also announced, mercifully, that it would be bringing back other must-have comedies like The Mindy Project and New Girl. Kevin Reilly, Chairman of Entertainment, and Joe Earley, Chief Operating Officer, Fox Broadcasting Company said in a statement at the time, "These shows are some of the best and acclaimed series on television, with influential, culture-driving stars, and some of the best, most creative talent behind the camera."
Granted, it was a pretty early renewal announcement for a series that isn't exactly a ratings juggernaut (even though it should be, post-Super Bowl slots or otherwise), but the freshman comedy has been a hit with critics, the awards circuit (at the 2014 Golden Globes leading man Andy Samberg won Best Actor - Television Series Musical or Comedy, while the show itself walked away with Best Television Series- Musical or Comedy) and GIF-culture fandom. Fox clearly has faith in the off-beat series, though hopefully it will endure a longer fate than, say, Arrested Development.
While no return date has been set for Brooklyn Nine-Nine, here's what we can tell you: Season 2 of the series will have Samberg's Jake Peralta exploring a whole new segment of his career (and we don't mean learning to regularly wear a tie). But, his personal life could get a shake-up, too. Don't count out a possible romance between Jake and Amy (Melissa Fumero), despite her blooming relationship with Teddy (Kyle Bornheimer). But, let's be honest, the relationship we're all really pulling for in Season 2 is Rosa (Stephanie Beatriz) and Charles (Joe Lo Truglia).
It's pretty much a guarantee that Season 2 will pull in more guest stars (Season 1 saw stars like Patton Oswalt, Adam Sandler, and Marilu Henner stop by), but what we're really hoping to see in the 2014-2015 is more awards season love for the indispensable supporting cast. Samberg is great and all, but there's no way he or the goofball Jake would work without the balance of the dry Captain Holt (a stellar Andre Braugher) or the fearless Gina (Chelsea Peretti). This is an ensemble show, through and through, and hopefully that will be recognized more in the second season.
Image: Fox