Glossier's Generation G Lippies Cost This Much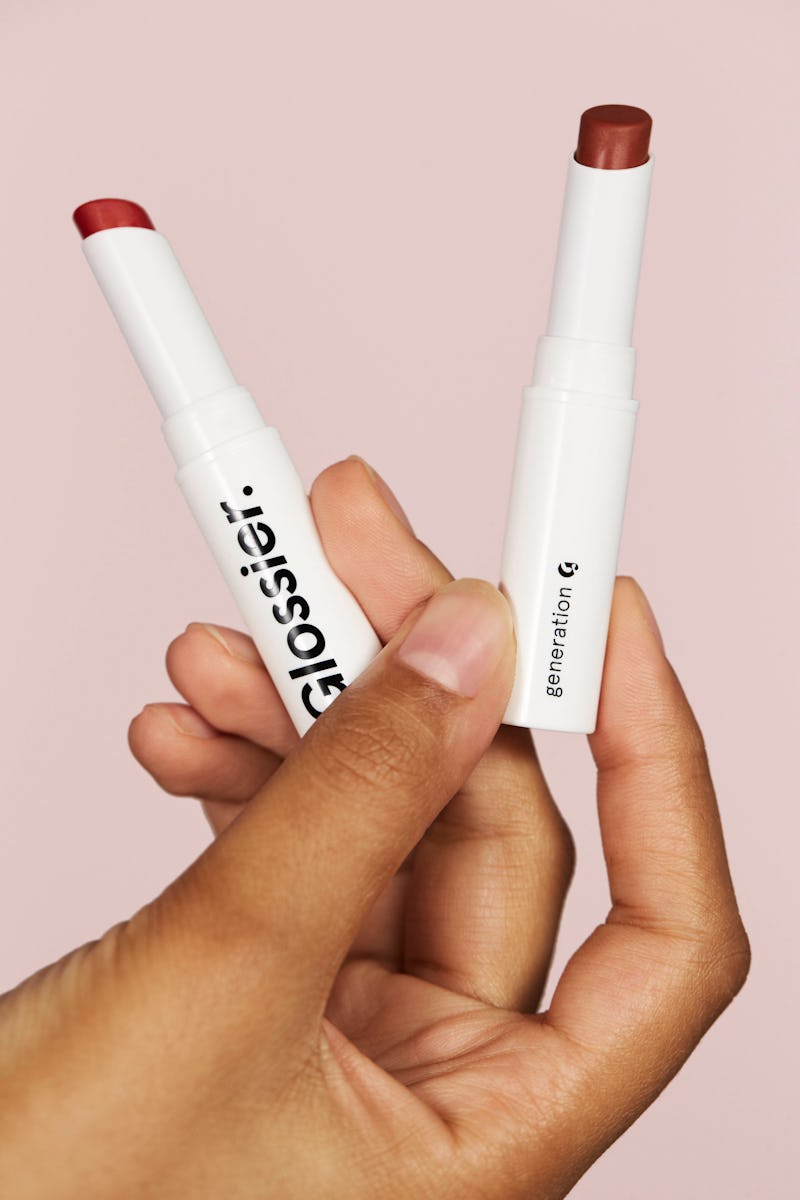 It's time to update both your fall clothing and lipstick wardrobe with new, fresh pieces and hues. Glossier's Generation G lipsticks launched earlier this year with four shades and these lippies offer sheer, matte pigment for your pucker. The brand is expanding and adding two brand new shades to the Generation G repertoire. The newbies are named "Zip" and "Leo." The shades are available on Monday, Oct. 10. How much are the Glossier Generation G lipsticks?
The Glossier Generation G lipstick are $18 a piece. As expected, the Gen Gs are sold exclusively via the Glossier site, which is the brand's sales platform.
Now, let's discuss the actual matte yet moisturzing shades themselves. Zip has the honor of being the first-ever red Gen G lippie. It's actually a poppy hue with a touch of orange and it should look good on everyone.
Joining Zip as the new kid on the block is Leo, which is a '90s-inspired, warm and rich cocoa. The shade shares its name with Kylie Jenner's maroon Lip Kit. But these hues are not similar in any way, despite the joint moniker! Glossier created Leo to serve as the perfect nude for olive and dark-skinned beauties. Leo also works as pretty brown for fairer-skinned lovelies.
That ups the Generation G lineup to six shades that stain lips with rich, matte-yet-moist color.
Oh, hey Leo! You are hotter than chocolate.
Yo, Zip! You got pop. Adding two new shades to the collection isn't the only way Glossier has updated the Generation G lipstick range. The brand has upgraded the formula for all shades. How so?
The Gen G formula now offers an even creamier and dreamier, insanely moisturizing slick of color. The product recipe now includes triple coated mica, safflower oil, and blue agave. Those ingredients allow the pigment will glide across your lips like a ballerina. Gen Gs also wear comfortably on your pucker. No drying or cracking here. Whew!!!!
You can wear the Generation Gs in multiple ways, because #options. You can swipe onto lips once or twice, directly from the bullet, for a fresh wash of color.
Or you can apply three or four coats for a deeper, more rich, and defined look that pops.
You can use a lip brush, too. Or you can apply the Gen G from the stick and then use your pointer finger to dab for an unfinished, "just kissed my crush" look.
Glossier's Generation G color lineup also features Cake, a warm peachy nude; Like, a powdery pink blush; Crush, which is a hot raspberry; and Jam, which has a grape stain effect and is gorge.
#SquadGoals, indeed.
Images: Courtesy of Glossier (8); Glossier/Instagram (1)