This 24-Year-Old Merman Is Your Monday Inspiration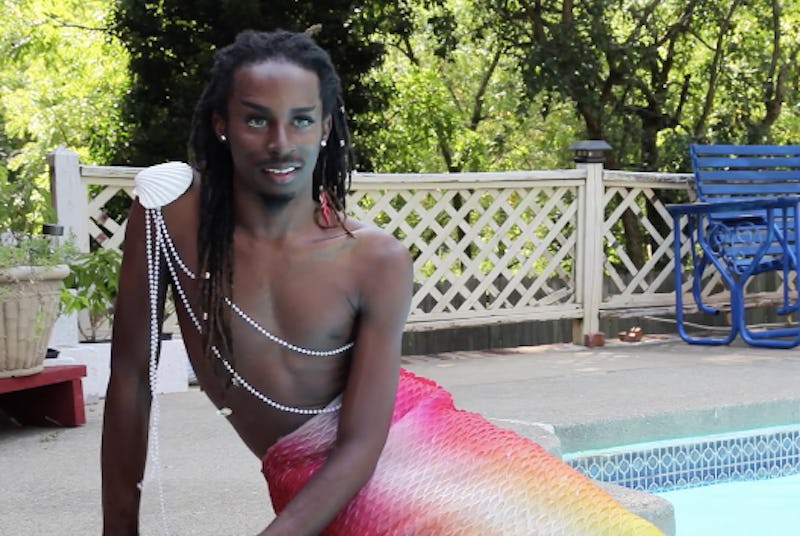 When you picture a mermaid, you probably imagine long flowing hair, an iridescent tail perfect for splashing around the water, and even a singing crab companion. But the way we think of these legendary aquatic creatures is about to change, thanks to one 24-year-old merman. Move over King Triton, there's a new mer in town.
Eric Montel lives as a professional merman in Atlanta, Georgia — but Atlanta might as well be Atlantica for all the time he spend in the water. "I eat, sleep, and breath... mermaids, mermen, the whole life," Eric said in a video published on Facebook. "It's a everyday thing." The mermaid style is definitely having a moment in popular culture, but for Eric this is not just a passing fancy or trend. Even as a kid, Eric believed that he was meant to live under the sea. "My family knew I was a merman for a very long time because I used to wrap my feet up in blankets and shape it in a mermaid form," Eric explains in the video.
Eric has wanted to live as a "mer" for most of his life, however only recently turned his passion into a profession. "I've always been a mermaid lover since I could walk and talk," Eric told BuzzFeed in an interview. "I got my first tail in 2012 and started taking being a professional merman seriously about two years ago."
Eric wears beautiful silicone tails made by his godmother Natasha, who runs the mermaid business Najestic Entertainment. He frequently causes a splash at parties and events under the name Rasta Merman Blix, working as a merman entertainer. For Eric, the gig is a dream come true. "The best part about being a merman is putting fins on and transforming into this enchanting creature. The feeling of my locks dancing with the water. Being able to wear fancy makeup and ocean accessories," Eric told Bustle. "Also i am fortunate enough to be able to pick any tail i want to swim in from the Najestic Entertainment shop!"
Though the seashell perks are amazing, being a merman is not just about fun and games — it goes far deeper than putting on the scales. As a "two-legger," Eric feels inundated by "real world" problems, but once he steps into his colorful tail everyday stresses melt away. "Ever since I was young, swimming in water felt like peace for me," Eric told Bustle. "It feels so free and being submerged takes all my doubts and worries away."
In a video titled "I'm a gay mermaid!" Eric offers a peek into his life as a merman. He encourages fellow mermaid lovers to express themselves, and live their mermaid/merman fantasies, "No matter what anybody says, if you want to wear a tail, put on a tail and be a mer." Since being posted on Facebook less than two weeks ago the video has already received nearly two million views, and thousands of likes and comments.
The warm reception came as a surprise to Eric, who is already building a strong fanbase outside of Atlanta. "When i first saw how many people watched, it shook me. I knew people would watch it but i wasn't expecting it to get so big," Eric told Bustle. "It's so humbling to see so many people write me everyday to say they saw the video and thank me for inspiring them. It's a bombtastic feeling."
Eric hopes that he can set an example for the merman community. "I just want anybody that looks like me or not at all like me to know that if they want to become a REAL mer, all they have to do is make sure they feel it within themselves first," Eric explained to Bustle. "It's more than just putting on a tail, it's a lifestyle. Work on your swimming techniques... and if there are people joking on you for wanting to be a mer, just simply laugh at them and call them a 'normal 2 legga!'" As Eric says in the video, as a merman, no one can hold you back. "Being a merman has taught me to be free. To not care what anyone thinks. To be like the ocean, to just be free and follow your own current."
Swim on, Eric!
Images: wickydkewl/YouTube, gigsalad/RastaMermanBlix