The KENZO x H&M Lookbook Is Incredible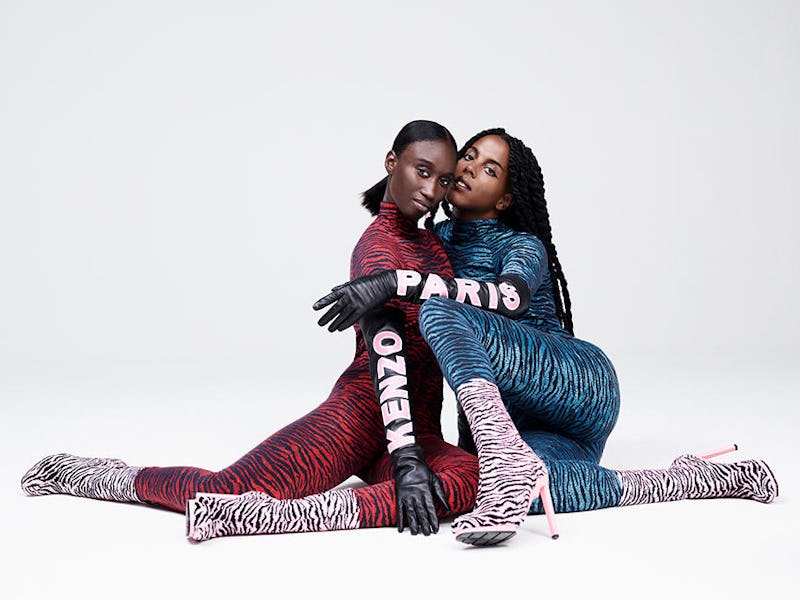 In summer 2016, fashion lovers got a small taste of the upcoming KENZO x HM collaboration, when a sneak peek of the images was included in a Jean-Paul Goude ad campaign. Now, KENZO and H&M loyalists alike have an even bigger reason to celebrate: The entire KENZO x H&M lookbook is online ahead of the collection release on Nov. 3. The collaboration is, in a word, epic.
Naturally, fans of both brands are expressing their excitement on social media, reminding fashion followers of previous major H&M collaboration with designers like Balmain, Alexander Wang, and Isabel Marant. The Balmain x H&M collab sold out in hours, and the Wang x H&M collab was so hyped, there were articles exclusively about how hyped it was. The excitement for the KENZO is just as palpable, as the Parisian brand is beloved by style-seekers that prefer their aesthetic to remain funky and fresh — and no one can argue with the (hopefully) slightly lower KENZO price points offered at H&M.
The collection is a celebration of technicolor animal prints, snuggly separates and bold maxi dresses, to name a few. There are also coats, jackets, scarves, accessories, sunglasses, totes, gloves, galoshes, and more — Kenzo x HM even has some signature socks in the mix. The pièce de résistance, however, might be this bonkers denim puffer coat. Let's give this one approximately three minutes on the floor before it's completely sold out.
The rest of the collection is pretty incredible, too.
The KENZO x H&M collection will be available in over 250 stores worldwide as well as online. The images in the lookbook were shot by photographer Oliver Hadley Pearch.
One of the coolest aspects of the campaign is the cast of ambassadors Kenzo's Carol Lim and Humberto Leon put together to model for the lookbook. The photos include writer and activist Amy Sall, photographer Youngjun Koo, artist and DJ Juliana Huxtable, musician and performance artist Oko Ebombo, fashion editor Harriet Verney, makeup artist Isamaya Ffrench, artist Ingrid, musician Anna of the North, model and rapper Le1f, and models Mae Lapres, Hao Liu, Selena Forrest, Tom Gaskin, Julia Banas and Pierre Paincthaud.
The diversity in backgrounds of ambassadors and the mixed prints and vibrancy of the KENZO x HM aesthetic makes one thing pretty clear: These are cool clothes for people who are all about a fresh aesthetic, and aren't afraid to go a bit bolder with their looks.
Of course, with a collaboration as amazing as this — and the incredible images to back up the hype — fashion Twitter was basically beside itself.
Best of luck to anyone brave enough to shop the collab IRL on Nov. 3, as it's likely to draw a crowd. Be strong, though: The power of accessible, genius fashion design compels you.
Images: Oliver Hadley Pearch/HM