Pence & Trump Are In A Loveless Relationship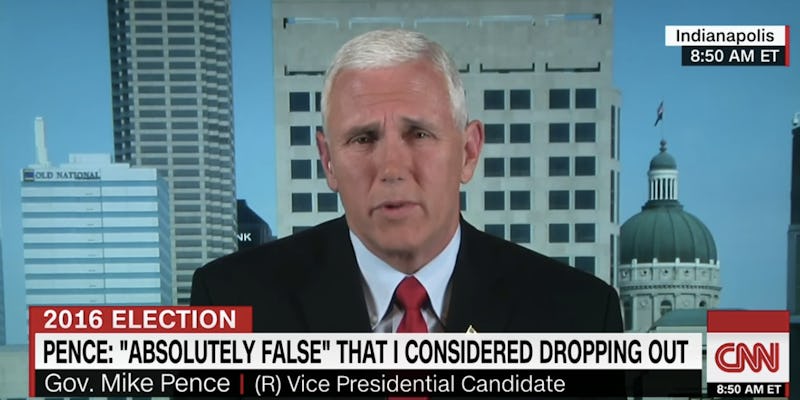 After Donald Trump's decision to break with his running mate during the second presidential debate, Mike Pence and others in the Trump camp have been busy trying to project the image of a unified ticket during interviews and television appearances this morning. It's been clear since even before he was formally named as the vice presidential pick for the Republican ticket that Mike Pence was not Donald Trump's first choice. Pence openly disagreed with Trump multiple times during the primaries, most notably when he condemned the plan to ban all Muslims from entering the United States as "offensive" and "unconstitutional," and he continued to break from Trump after he was named as his running mate.
From Donald Trump's stance that John McCain is not a war hero, to their views on whether or not the Trans-Pacific Partnership is a good trade pact, to what they think about abortions in the case of rape, Trump and Pence have not been on the same page about many issues for quite a while.
The past few days have been particularly hard on the relationship between these two, however. While Pence did not declare Trump unfit to be president following the publication of the infamous Trump tape — as over a dozen Republican senators and governors did — he released a statement condemning Trump's words as offensive and indefensible.
This is more than likely what led to the Republican candidate's surprisingly blunt disavowal of Pence's views on Syria during last night's debate. "He and I haven't spoken, and I disagree," he said. His tone was noticeably curt. Speculation that Pence might drop out of the ticket, which began after his statement on the now-infamous Trump Tape, intensified after this incident.
Pence has since been doing damage control. He appeared on CNN this morning to declare his loyalty to the Republican nominee and his commitment to remaining as his possible second-in-command. "It's absolutely false to suggest that at any point in time we considered dropping off this ticket. It's the greatest honor of my life to have been nominated by my party to be the next vice president of the United States."
He also attributed the disagreement Trump expressed last night in regards to Pence's stance on Syria to on the way moderator Martha Raddatz framed the question. "The question I had was about the humanitarian crisis in Aleppo," he said, "And I think the way she had framed that was to suggest that I had implied we ought to use military power to achieve regime change, and I had simply never said that."
After the debate, a spokesman for the Trump campaign, Jason Miller, also insisted there was no division between the two men. "This is the most united ticket that we've ever seen," he said. "Mr. Trump and Gov. Pence talk every single day. This is a great ticket. Couldn't be stronger. And the rest of this is just silly nonsense."
With the number of times Trump and Pence have disagreed on issues in public, and a campaign at a disadvantage in an election that's less than a month away, it seems doubtful that these differences have not caused tension behind closed doors.