What The New 'Fantastic Beasts' Posters Tell Us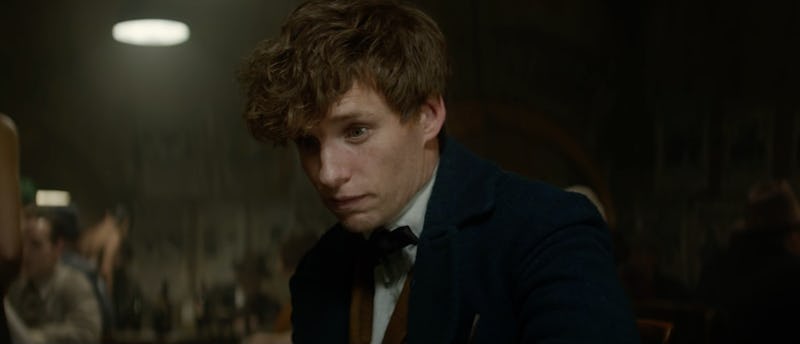 Any passionate Potterhead is clinging to each tidbit released surrounding the upcoming Fantastic Beasts And Where To Find Them , and each tease is introducing us to a new magical world. Monday, another door was opened: Entertainment Weekly debuted nine posters of the Fantastic Beasts cast, acquainting us with a new slew of witches and wizards alike. But what do these new Fantastic Beasts posters actually tell us about the characters?
And with the traditional whimsy of a Harry Potter film, Newt Scamander and the gang certainly look like an unconventional folk. Read: everyone has bad hair. Everyone had really questionable, confusing, bad hair. These posters are visually stunning and all, but seriously, what stylist allowed this? Anyway...
You're probably aching to learn more about the new wizards on the block. So be it. Here is a brief summary of what we've found out about the Potterverse's American sect so far, and what we can assume about these ridiculous folk based on their posters. Catch Fantastic Beasts And Where To Find Them November 18 and see if the assumptions line up!
1. Newt Scamander
We already know a good deal about this magiczoologist with a suitcase of beasts... one accidentally opens up in 1920s New York. Classic Hufflepuff move, Newt. What is freshly apparent, from this particular poster, is that Newt is going through an Emo phase, evident from his wing of eye-obscuring hair. Considering it's the Jazz Age, we can give Newt snaps for being so ahead of his time. Like, who even cares about the monsters wreaking havoc in Manhattan?
2. Porpentina "Tina" Goldstein
First of all, LOL forever at "Porpentina." Beyond that, we now know that Tina is an American Auror who has fallen from grace, having used unauthorized magic and subsequently receiving a demotion. That's pretty sad. What's also sad is that she clearly hasn't learned the beauty of layering. But whatever, I get it, it's 1926. I'm just saying that it didn't stop Newt from looking so dashingly early 2000s.
3. Jacob Kowalski
Jacob is basically a Muggle (don't even try to throw that "No-Maj" terminology down my throat, movie) who gets wrapped up in Newt's shenanigans. It is very, very clear that he has no aversion to carbs. I'm sure that bravery will come in handy later.
4. Seraphina Picquery
Seraphina is the head honcho of the Magical Congress of the United States of America. It is, however, totally understandable that you'd look at her job description and that excellent curly-q with a mauve lip and think she's CEO of MAC cosmetics. Definitely not the case, but everything about this witch screams, "fabulous."
5. Queenie Goldstein
Tina's younger sister Queenie is a "Legilimens," which apparently means she can read minds. She's also a total babe who understands the subtle appeal of a low-back dress.
6. Mary Lou Barebone
Mary Lou is a mother and leader of the New Salem Philanthropic Society, which (if you couldn't deduce this) is big on condemning witches and wizards like it's 1666.
7. Credence
One of Mary Lou's children, it seems that Ezra Miller has traded that playful smile and impish glint in his eye for a unfortunate undercut in this film.
8. Percival Graves
The MACUSA Director of Magical Security is suspiciously near a Deathly Hollows necklace. Clearly Colin Farrell traded in his dashing sex appeal for that and an unfortunate undercut in this film.
9. Gnarlak
Gnarlak is proof that Fantastic Beasts is going to make up for the lack of disturbing-looking Gringotts Goblins in this film, and that is all I have to say about that.
Images: Warner Bros.