A 'Bad Moms' Sequel Is Happening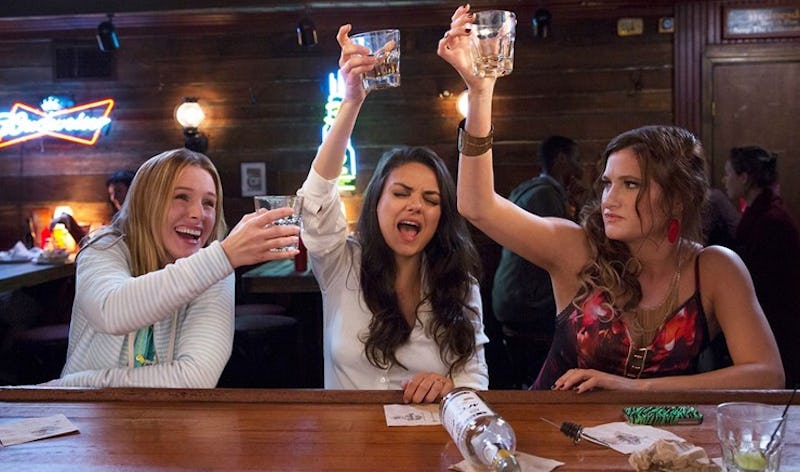 Don't get me wrong, I loved Bad Moms. It was an irreverent, trope-subverting comedy that featured a literal goldmine of female talent. But does the success of Bad Moms equal a sequel? It certainly looks that way. Eager to build off of the fun that Bad Moms had over the summer of 2016, STX has already green-lit Bad Dads , the intended spinoff to Bad Moms in the hopes that it will spawn of full franchise, all falling under the thematic umbrella of "bad parenting."
While a spinoff and a sequel are not necessarily the same thing, the mere fact that a spinoff of a very hot and forward-thinking female comedy is slated for a summer 2017 release (indicative that the studio really wants to build off the Bad Moms momentum) leaves me nervous and speculative. Why does the spinoff have to involve bad dads? If the trope of a "bad dad" pre-existing and well-established (see Three Men and A Baby, Mr. Mom or What To Expect When You're Expecting), then what could be gained from a spinoff in this scenario?
Well, I certainly think that building a franchise off the theme of "bad parenting" is an intriguing route to take. Bad Moms makes a case for the modern mom not being able to abide by old-school rules of maternity (nor should they have to); for a spinoff like Bad Dads to work, it would have to actively and perhaps outrightly bash old-school societal and cinematic tropes of fatherhood in a similarly subversive manner. Thus, the "bad parenting" theme would simply mean that the ways in which we have been taught to parent or perceive as effective parenting are getting thrown out the window for both moms and dads.
And if, as Variety reports, the STX studio does choose "to focus on extending consumer passion for the Bad Moms brand with a series of film spin-offs, a reality television show, short form digital content, and a robust consumer products program," then they could actually have a very meaty and narratively rich subject to spin into a variety of platforms. Can you imagine what a Bad Moms reality television show would look like? It would be the hottest show on Bravo. What kind of short form digital content can be gleaned from Bad Moms? Are there more spinoffs to be had? I have literally zero idea what STX's plans are to flesh out the Bad Moms universe but if there's a way to involve Kristen Bell, Mila Kunis and Kathryn Hahn in any way, please count me in.
Images: STX Entertainment; Giphy