'90s-Inspired Beauty Products You Can Buy Today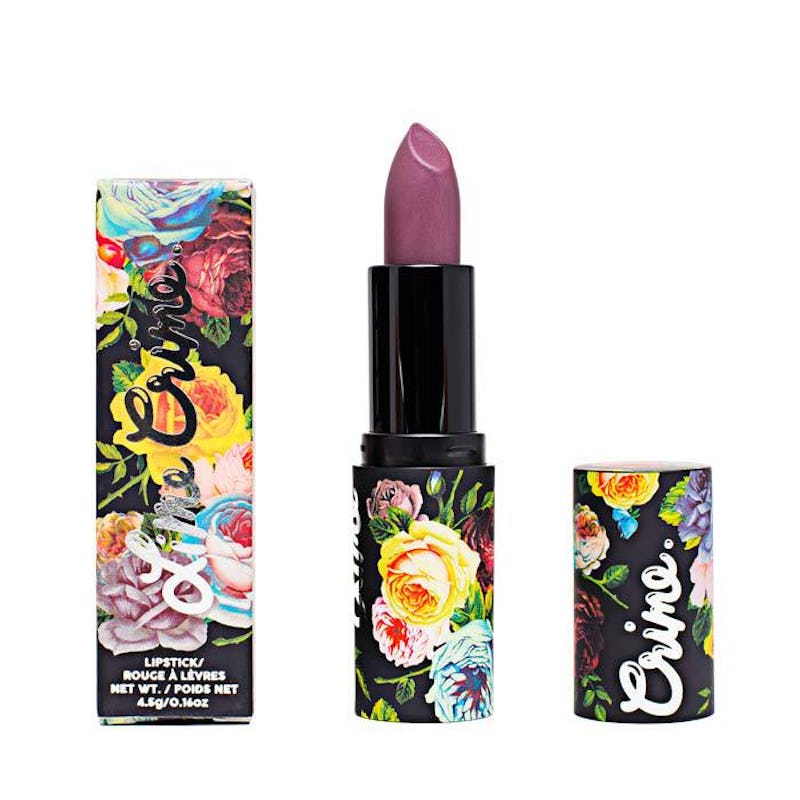 Everyone pretty much agrees; the '90s are back, and they're here to stay. At this point, you've probably already stocked up on tattoo chokers, skater dresses, and all things plaid, but how else can you get in on the trend? Well, shopping all the '90s-inspired beauty products is a great place to start — and luckily, a lot of '90s beauty trends are on the rise as well, thanks in part to the advent of Kylie Jenner's mega-popular Lip Kits. And honestly, some of the trends never truly left — I mean, sure, glittery lotions are a little harder to get a hold of these days, but they still exist if you look hard enough. And who doesn't have a deep abiding love of metallic lipsticks?
At any rate, where should you start? Well, if you really want to go all out on the whole '90s throwback beauty trend, you're going to want to start stocking up on everything from pastel eyeshadows to mood lipsticks; from Cher Horowitz-approved super glossy pink lip gloss, to Morticia Addams-style deep brown matte lip cremes — there are so many different '90s trends that appeal to so many different personalities. Read on for 11 '90s beauty throwback must-haves!
1. Mood Lipstick
Lipstick Queen Frog Prince Lipstick, $25, Ulta
This lipstick is the perfect throwback. It's got all the '90s nostalgia you could ask for, while also sporting some of-the-moment chic packaging, as well as a kickass formula.
2. Glitter Nail Polish
UO Emoji Nail Polish, $6, Urban Outfitters
The '90s were all about glittery nail polishes, so why not give the old trend a modern twist with some tiny emoji sequins?
3. Brown Lipstick
ColourPop Ultra Matte Lipstick in LAX, $6, Colourpop
Come on, make late '90s-era Angelina Jolie proud.
4. Blue Eyeshadow
Benefit Creaseless Cream Eyeshadow in Blue My Mind, $20, Macys
Blue eyeshadow — preferably of the shimmery variety — is a definite must.
5. Pastel Eyeshadow
MAC 'Pastel Time Nine' Eyeshadow Palette, $32, Nordstrom
In fact, why not go all out with a whole palette of pastels? Pale green and pale lavender shades in particular were also super popular at the time.
6. Body Glitter
Nuxe Huile Prodigieuse Multi-Purpose Shimmer Dry Oil, $36, Ulta
It's like body glitter's more luxurious cousin.
7. Hot Pink Lip Gloss
ColourPop Ultra Glossy Lip in Honey B, $6, Colourpop
Live out your Clueless-fueled dreams of Beverly Hills in this high-coverage, high-shine shocking pink.
8. Lip Liner
Charlotte Tilbury Lip Cheat Re-Shape & Re-Size Lip Liner, $22, Bloomingdales
Of course, lip liner was a '90s beauty must. If you're interested in recreating those oh-so-slightly overlined looks from back in the day, grab a moisturizing formula like this one from Charlotte Tilbury.
9. Mattifying Powder
Bésame Cosmetics Brightening Setting Face Powder, $22, Sephora
Go for throwback inception with this popular Old Hollywood-inspired powder to get that quintessentially '90s matte complexion.
10. Glitter Eyeliner
Urban Decay Heavy Metal Glitter Liner, $20, Urban Decay
Does it get more peak '90s than Urban Decay? I think not.
11. Metallic Lipstick
Lime Crime Perlees Matte Metallic Lipstick in Charmed, $18, Lime Crime
Last but not least, why not combine '90s trends by choosing a metallic lipstick in a retro shade of mauve?
If I were you, I would collect every single one of these.
Images: Courtesy Brands