'Freakish' Stars Vine & Youtube Favorites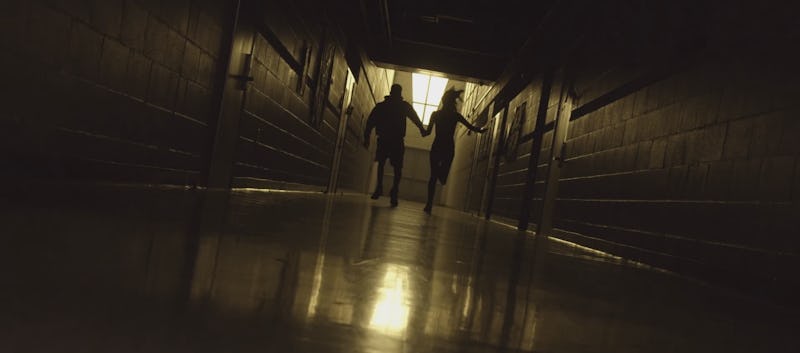 Hulu's newest original series Freakish promises to make a usually dreadful day of high school look like a breeze compared to what its characters go through. After being caught in Kent High School after a massive chemical explosion (on a weekend, no less), the remaining students have to survive not only their flesh-eating former classmates, but each other. Most of the cast are relative newcomers, with no major names anchoring the series — unless of course, you are an avid follower of Youtube and Vine personalities. If so, Freakish is likely a show you've been anticipating for quite a while, because the Freakish cast features multiple social media personalities.
While many of the performances on Freakish come from traditional actors, part of the show's appeal is its inclusion of stars from modern video mediums like Vine and Youtube. This casting approach is further proof that these types of social media spaces can genuinely be star-launching platforms. With so many new faces from different backgrounds, it can be difficult to keep track of Kent High School's many students. Here's a rundown of the cast and characters so that you can keep up with the fast-paced plot of Freakish.
Leo Howard As Grover Jones
Leo Howard is a young actor, but that doesn't mean he's new to the world of television. After cutting his teeth as a star in the Disney XD series Kickin' It, Howard earned a Guinness World Record for being the youngest person to direct an episode of television. Howard stars as Grover Jones, the clever and empathetic protagonist of Freakish.
Liza Koshy As Violet Adams
Liza Koshy is a popular Youtube personality — her account has over 4 million subscribers — but from her performance as Violet Adams you'd never guess she was as goofy and vibrant as she is in real life. Violet is a quiet student with a sharp wit and no patience for stupidity. Koshy herself, on the other hand, has an entire channel devoted to celebrating fun and silliness.
Adam Hicks As Diesel Turner
Adam Hicks, like Leo Howard, is another former Disney XD star. Hicks starred in the television series Zeke and Luther, and has since pursued a rap career under his own name. Hicks stars as Diesel Turner, the school's bully with a penchant for sharp weaponry.
Aislinn Paul As Natalie Callaway
Aislinn Paul is familiar to many for her role on Degrassi, but also maintains a devoted social media following on Twitter and Instagram. Paul plays Natalie Callaway, the school president hopeful who finds her leadership skills put to the ultimate test.
Megan Rienks As Zoe Parker
Megan Rienks may play the confident and cool Zoe Parker in Freakish, but her Youtube personality is anything but. Rienks prides herself on being awkward and easygoing while providing fashion how-tos and producing comedy videos. Rienks has over 2 million subscribers on Youtube, and will likely gain a few more due to her exposure on Freakish.
Melvin Greggs As Lawshawn Deveraux
Vine star Melvin Greggs is known for short-form humor, but makes a dramatic turn as football captain Lashawn Deveraux in Freakish. Greggs' Vine account is full of wacky, profane humor — a far cry from Lawshawn's lack of a sense of humor.
Tyler Chase As Barrett Mclntyre
Tyler Chase is no stranger to genre shows, having previously appeared on The Walking Dead and Sleepy Hollow. He stars as Barrett McIntyre on Freakish, a tech genius whose app profits gave him a considerable bank account, not that that will do him much good in the apocalypse.
Mary Mouser As Mary Jones
Mary Mouser plays Mary Jones, Grover's sister. Mouser is for playing the role of first daughter Karen Grant on Scandal as well as numerous guest appearances in shows ranging from NCIS to Maron to a regular role on Body of Proof.
Hayes Grier As Noodle Nelson
Vine star Hayes Grier has stepped out from the shadow of Vine success before by appearing on his own on Dancing With The Stars, and seems to be taking another step into show business as an actor playing the role of Lashawn's friend Noodle on Freakish.
Freakish is further evidence that the stars of tomorrow won't just be coming from getting a lucky break — creative personalities that work hard to create their own work and release it on their own terms can find success thanks to the ever-expanding influence of the internet. But, will all of them stay alive for a possible Season 2 of Freakish? The whole series is now available on Hulu for those curious to find out.
Image: AwesomenessTV