Kylie's Pale Pink Sweatsuit Is Athleisure Goals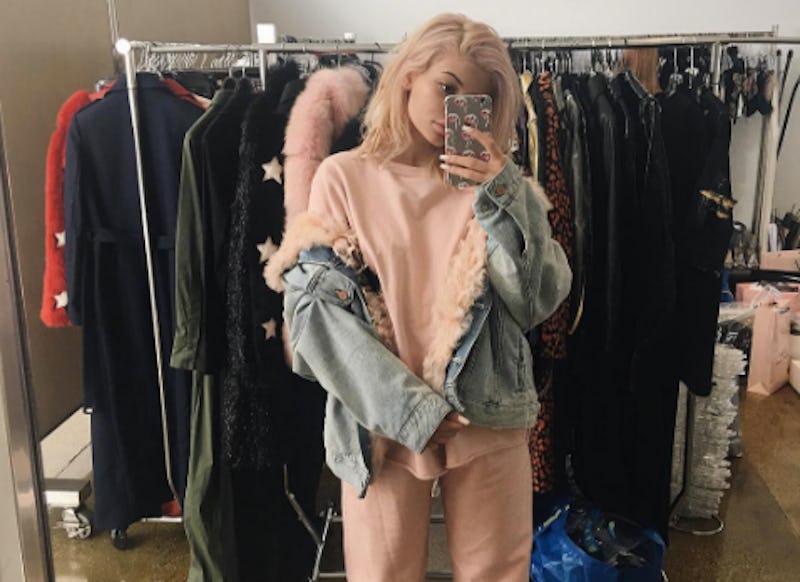 Another day, another outfit from King Kylie that I can't wait to copy. And this time, Kylie Jenner's pale pink sweatsuit is literally the perfect outfit to wear during lazy fall Saturdays when you want to be cute and cozy.
In an Instagram she posted Monday, Jenner wore a pale pink sweatshirt and matching sweatpants under a pink fur-lined jean jacket. She paired it with a super simple pair of white sneakers. The outfit sounds like it could be a little crazy looking, but Jenner somehow managed to pull it off — it helps that her hair is now the exact shade of rose gold that her sweatsuit is. The whole look takes color coordination to a new level, but trust Jenner to make it look surprisingly chic.
Of course, not everyone can wear a head-to-toe pale pink sweatsuit in real life, but I was inspired by Jenner's somewhat bold athleisure choices. As someone who sticks to black, black, and more black in my own workout gear, it's pretty tempting to switch it up and try something out of my comfort zone. And a pale pink matching set? That's definitely out of my comfort zone. But check out how chic Jenner looks.
Although I can't find Jenner's exact sweatsuit online, these alternatives will work whether you want to try one piece or a full set.
1. Lace-Up Sweatsuit
Ocean Drive Pale Pink Joggers, $16, AsosLattice Tie Hoodie, $24, Asos
This cute set isn't quite like Jenner's, but I'm loving that on-trend lace-up hoodie.
2. Ivy Park Sweatshirt
Logo Crew Neck Sweatshirt by Ivy Park, $24, Topshop
I love this sweatshirt from Ivy Park, and the color is almost spot-on to what Jenner's is.
3. Oversized Hoodie
Hooded Sweatshirt, $30, H&M
This hoodie from H&M is technically from the men's department, but I love its oversized size and faded fabric.
4. Skeleton Sweats
Inside Out Skeleton Sweatpants, $74, Bloomingdales
Um, could there be more perfect pants for wearing around Halloween? I don't think so. I'm obsessed with these fun pale pink sweats.
5. Brushed Sweatshirt
Basic Brushed Sweatshirt, $38, Topshop
This Topshop sweatshirt is basic, but I love the cool neckline detail.
6. Puma Lounge Pants
Puma Exclusive to ASOS Lounge Pants, $57, Asos
Although I'm majorly disappointed that the matching sweatshirt in this set is sold out, I'm just happy that the pants are still available — how comfy do those look?
Take a page from Jenner's book and pick from one of these cute options to switch up your leisurewear.
Images: @kyliejenner/Instagram; Courtesy of Brands