Ken Bone Was Hilarious On 'Jimmy Kimmel Live'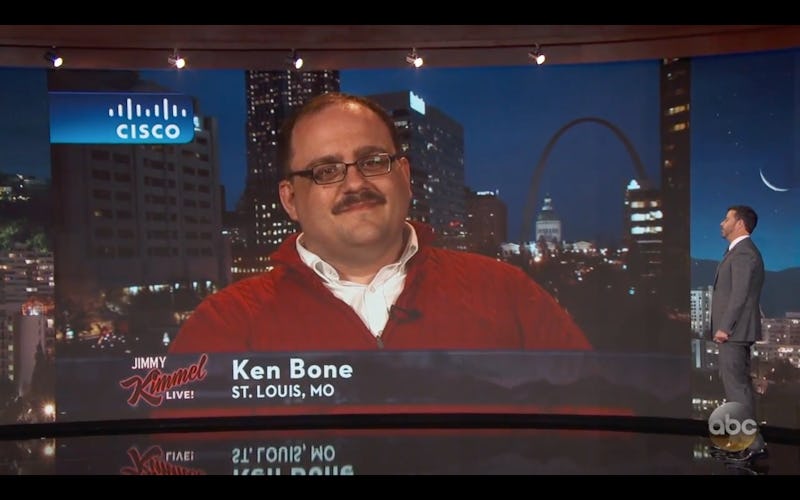 Sunday's presidential debate had an unexpected star — a mustachioed undecided voter in a red sweater. The undecided voter in question, Ken Bone, appeared on Jimmy Kimmel Live! Monday via the Wall of America after his whirlwind ascent to fame.
Bone, a 34-year-old power plant worker from Belleville, Illinois, intelligently questioned Hillary Clinton and Donald Trump on energy policy. But it was likely the combination of his fun outfit, catchy name, and disposable camera that propelled him to Internet stardom. He was mentioned thousands of times on Twitter, with some users calling him a "write-in candidate" and an "American hero" for his politeness during a debate marred by what some news outlets called "nasty" and "contentious" behavior from the candidates.
During his appearance on the show, Bone kept the audience laughing by wittily answering several questions from host Jimmy Kimmel while wearing his signature outfit. He also cleared up doubts about his Twitter handle. "I am @kenbone18," Bone said. "There are other better Twitter accounts that use my name, but they're not me."
His wife Heather and son Logan are doing well, Bone reported. "Heather is maybe tired of dealing with me in general after 12 years," Bone said. "And Logan says Dad is the best kind of famous: internet famous."
And the unmistakable red sweater? It was the back-up option when he had a wardrobe malfunction. Bone was originally supposed to port an olive-colored suit that his grandfather helped him pick out, but unfortunately he split the seat of his pants.
When Kimmel asked whether Bone would give the sweater to the Smithsonian if they asked, Bone quipped: "I mean, 'give' is a strong word."
He went on to explain that he wouldn't mind endorsing a brand of mustache wax, if they still make that, but he would have his own line, of course. He hasn't received endorsement offers from any companies yet, but he told Kimmel, "feel free to pass them along."
And yes, Bone still has to go to work even though he is now an internet sensation. "I had to apologize for missing committee meetings that I probably would rather not have gone to today," Bone said.
"Everybody doesn't like it that much, but I think I'm more undecided than before," he explained. He had earlier told The New York Times that "there haven't been enough positives on either side for me to make a firm commitment." Still, he said he hopes his fame causes people to focus on the issues and stay involved.
"I went from, last night, having seven Twitter followers, two of which were my grandmother...to now, I have several hundred," Bone told CNN on Monday. "And I don't know why they care what I have to say, but I'm glad they're engaged in the political process."
Ken Bone's appearance on Jimmy Kimmel Live! did not disappoint. He lightened up the tense mood that came with the presidential debate and encouraged undecided voters to stay involved in politics. Bone truly may be the election-time hero America never knew it needed.
Images: Jimmy Kimmel Live!/ABC