Ken Bone Talks About The Debate On 'Jimmy Kimmel'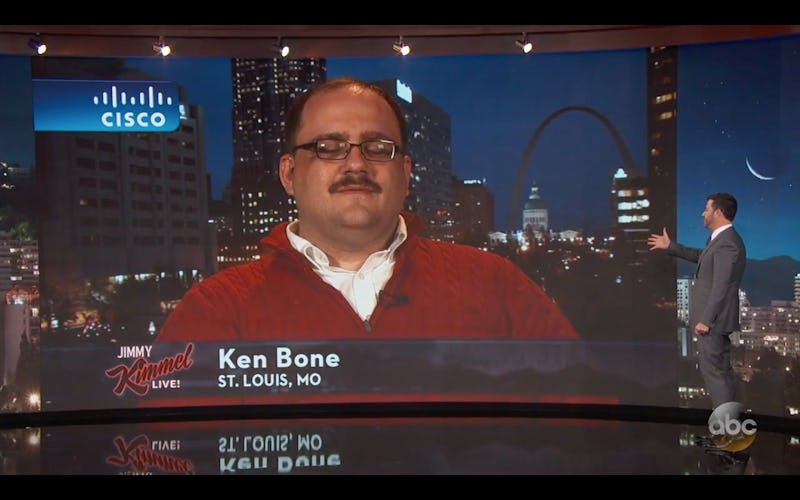 Hillary Clinton and Donald Trump may have been facing off at the second presidential debate, but the real winner of the night was an undecided voter in a red sweater who captured America's hearts. The man in question, Ken Bone, gave his debate verdict on Jimmy Kimmel Live! on Monday night.
"This is an unusual political cycle," 34-year-old Bone told Kimmel. "It's been so negative and I try to really base most of my decisions on positive things and neither [candidate has] given me many."
Bone chose to question the candidates about energy at the debate, asking "What steps will your energy policy take to meet our energy needs, while at the same time remaining environmentally friendly and minimizing job loss for fossil power plant workers?" Since Bone works at a coal-fired power plant, his question was pertinent to his occupation and experiences.
"I'm just glad I was able to spark the energy debate a little bit," he told The New York Times. "It was kind of getting overlooked."
But Bone was divided on how each candidate answered his question; he said Trump answered the part of his question about jobs well, while Clinton's focus on environmental issues was similarly commendable, according to an interview conducted by The Washington Post. But it would have been better if the candidates had answered both parts of his question, he said.
When considering the candidates, Bone is conflicted by his personal interests and America's greater interests. Trump's policies are more in line with his economic interests, and his job in the fossil power industry would more likely be protected under a Trump presidency, he told The Washington Post. But, as he told Kimmel, "We fought so hard to get marriage equality and rights expanded to more Americans. It'd be unconscionable for me to see those [rights be] taken away by a Supreme Court justice appointed by Donald Trump."
Bone is in a difficult position; when he came into the second debate he was leaning towards voting for Trump. But now he thinks he's "more undecided than before," he told Kimmel. "I had to kind of put my head down while Mom and Dad were arguing over Thanksgiving dinner last night," he said of the candidates' debate behavior.
While Bone may be holding off on making a decision one way or another until after the final presidential debate, he is using his newfound fame to bring awareness to what he deems relevant issues, such as the importance of voting.
For now, Bone is busy working 12-hour shifts at his job, speaking to media outlets, and trying to keep things positive.
The final debate between Clinton and Trump is on Oct. 19. Maybe we'll get a chance to hear Bone's final decision after that.
Image: Jimmy Kimmel Live!/ABC