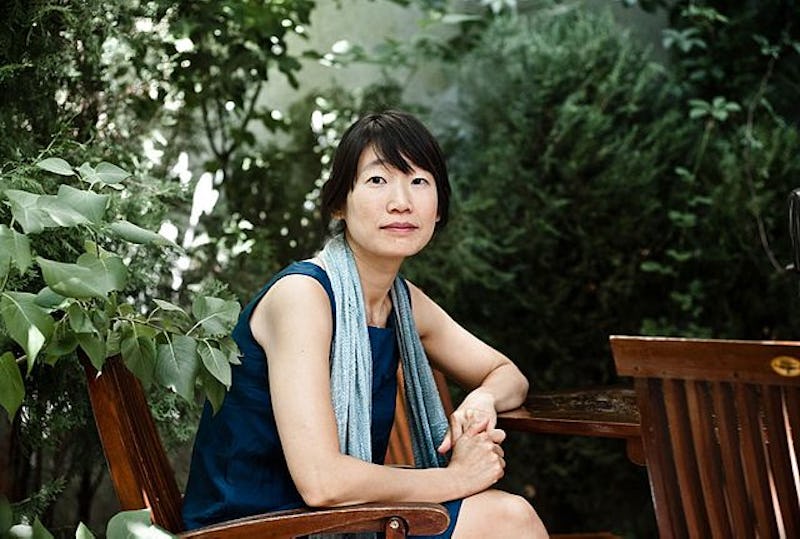 With the Man Booker Prize winner announcement only a couple weeks away, book nerds everywhere are brushing up on this year's shortlisted authors. While you might be familiar with previous nominee Deborah Levy or popular American satirist Paul Beatty, you may have questions about the other nominees, like who is Madeleine Thien? If you don't know the Canadian short story writer and novelist yet, it's time you got acquainted.
Born in Vancouver, the 42-year old Madeleien Thien studied contemporary dance at Simon Fraser University after high school, but lost her scholarship after being overwhelmed with the learning opportunities the school offered. "I came from quite a poor neighbourhood and didn't have access to ideas, so I did this silly thing," Thien told The Guardian in an interview earlier this month. "I was taking all these fourth year philosophy courses and it was a leap too great." After losing her financial support, Thien left the dance program and instead focused her energy on finding a way to pay for a literature degree. The destined author was eventually awarded another scholarship, this time for a master's degree in creative writing at University of British Columbia where she would write the stories that would eventually become her first published book.
Awarded the Canadian Authors Association Air Canada Award for the most promising writer under 30, Thien found success early on in her career. Her first short story collection, Simple Recipes, was hailed as a magnificent debut, earning the young author the City of Vancouver Book Award, the Ethel Wilson Fiction Prize, and the VanCITY Book Prize. Her follow-up novel, Certainty, built on Simple Recipes success, and went on to become a finalist in the Kiriyama Prize for Fiction and the recipient of the Ovid Festival Prize, eventually being translated into over 20 languages. But it was her sophomore novel, Dogs at the Perimeter that rocketed Thien to an even higher level of literary success. The 2011 novel, which tells the heartbreaking story of a young girl and her family's exile from their home of Phnom Penh by the Khmer Rouge and her struggle to gain control of her adult life afterwards, was shortlisted for Berlin's International Literature Prize and won Frankfurt Book Fair's prestigious LiBeraturpreis in 2015.
But this year, it's all about Thien's third and possibly most powerful work yet, Do Not Say We Have Nothing . Shortlisted for the Man Booker Prize, the 2016 novel explores an extended family in China during two specific times in the country's history — Mao's Cultural Revolution of the 1960s and the 1989 Tiananmen demonstrations. Hailed as "A vivid, magisterial novel" by The Guardian and "A magnificent epic of Chinese history, richly detailed and beautifully written" by The Times, o Not Say We Have Nothing is a profound tale that beautifully intertwines music and math, family and country, and history and heartbreak.
When asked about the honor of having her novel longlisted for the Man Booker Prize, Thien expresses her feelings with one word: "Joy. I don't know exactly how to explain it, but I have a feeling of safety, which is unusual in the writing life," the author explained in her longlisted author interview. "I feel I'm being given space to think, to feel so many different emotions – from giddiness to fear to wonder – and also, extraordinarily, space to keep working."
The 2016 Man Booker Prize will be announced Tuesday, October 25 at a ceremony in London, but if the book-lover inside you wants to see the action live, you can tune into BBC to see who takes home this year's prestigious award.
Images: Wikimedia Commons