The Work-Family Scale Is A Joke (Except It Isn't)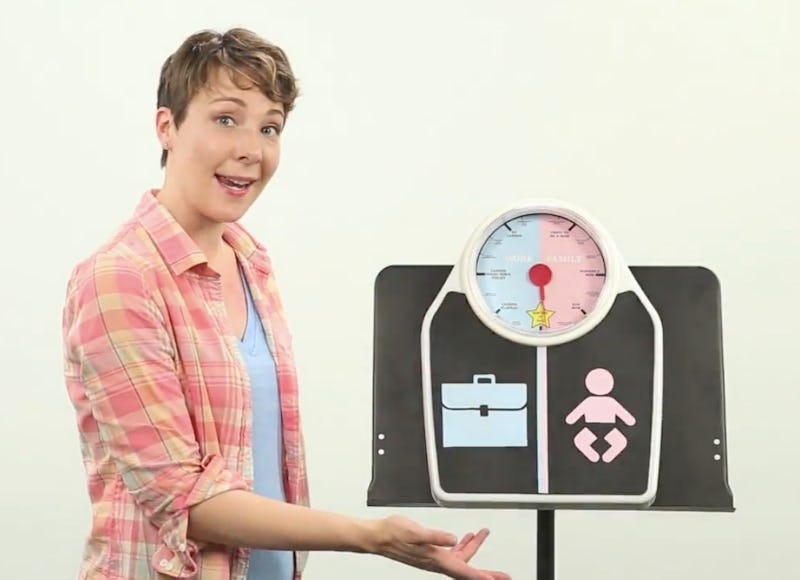 Our feminist foremothers dreamed of "having it all" — a loving family, a successful career, a supportive partner — but for most women, that has proven more complicated than ever imagined. The new Work and Family scale sketch video, which has recently been trending on both Funny or Die and YouTube, hilariously highlights the ridiculous double standard that full-time working moms are held to. There are just not enough hours in the day to make homemade granola, prep for a big presentation, sew a Halloween costume, and have the energy to be a tigress in the bedroom — oh yeah, and don't forget personal fulfillment!
The humorous and insightful two-minute infomercial parody advertises a product called the Work and Family Scale, "The only bathroom scale that measures how much you are neglecting your kids and your career." Instead of calculating your weight or BMI, the needle on the nifty scale points to work stresses such as "career plateau" and "missing deadlines" on one side, and family stresses such as "bad mom" and "giving kids abandonment issues" on the other. "Having It All" is smack in the middle, but as the video shows, even when you somehow manage to perfectly balance work and family, another piece of your life (like your relationship and sex life) can slip through the cracks. The video sums up this problem in a sad but true punchline: "Because if you work and you're a mom, you're f*cked."
The video expressly states that the scale is not for men, and is made from "cutting-edge materials" such as the sweat of feminist leaders, and the bare feet of 1950s housewives. Honora Talbott, the writer and director of the sketch, is not afraid to go a little dark when tackling this important subject. Honora, a writer and producer living in Los Angeles, wanted to shine a light on the sexist rhetoric that still infects politics as well as our everyday lives.
"I think the original spark of the idea came last year after Hillary Clinton announced her candidacy. I was so angry that reporters and news commentators kept criticizing how she wouldn't be able to balance work and family as President with another grandchild on the way," Honora tells Bustle in an email. "Meanwhile, we all remember that hilarious photo of Mitt Romney and his 23 grandkids, but was he ever asked in 2012, 'Hey, Mitt, as president, how would you balance work and family?' Nope. Because at the end of the day, raising kids and spending time with your family is still considered 'women's work.'"
As time passed, she couldn't shake the thought, and it became the inspiration for her hilarious sketch. "That double standard really stung," Honora tells Bustle. "Then later the little light bulb went off: 'What if there was a literal scale to help moms balance work and family....'"
Never in a presidential election have the two candidates been so different. On one side we have the possibility of the first female president, and on the other a Republican nominee who famously said in 2004 interview that pregnancy is an "inconvenience" for the employer (not to mention a litany of other crude offenses). The decision made in November will have an incredible affect on parents of both genders.
Honora points out that for working moms the cards are ultimately stacked against them. There is still no national paid leave in the United States, and childcare costs are extremely prohibitive. "I think this is a really important conversation to have because this country has the opportunity to make some positive change towards helping working moms and also working dads if Hillary gets elected," Honora adds. "As a society we need to fundamentally change the workplace environment to make it easier on all working parents."
This election season, Honora hopes that a little humor may actually be able to affect positive change. "I think it's important to laugh at social problems so as a culture we can all sort of agree, 'yeah that is pretty f*cked, isn't it?'," Honora explains. "So I guess I'd like to say, if you laughed at this video, please vote!"
Images: HonoraTalbott/YouTube