A Guide To The 'RHONJ' Ladies' Favorite Spots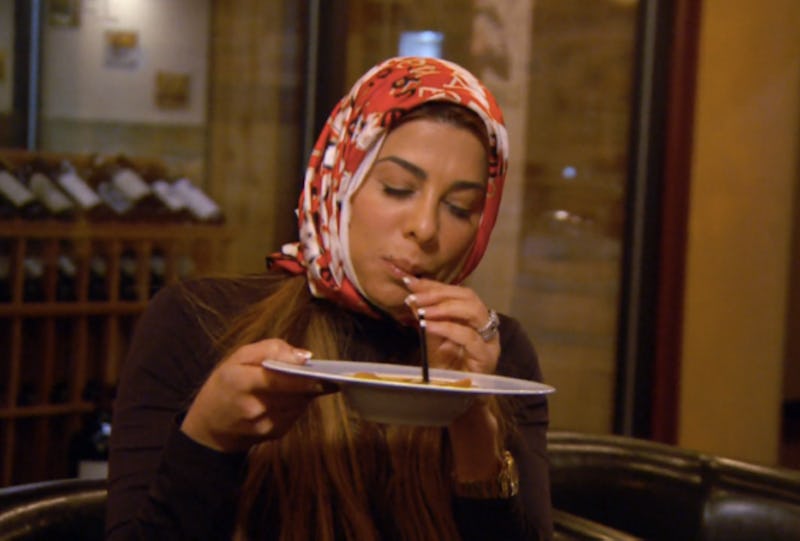 If you watch Real Housewives of New Jersey, you know that the ladies frequent the same spots over and over again. From the places where they shop to the restaurants where they eat, you could do a RHONJ-themed tour pretty easily just from watching a few episodes. So, if you ever find yourself in North Jersey and wanting to feel like a cast member, you need to go to the following places where the Real Housewives of New Jersey ladies love to hang.
I have no idea if these women are just creatures of habit or if they just only get permission to film at certain places, but whatever the reasons behind it, the Jersey ladies could maybe even be spotted if you go to their favorite places on the reg.
Below are the locations where the fans saw the biggest screaming matches go down, the hair get pulled, the accusations get thrown, and the gossip get spread. If you've been watching the show from the start or if you're a dedicated super fan, these places will definitely look familiar to you. And even if the locations themselves are not places that you recognize, I'm sure you remember all of the drama that went down at each .
1. Lu Nello - Cedar Grove, NJ
Lu Nello is the restaurant where Teresa Giudice's infamous table flip took place during the Season 1 finale. Joe Giudice later visited the same restaurant for a meeting with his lawyer and referenced the incident during the current season. I wonder if the restaurant's patrons flip tables to recreate the iconic moment when they eat there.
2. Posche - Allendale, NJ
Notorious troublemaker Kim D owns the Posche boutique where a lot more has gone down besides shopping. From the wild Posche fashion shows to the gossip shared at the store, Posche has definitely been the backdrop to a lot of drama on this show.
3. Envy By Melissa Gorga - Montclair, NJ
Melissa's big story line this season is opening up her store Envy and balancing her duties as a wife and mother. So, if you want to dress like Melissa and see where she is spending a lot of time, then you should make your way to her store.
4. Rails Steakhouse - Towaco, NJ
This is the restaurant where Jacqueline Laurita and Dolores Catania were in the premiere episode of Season 7 when Siggy Flicker walked in for the first time wearing bandages from her facelift. Yes, that amazing scene where she sipped on lobster bisque through a straw. This is also the same place where Teresa and Siggy threw that leopard-themed birthday party for Dolores.
.
5. Giuseppe Ristorante Italiano - North Haledon, NJ
This restaurant is where Melissa came for Jacqueline after she called her husband Joe Gorga in the middle of an argument with Teresa. This was when we saw the tides change for Melissa and Jacqueline's relationship, so it was a pretty pivotal scene during the current season.
6. Matterhorn - Stowe, VT
Yes, I know that this restaurant is not in New Jersey, but the craziest scene of the season so far took place at Matterhorn, so it needs to be included. The Matterhorn is where Jacqueline called out Melissa for "having four nose jobs" and referred to Teresa as the "c word" aka "criminal." A clear line was drawn and the sisters-in-law severed their ties with Jacqueline... or at least that's what it seems like at this point.
7. Powerhouse Gym - Old Bridge, NJ
Dolores is all about finding her independence this season and a big part of that is by making her new gym a success. Support Dolores and get a good workout in by visiting Powerhouse.
8. Brownstone Banquet Hall - Paterson, NJ
This is a throwback reference for the RHONJ viewers, but if you've been watching from the start, you know that Caroline Manzo's family runs the Brownstone Banquet Hall and that a lot of pivotal events from previous seasons took place here. If you want to get the full RHONJ experience, you need to pop by the Brownstone.
9. North Jersey Country Club - Wayne, NJ
The North Jersey Country Club is home to one of the most notorious RHONJ incidents. Danielle Staub told Teresa Giudice, "Don't call me honey" and Teresa responded with "Is b*tch better?" Then Jacqueline started screaming about Danielle's court records and her daughter Ashlee Holmes pulled Danielle by the hair. A mess, but definitely an iconic episode.
10. The Manor - West Orange, NJ
This is where that christening brawl went down during the Season 3 premiere when Melissa and Joe Gorga joined the cast. Joe called his sister Teresa "garbage" and all hell broke loose.
11. Sizzle Tans - Totowa, NJ
I will never get over Teresa shooting this commercial for Sizzle Tans. And her brother, Joe, did a billboard for them. So, if you want to look like the RHON cast, head on over to Sizzle Tans for a session.
If you want to feel like a Real Housewives of New Jersey cast member, you need to check out these notorious locations. I just hope you don't encounter as much drama as the cast has.
Images: Bravo (1); realityTVGIFs/Tumblr (1)