The 'Little Women: ATL' Cast Has More To Show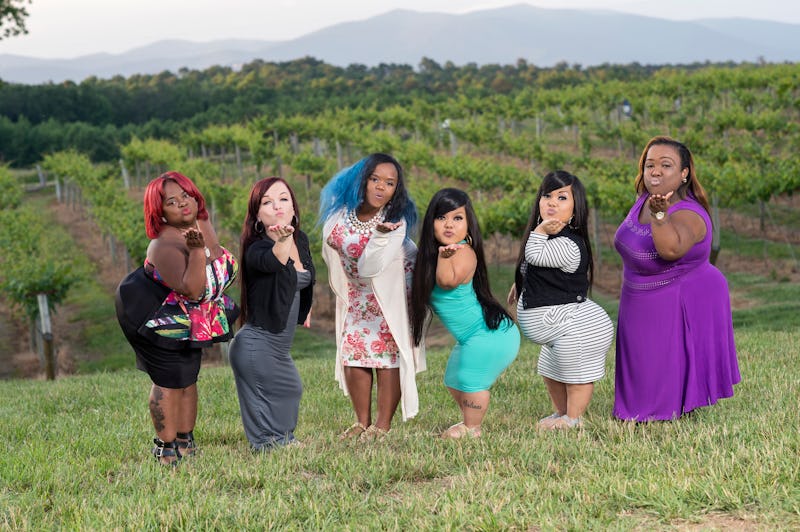 The cast of Season 2 of Little Women: Atlanta has brought the drama so hard during the Lifetime series' sophomore effort that I don't even know what else it can hit us with. But this drama train is not stopping because the Season 2 finale of Little Women: Atlanta is pulling into the station on Wednesday, Oct. 12 at 10 p.m. ET. It promises to bring tears, major life decisions, and lots and lots of hair. Yes, this finale is shaping up to be so good, you'll want to know if Little Women: Atlanta will return for Season 3.
Unfortunately, it looks like Lifetime is going to keep you on the edge of your seat for at least a little longer. The network has not officially announced whether or not the series will return for Season 3 just yet.
But it seems likely that we'll be catching up with these Georgia Peaches before we know it. For one thing, this show is incredibly buzzy, and it seems like fans can't get enough of it. Little Women: Atlanta 's ratings have remained steady and strong from Season 1 to Season 2, according to data from The Nielsen Company, as reported by TV by the Numbers. With ratings like these, it really doesn't make sense for Lifetime to not bring Little Women: Atlanta back.
Lifetime seemed pretty eager for Little Women: Atlanta to return for a second season anyway, since it premiered on the network in July, just about three-and-a-half months after the Season 1 finale, according to TV Guide . Though no official greenlight for Season 3 means no official premiere date for it either, if the show does return for a third season, it's likely that we'll only have to wait a few months for the next installment.
And once you see what the Little Women: Atlanta ladies have been up to since filming on Season 2 ended, you'll be thinking that Season 3 can't come soon enough.
Amanda & Andrea Salinas
After Andrea gave birth to daughter Aubrey this season, it looks like she and her twin sister Amanda are as close as ever these days. Andrea has been especially busy taking care of her little ones. It looks like Amanda is still happily with her man Jordan, according to a lovely recent photo of the couple posted on Twitter. Though Andrea and her boyfriend Chris seemed to be on the outs this season, even appearing to go from bad to worse in the Season 2 finale, she did receive a sparkly ring from her "babe," according to an Instagram post from August. Andrea made it clear that she's "not getting married," so we'll have to wait and see what the future holds for her and Amanda.
Ashley "Minnie" Ross
After all the drama with her ex-boyfriend Pastor Troy this season, it looks like Minnie is taking time out to hang with her girlfriends, such as Amanda and Andrea, as well as Little Women: LA cast members, according to Instagram. However, Minnie did receive a gift from "someone special" for her birthday, according to an Instagram post from earlier this month, so perhaps she has gotten back into the dating game, after all.
Bri Barlup
It looks like Bri will contemplate moving back to Texas in the Season 2 finale, according to the preview for the episode, and what I'm about to say is going to be a spoiler if you don't keep up with your Little Women news. Bri is a part of the cast of the new spinoff Little Women: Dallas, which premieres on Wednesday, Nov. 2 at 10 p.m. ET, ET first reported. So it looks like she did eventually decide to return to the Lone Star State. The other big update for Bri is that she'll be joining Wooda on tour, according to a post on Instagram from earlier this month. I sure hope Bri likes to travel!
Emily Fernandez
Emily moved back to Texas earlier this season of Little Women: Atlanta, so it shouldn't come as a surprise that she will also be joining Bri as part of the cast of Little Women: Dallas. Emily has continued to pay tribute to her late son JJ, who passed away in August after encountering multiple complications following his birth in April, according to PEOPLE. It looks as though Emily has found love and support from friends and family along the way.
Ms. Juicy
You know Ms. Juicy always has something going on. In the past few months, she has gone on vacay in Miami, made some public appearances, and continued to slay the airwaves on The Rickey Smiley Show . I can't wait to find out what Ms. Juicy's next project will be.
Tiffany "Monie" Cashette
It seems like Monie has been letting the good times roll as she continues to raise her son and make public appearances with Ms. Juicy. And it looks like she's ready for married life, too.
Clearly, there's a lot to look forward to if Little Women: Atlanta returns for Season 3.
Images: Scott Gries (6), Zach Dilgard/Lifetime