10 Cute & Comfy Winter Boots For Feet With Bunions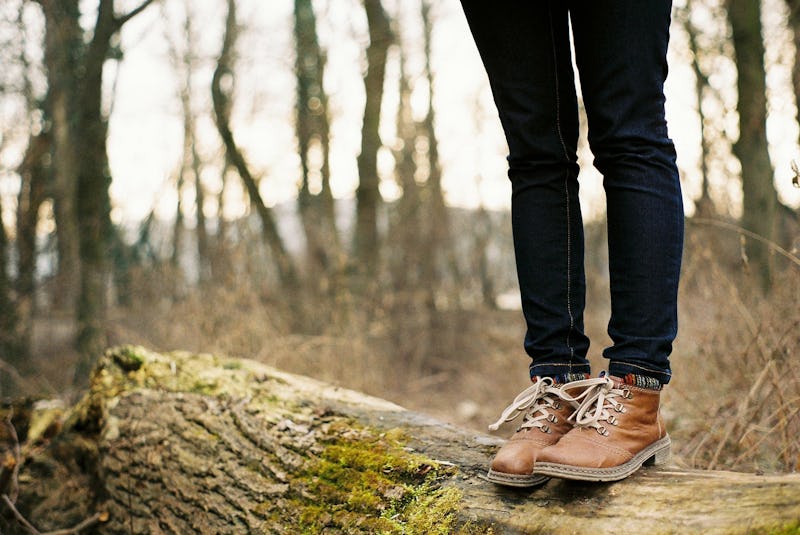 As fun as shoe-shopping can be, the struggle of finding the perfect pairs that are cute yet comfortable is real. And if you have a bunion or two, that struggle is multiplied. But even though finding the best winter boots for feet with bunions can be a difficult task, if you know what to look for, it isn't so bad. To find out some tips about what types of boots are best for keeping bunions comfortable, I emailed with Margaret Dabbs, renowned podiatrist, pioneer of the "Medical Pedicure," and founder of her eponymous hand and foot-care line.
To prevent the pain and discomfort of an irritated bunion, she has some recommendations for what to look for in your winter boots. As far as the overall shape goes, Dabbs says to look for shoes that have a rounded toe rather than pointed, as a pointed toe will put pressure on your bunion. Your boots' material also matters. According to Dabbs, "Footwear [that] is made of soft leather is better at accommodating bunions as excess pressure over the bunion causes more friction, accentuates the bunion, and encourages local inflammation." And as those of us with bunions know, there are few things less comfortable than being stuck in a pair of shoes that are simply too tight.
Besides the shape and material though, heel height is also an important factor when selecting a pair of winter boots that will be comfortable. As you may have experienced, the higher the heel, the more pressure it puts on your bunion. To accommodate this, Dabbs recommends trying to stay under a heel height of one-and-a-half inches. If you want to go higher though, she suggests looking for wedges or block heels as these will "distribute the weight more evenly and take pressure off the fore-foot." And if you still need a little extra help making sure your feet stay comfortable, Dabbs suggests using insoles with your boots, and trying a bunion splint between wears.
Dr. Scholl's Custom Fit Orthotic Inserts, $62, Amazon
Margaret Dabbs Night Bunion Splint, $59, EDC Skincare
So you have a better idea of what types of winter boots will best serve your bunions, here are 10 that will be a perfect fit:
Sam Edelman Petty Chelsea Bootie , $140, Nordstrom
Not only do these leather boots have a low heel, but they are also available in a wide width to accommodate bunions.
Hush Puppies Cyra Catelyn Chukka Boot , $99, Nordstrom
Also available in a wide width, this round-toe, leather bootie has an even lower heel to relieve some pressure.
UGG Garnet Toggle Boot, $100, Amazon
Soft, cushy, dreamy, and of course spacious and comfortable, these boots are perfect for feet with bunions.
Sole Society Brigitte Wedge Bootie, $100, Nordstrom
Although these have a higher heel, the stacked wedge on these suede booties will help alleviate pressure on your bunion.
Fly London Yex Platform Wedge Bootie, $230, Nordstrom
For the height without the pressure of a heel, try these leather platform booties that even have a memory-foam footbed for extra comfort.
A.S.98 Vega Buckle Strap Boot, $350, Nordstrom
Soft leather, a rounded toe, a low heel, and a padded footbed make for bunion-approved winter boots.
Frye Anna Mid Boot , $180, Amazon
Supple leather and a cushioned footbed? Doesn't get much better than that.
Naturalizer Jelina Riding Boot, $150, Nordstrom
This classic shape features a low heel, rounded toe, and a cushioned footbed for optimal comfort.
Via Spiga Mellie Knee High Boot , $240, Amazon
Even though these suede boots have a higher lift, the wider, block-style heel will help with weight and pressure distribution.
Stuart Weitzman 5050 Over the Knee Leather Boot, $655, Nordstrom
Super soft leather, a rounded toe, and a low heel make this boot-staple ideal for feet with bunions.
Just because shoes may have caused your bunions before, doesn't mean the right ones can't help keep them comfortable.