'The Voice' Battle Rounds Just Got SO Much Better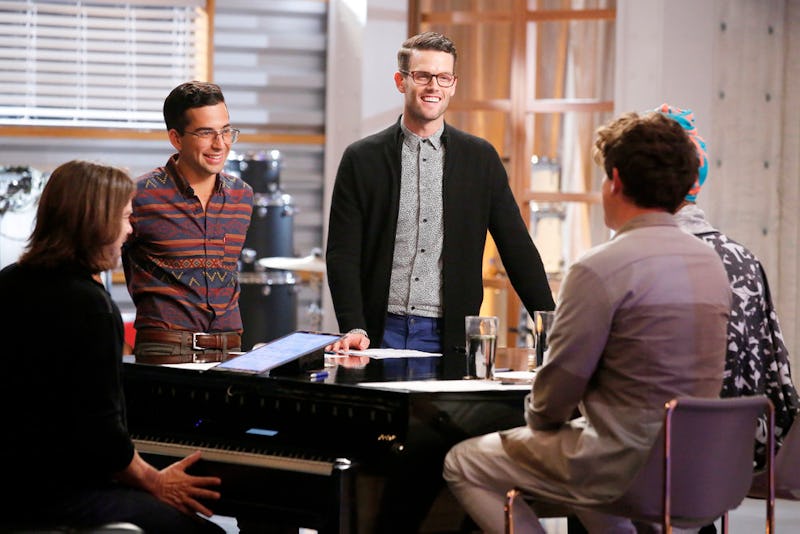 Be still my heart. The Voice contestants David Moisan and Michael Sanchez took the Battle Rounds by storm with an angelic performance of "Valerie." The only bad part? Only one of them could win. And that lucky artist was Michael Sanchez. Though both men were incredibly amazing throughout the performance, Sanchez shined a little more than Moisan and that's what earned him the W. Thankfully, though, all coaches are allowed a steal and Adam Levine used his on Moisan. So even though both men thought it was a possibility they would be sent home, neither of them had to live that reality. Both Moisan and Sanchez will advance to the Knockout Rounds and the show will be better for it.
Moisan and Sanchez shined for Team Alicia during their Battle Round performance. Their voices blended together seamlessly—seriously, they need to start their own boyband. But their vocals weren't the only good part. The stage was outfitted with a piano that both Moisan and Sanchez were given the opportunity to play, proving that they were more than just a pretty voice. During their performance of "Valerie," both performers showed their artistry. They showcased all their musical talents, which is why Moisan and Sanchez were both given the opportunity to remain in the competition. And though they showed off many of their talents tonight, the guys certainly have more to show—and I, for one, can't wait to see what they have in store.
With Moisan now on Team Adam and Sanchez on Team Alicia, the two will be able to grow their talents separately. They're evenly matched, so having separate coaches will really help them differentiate themselves. Thankfully though, each artist is with the right coach for him. Moisan has the alternative pop aspirations that Adam knows so much about, while Sanchez will be able to further explore his originality with the queen of originality herself. Both Moisan and Sanchez are set up for success and are bound to become front-runners in this competition. If tonight is any indication, Moisan and Sanchez are bound for greatness and we're in for a wild ride.
Image: Trae Patton/NBC