The First 4-Chair Turn Of 'The Voice' Goes To...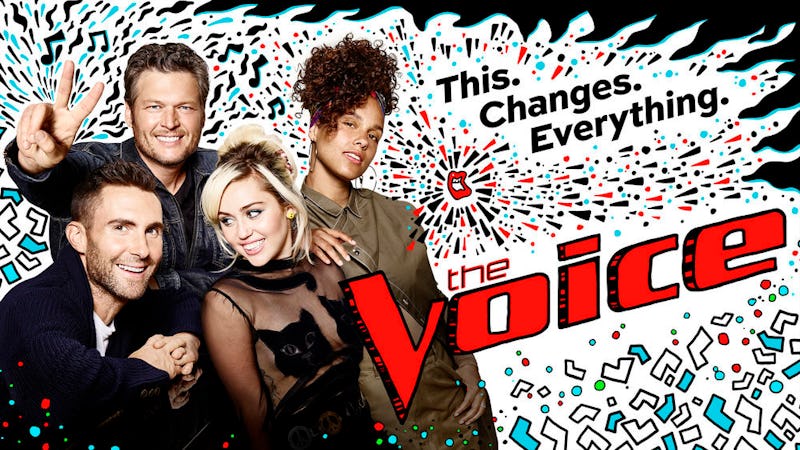 This changes everything. The Voice is back in a big way for it's eleventh season and it's already off to a great start. Dave Moisan started the season off with a bang with a mysteriously sexy rendition of "Sex and Candy," which earned him the first four-chair turn of Season 11. Not surprising in the least. But what was surprising was his choice of coach. Though Moisan sounds almost identical to veteran coach Adam Levine, he went with an unusual—but super smart—choice. Moisan was the first contestant to join Team Alicia Keys and his The Voice career will benefit because of it.
Though it's only night one, Moisan has already proven to have quite a talent. His sweet, sexy sound calls to mind another member of The Voice family—coach Adam Levine. They even look pretty similar. That's why it was so shocking that Moisan didn't choose the Maroon 5 frontman as his coach. Shocking, yet smart. With Alicia Keys on his side, the Louisville, Kentucky native will be able to tap into a new side of his voice—one that he probably doesn't even know exists yet. As long as Moisan follows Keys' expert advice, he'll rise above the rest and become a tough competitor on Season 11.
The 33-year-old medical device salesman has quite the background, but, surprisingly, none of it involves music. In fact, Moisan has never taken a voice lesson in his life—though you'd never know it based on his amazing performance. Instead of taking voice lessons growing up, Moisan spent his time in the pool. He spent so much time in the pool that he swam all the way into the Junior Olympics competing against none other than Michael Phelps. While his swimming won't help him on The Voice stage, his competition background sure will. If you can swim against the most decorated Olympian in history, something tells me you won't have a problem competing on The Voice.
Image: NBC Universal