You Need To Shop Ban.do's New Clothing Line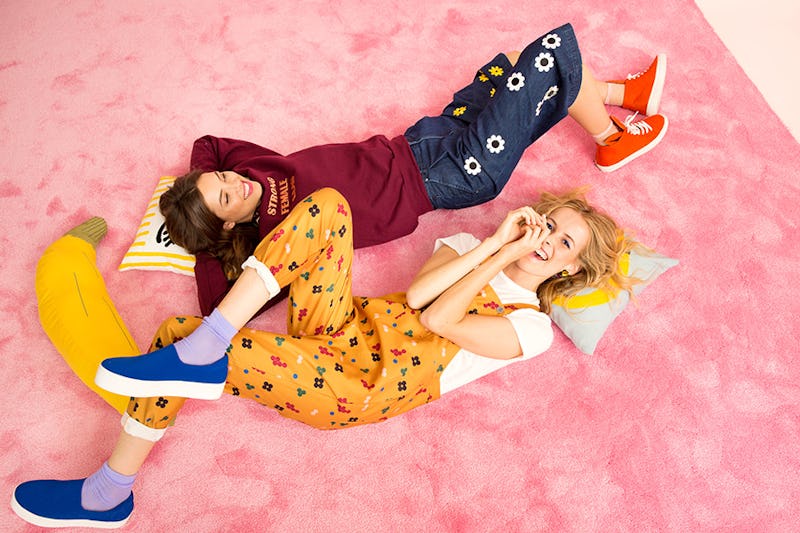 If you're ever in need of a fun, trendy notebook or planner, ban.do might be one of the first places to look. However now you can wear the lifestyle brand's same pops of color and fun patterns thanks to ban.do's new clothing line — trust me, you're going to want to shop it ASAP. The new line resembles the brand's already popular accessories and planners, which you can imagine is filled with kitschy yet adorable items that are definitely Instagram-worthy.
Ban.do's new swag was not only inspired by their bright aesthetic, but also from partnerships with hip and cool designers. Whether it is a jumpsuit from Dusen Dusen, denim by Samantha Peet, or bomber jackets by Sticky Baby, ban.do's collaborations are on-point and make up a killer collection so you can rock ban.do from head to toe. If you've ever dreamt of wearing light-up sneakers like you did as a kid, you don't have to wait any longer. One of my favorite items from the new collection is a pair of white or silver sneakers that light up in several different neon colors.
In an email interview, ban.do's founder and Chief Creative Officer Jen Gotch talked about ban.do's clothing line being a significant change for the brand's customers who have grown to know and love their quirky style and personality. "This line marks the next step in our journey to head to toe ban.do apparel," Gotch says. "We've been able to improve the the cut and color of the tops while maintaining a comfort level that feels a lot like your shirt is hugging you."
If you're visiting the ban.do website, you might also see some new changes too. Not only can you search the entire site for your favorite products better, but the ban.do team is also modeling all of the products so you can see how the items will fit on real women who are just like you!
"Listen, models are gorgeous and ours are literally the sweetest, but sometimes you just want to see someone that looks like you as well, right?" Gotch tells Bustle. "We're hoping that this will help our customer and our community start to see an even bigger reflection of themselves in the brand."
You can shop the entire collection on bando.com now, but below are some of my favorite pieces:
1. Good Vibes Bomber Jacket
Good Vibes Bomber Jacket, $180, bando.com
Send good vibes only with this bomber by Sticky Baby that comes in two different styles.
2. Gradient Flock Iron-On Letters
Gradient Flock Iron-On Letters, $14, bando.com
Use these iron-on letters by Maddy Nye to flaunt your favorite saying on any plain piece of clothing.
3. I Am Very Busy Sweatshirt
I Am Very Busy Sweatshirt, $58, bando.com
Inspired by the company's popular I Am Very Busy Planner, this power sweatshirt features pretty gold foil lettering.
4. Let's Dance Earrings
Let's Dance Earrings, $30, bando.com
Party the night away decked out in this "Let's Dance" earrings.
5. Silver Light-Up Sneakers
Silver Light-Up Sneakers, $50, bando.com
You might feel like Zenon in these sneakers, especially since you have to use a USB charger to charge the shoes before you wear them.
Images: Courtesy of ban.do (6)