'American Housewife' Should Be More Than Fat Jokes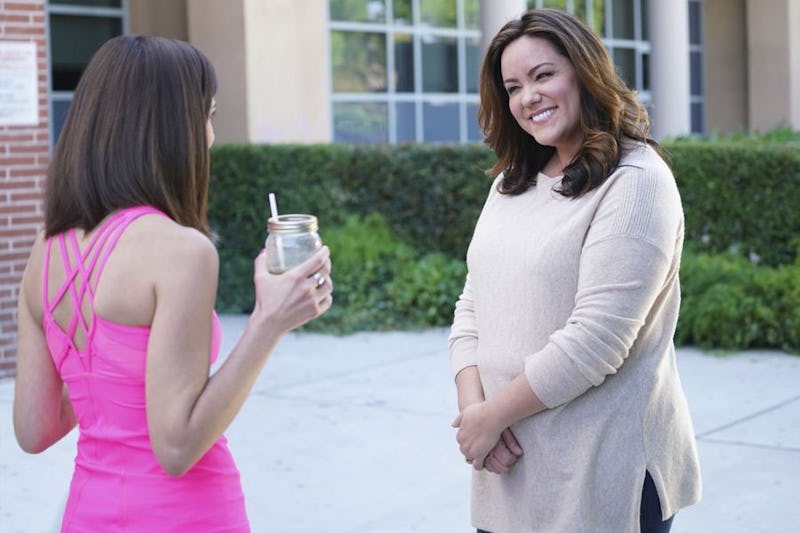 Finally, after many, many seasons of watching similar-looking families on television, networks are starting to realize that people like seeing people that look like themselves on television. Sure, network TV isn't completely inclusive yet, but with shows like Black-ish, Fresh Off The Boat, and Speechless, things are moving along. The next of these inclusionary shows is American Housewife , which stars Katy Mixon (of Mike & Molly fame) as a wife and mother who is the "second-fattest housewife in Westport, [Connecticut]." That's the premise of the show, and, according to Variety, the original name of the series. American Housewife hits some funny marks, but, in my opinion, it relies too heavily on its main premise — fat jokes.
Now, don't get me wrong — the show definitely has its funny moments. In fact, many of the pilot's jokes that weren't focused on weight cause a giggle or two. My biggest complaint with the series, and one that I hope it resolves as it grows to a full season, is that the "Katie is so big that she's a freak show to the other women in Westport" smacks you in the face at every turn.
I get the theme of American Housewife is the fact that Katie is considered an "other" in the world of the perpetually yoga legging-clad Westport wives, but how many Spanx jokes does a series that is focused on weight need? In the pilot, there is just one, but it is the punchline of the whole scene of Katie and her husband attempting sex after a night out. And, I fear there will be far too many more.
Throughout the pilot, there are myriad jokes about dieting and eating pizza, and I think it's just way too easy to make these pre-determined fat jokes. These jokes don't humanize Katie or, frankly, the women of Westport. Instead, they turn them into caricatures of the funny fat lady and the skinny, judgmental rich lady, respectively. The writing is not kind to the rich women of Westport, but it's not kind to Katie, either. She outlaws green juices from her home and seeks to find a "fat" buyer for the home across the street. Why? Because she wants to be the "third fattest housewife in Westport," not the "second fattest housewife in Westport," presumably so she won't be judged as harshly by the other moms. All of the fat-versus-skinny jokes make everyone on the show seem shallow and, frankly, annoying.
Women are forced to constantly compare themselves to other women, and it's exhausting. To be fairer to the millions of women who are not sample size (the average American woman wears a size 14, as the show tells us), the writing needs to be more nuanced and understanding. It shouldn't be fat versus skinny or woman versus woman — we've seen that before. American Housewife, though funny at times, should want to be better. And, it will be — if it lays off the obvious.
Images: Adam Taylor/ABC; Tony Rivetti/ABC