Could Books Unite Liberals And Conservatives?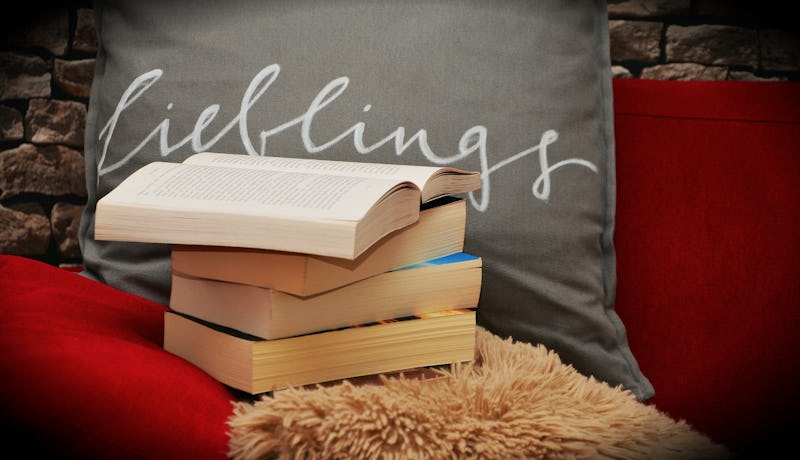 Watching U.S. politics become more and more polarized, literature professors Andrew Piper and Richard Jean So wondered: Could books unite liberals and conservatives? In a study of political opponents' reading habits on Goodreads, Piper and So found that reading material might make a great bridge across the aisle.
You're probably wondering how you can identify a reader's political leanings based on their Goodreads account. Piper and So looked for readers who had left reviews of three or more stars on pieces of "highly partisan writing," such as It's the Middle Class, Stupid! by James Carville or Suicide of a Superpower by Pat Buchanan. The two professors identified 27,852 readers this way.
Next came the books. Any fiction or literature title that appeared on 100 or more bookshelves was fair game. Piper and So labeled books as liberal or conservative based on the political leanings of the readers who shelved them. With almost 3,000 books in their pool, it was time for the professors to mine for data.
At first glance, it appeared that liberals and conservatives didn't share much middle ground when it came to books. Piper and So found that conservatives enjoy pulpy thrillers, while liberals read the kind of literary fiction you find on college syllabi, a trend that "support[s] polarizing stereotypes that pit sophisticated readers of 'difficult' prose (liberals) against simple-minded readers of formulaic fiction (conservatives)."
The top 10 books liberals liked to read were:
The Wind-Up Bird Chronicle by Haruki Murakami
The Brief Wondrous Life of Oscar Wao by Junot Diaz
The God of Small Things by Arundhati Roy
A Visit from the Goon Squad by Jennifer Egan
The Marriage Plot by Jeffrey Eugenides
Oryx and Crake by Margaret Atwood
Freedom by Jonathan Franzen
The Amazing Adventures of Kavalier & Clay by Michael Chabon
The Sense of an Ending by Julian Barnes
Interpreter of Maladies by Jhumpa Lahiri
And the top 10 books conservatives liked to read were:
American Assassin by Vince Flynn
Left Behind by Tim LaHaye and Jerry B. Jenkins
Without Remorse by Tom Clancy
Patriot Games by Tom Clancy
Clear and Present Danger by Tom Clancy
The Sum of All Fears by Tom Clancy
Red Storm Rising by Tom Clancy
The Testament by John Grisham
The Runaway Jury by John Grisham
Along Came a Spider by James Patterson
Despite the apparent lack of overlap, Piper and So went on to discover more than 400 books that appeared on both liberal and conservative bookshelves "in roughly equal amounts." Dubbed "bridge books," these are the titles that reach across the aisle to bring readers together.
The 10 most popular bridge books were:
To Kill a Mockingbird by Harper Lee
1984 by George Orwell
Animal Farm by George Orwell
Lord of the Flies by William Golding
The Girl with the Dragon Tattoo by Stieg Larsson
Fahrenheit 451 by Ray Bradbury
The Adventures of Huckleberry Finn by Mark Twain
A Game of Thrones by George R.R. Martin
Romeo and Juliet by William Shakespeare
Frankenstein by Mary Wollstonecraft Shelley
Also included in Piper and So's list of 100 Books That Bring Readers Together were children's books (Charlie and the Chocolate Factory, Miss Peregrine's Home for Peculiar Children), historical fiction (Water for Elephants, Girl with a Pearl Earring), science fiction (Wool, Ringworld), urban fantasy and paranormal romance (The Dresden Files, Sookie Stackhouse), and a whole lot of Jane Austen, William Shakespeare, and Stephen King.
Maybe this doesn't impress you. Maybe you're thinking that, hey, books like To Kill a Mockingbird and A Game of Thrones are so ingrained in our cultural lexicon that it would be impressive if they didn't show up on bookshelves of a particular type of voter. What's interesting is not that liberals and conservatives like the same books, but that they talk differently about those books than about partisan titles. From The Guardian:
What we found was surprising: when both conservative and liberal readers talk about "bridge books" instead of their usual partisan books, they change their way of talking and thinking in significant ways. They use less negative or hateful language. They use more words related to cognitive insight, such as "admit" and "explain". In short, what is special about these books is that they make readers who otherwise have strong political dispositions become less tribal. When people read these books, they embrace a more tolerant worldview.
Additionally, conservatives appeared to reach further across the divide when it came to bridge books. Piper and So write that their reviews "used more positive emotions than liberals, ... tend[ed] to be less heated or emotional, and based on an analysis of grammar, [conservatives] tend[ed] to formulate more complex thoughts." That behavior flies in the face of the narrative that stereotypes right-wing voters as existing in a persistent state of rage.
Could books unite liberals and conservatives? Possibly. At a time when everything, from the car you drive to the stores you frequent, is a political statement, it's nice to know that there is still some overlap in the Venn diagram of U.S. voters. As Piper and So put it, "We might disagree on a number of issues, but literature helps create a space where we can compromise."
Image: condesign/Unsplash