See All Six Of OPI's Breakfast At Tiffany's Kits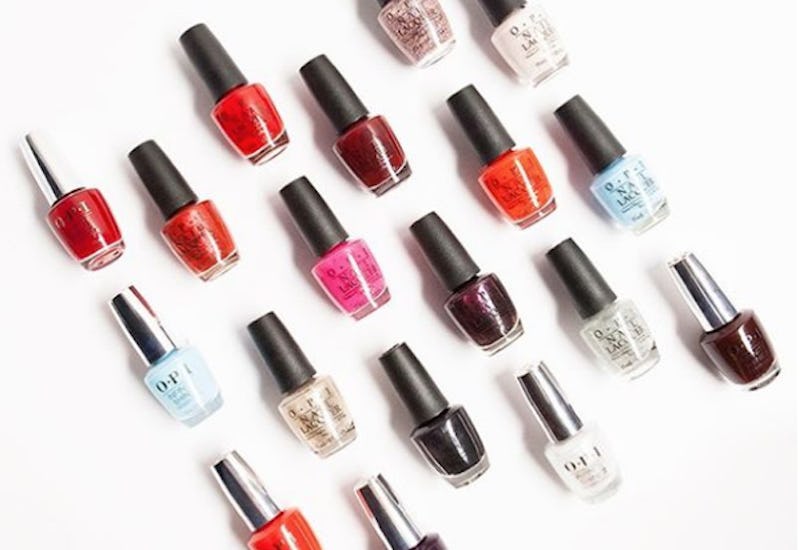 In case you missed it, OPI launched a Breakfast At Tiffany's polish line. The 16 holiday polishes range from the signature powder blues to dark maroon fall shades are absolutely gorgeous. You're probably thinking that it can't get any better, right? Wrong! On top of the polish singles, OPI created Breakfast At Tiffany's nail sets as well. Get ready for everything you could possibly need to get the best manicure.
One look at these Breakfast At Tiffany's nail polish sets, and your holiday wish list will get a little bit longer. As a beauty lover, one of my favorite gifts is nail polishes. Now you can get all that and even more. With six different Ulta-exclusive launches ranging from polishes to full on at-home manicure kits, you can't go wrong with these nail buys. Each one focuses on a different nail trend too, so you can pick the one that suits your needs the best.
Not only that, but you have a wide range of prices to choose from as well. The most affordable kit is the Avojuice collection that comes with all the lotions you need to keep hands looking great. The highest priced set offers ten different mini polishes for under $30. Basically, every single one of these is a steal.
While the single nail colors sell for $10 and $12.50 each, the mini round-ups are definitely the best way to save some cash. Here's a look at every single kit, so you can see what they have to offer. Let me just say that you definitely won't be disappointed.
1. 10 Mini Polishes
Breakfast At Tiffany's 10 Piece Mini Set, $28.98, ulta.com
If you can't decide on just one color, you can now try a whole bunch for less.
2. Cosmetics Bag
Breakfast At Tiffany's Two Piece Cosmetics Bag, $17.95, ulta.com
Get two iconic colors plus a cosmetics bag to carry them in.
3. Four Bold Minis
Breakfast At Tiffany's Four Piece Mini Set, $14.50, ulta.com
This one's for all the bold color lovers out there.
4. Infinite Shine
Breakfast At Tiffany's Shine Set, $27.50, ulta.com
With a primer, color, and gloss, what more could you ask for?
5. Hand Lotions
Breakfast At Tiffany's Cocktail Party Avojuice Limited Edition Set, $11.95, ulta.com
Because having moisturized hands is half of a great manicure.
6. Treatment Set
breakfast At Tiffany's Mini Treatment Set, $16.95, ulta.com
Looking to repair brittle or unhealthy nails? This is the kit for you.
I know what I'll be asking for this holiday season!
Images: opi_products/Instagram (1), Ulta (6)