See The Entire Pac Sun Purpose Tour Collection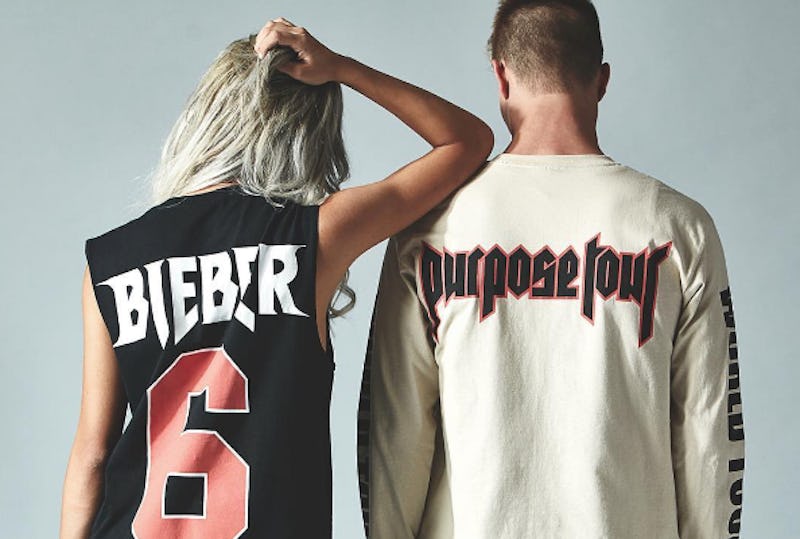 Just when you thought Justin Bieber merch couldn't get any better, he's at it again. On top of his site, Forever21, and Urban Outfitters collection, now Bieber has tour merch at Pac Sun too. This time it's got everything from hats to jackets and is sticking to a strict color theme. What's in Pac Sun's Purpose Tour All Access Collection? The singer created brand new items to sell exclusively at the new location, so get ready to shop.
Bieber's tour is worldwide and his clothing line is slowly getting there too. Instead of just shopping through his website, his merch is available a three different in-store locations as well. As of Oct. 15, you'll be able to buy the All Access Collection at Pac Sun. The 13 new pieces play on the same red, white, and black color scheme, but don't let the first glance fool you. There are brand new items and some similar styles that you'll be able to pick up at our local mall.
Ranging from $35 to $100, this line isn't exactly the most affordable, but it's still pretty great. The All Access Collection was designed with Jerry Lorenzo, the Los Angeles based designer behind the line Fear of God. Basically, it pretty darn trendy.
I love that guys and girls can rock this collection equally as well. Here's a look at every single piece in the line I will warn you though, you're going to want to spend some serious cash after seeing it.
1. Bieber Tank
This image has been splatter on t-shirts, but now it's on a tank as well.
2. All Access Crewneck
Simple and to the point.
3. Mama Don't Like You Shirt
it just wouldn't be the Purpose Tour Collection without this song lyric.
4. Tour Jacket
Because everyone needs a bright red Bieber jacket.
5. Long Sleeve Tee
If crewneck isn't your style, then this shirt is for you.
6. Hoodie
Don't worry, the style comes with a hood as well.
7. Jersey Tee
#TeamBieber.
8. Bright Red Longsleeve
Are you catching onto the color theme yet?
9. Minimalist Tee
All the important details, no bling.
10. Sleeve Written Hoodie
This sweatshirt is a little more detailed than the rest.
11. Purpose Trucker Hat
The line even includes accessories.
12. Name Plate Hat
One word is all you need.
13. Clothing Label
No questions about where you got this tee.
The line might be simple, but it has style.
Images: Courtesy Pac Sun