Is 'The Bachelorette's Chad A Changed Man?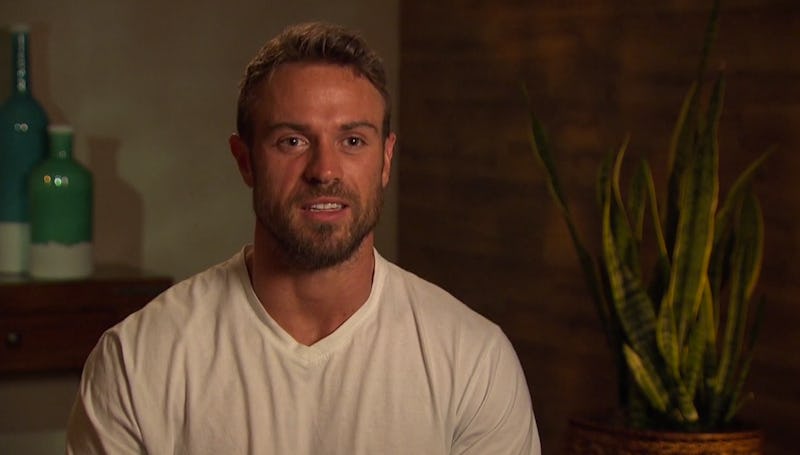 Brace yourselves, Ben and Lauren fans, because Chad Johnson is coming back, and he's coming back soon. In an interview with The Hollywood Reporter, Ben Higgins and Lauren Bushnell teased the return of the Bachelorette contestant who became famous for his tendency to punch walls and walk alone in the woods at night during JoJo's season of The Bachelorette — and, surprisingly, it sounds like Chad's appearance on Ben and Lauren: Happily Ever After? could be an emotional one. But does that mean that Chad is a changed man?
It could very well be, especially since Bushnell hinted at the fact that Chad's appearance on their Bachelor spinoff show garnered a few tears. "You'll have to watch," Bushnell said exclusively to The Hollywood Reporter, "there were some tears shed." I'm not sure if those tears were necessarily Chad's, but it does sound like both Higgins and Bushnell wanted to give him the opportunity and the platform to redeem himself on national television. Of course, after fighting with Chris Harrison on Bachelor in Paradise and joking that he might be the next Bachelor, Chad has had plenty of opportunities to do just that. He just never seems to choose to do it.
Of the reasons that they decided to ask him to be on their show, Bushnell said, "We both just wanted to get to know Chad aside from how he was depicted on The Bachelor. After meeting him at JoJo's After the Final Rose, we both saw something in him and wanted to see who he was, where he comes from and maybe help him through this weird time."
But don't think Chad has gone soft for this spinoff show on Freeform. There may be some tears, but it's still not clear that they're necessarily his. Plus, he may be appearing on a new network, but he's not leaving his old behaviors behind: even Bushnell admitted that the activity they do during Chad's appearance is to go camping. Chad Bear back in the woods again? As my grandmother would say: Oy vey.
Who knows what'll happen, though. Maybe Chad really will manage to redeem himself on Ben and Lauren. Or, maybe he won't. The uncertainty is why we love reality TV, isn't it?
Image: ABC