'Bachelorette' Villain Chad Is Thriving Post-JoJo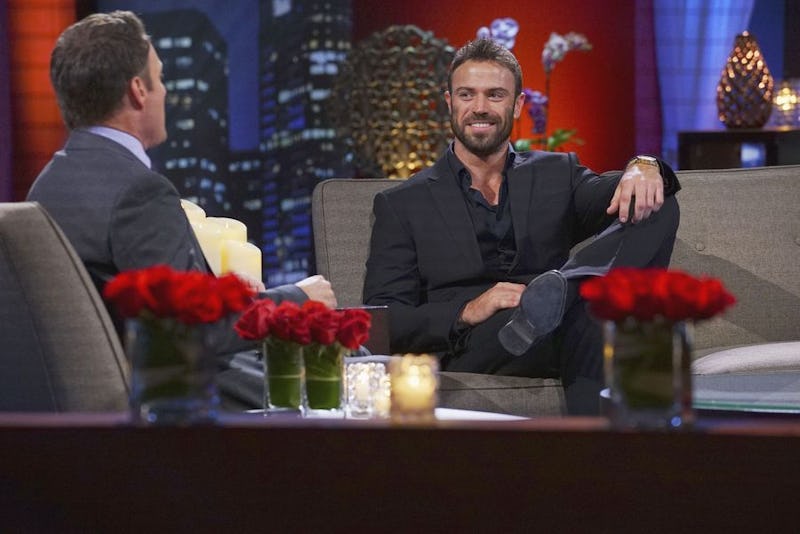 Everybody's favorite Bachelorette villain is back, thanks to The Bachelorette: Men Tell All. Chad is returning for the special to discuss his time on JoJo's season, but rather than rehash his ridiculous antics, I want to know what Chad has been doing since his Bachelorette elimination. OK, maybe I am cool with reminiscing about his bullying and his deli meat eating ways, but what else has this guy been doing with his life? At least according to his social media, JoJo's most memorable suitor has been keeping up with the expectations he set on The Bachelorette.
If you didn't confuse him for football player Chad Johnson (formerly Chad Ochocinco), you might be following JoJo's Chad Johnson on social media. If that's the case, then you already have some idea of how Chad has continued to mess with his fellow Bachelorette contestants through Twitter and Instagram. You'll also realize that Chad knows exactly what he's doing when it comes to how he's portraying himself and somehow it magically manages to be charming while being completely obnoxious. Don't get me wrong, I'm definitely offended by some of the things Chad writes on Twitter, but nevertheless, there is still something compelling about the gym-dwelling, egotistical man and unfortunately (fortunately?) he is well aware.
In preparation for his big return on The Bachelorette: Men Tell All, here's what Chad has been doing since JoJo dumped him.
Filming Bachelor in Paradise
Any Chad fan worth her or his salt knows that Chad is going to be on Bachelor in Paradise for Season 3, which means you'll be getting back-to-back weeks with Chad on TV since BiP starts airing exactly one week after the Men Tell All. I can't wait to see him reunite (again) with Grant, Daniel, Vinny, and — most importantly — Evan, who are all part of the Bachelor in Paradise cast with him.
Showing His Love For Movies & TV
Chad appears to be a big fan of movies and television since his Twitter account references everything from the Coen brothers to Trailer Park Boys. I won't lie — his references definitely make me like him more, but as a TV writer, I just can't help myself.
Posting Shirtless Selfies
I know, I know — Chad showing off his muscular body is totally surprising. What's even more shocking? The shirtless selfies and videos usually involve him working out — not pizza parties like this above shot.
Trolling Fellow Bachelorette Men
As previously mentioned, Chad hasn't stopped antagonizing the guys he was on The Bachelorette with, like when he bought the Internet domains of the other guys' names. And People has documented most of his shady moves on social media, including his Mr. Steal Yo Girl persona, which has included him kissing Robby's ex-girlfriend (above) and hugging Grant's ex-girlfriend with vague but loaded captions criticizing those guys to boot. And don't forget, Grant will be on Bachelor in Paradise with Chad, so it's bound to be interesting.
Traveling Around The Country
Besides traveling for the filming of Bachelor in Paradise, the real estate agent from Oklahoma was recently in California and made sure to highlight moments from his trip on social media, like working out at Muscle Beach in Venice and walking down Hollywood Boulevard.
Smoking A Lot Of Cigars
To be fair to Chad, I counted only three photos of him smoking cigars on his Instagram, but when he only has 85 posts, it's a notable amount. But you know Chad, he does what he wants.
Becoming A Social Media Star
His very first tweet was the night JoJo's season of The Bachelorette premiered, which was May 23. As of the Men Tell All on July 26, he had a verified account with over 50,000 followers. His Instagram account isn't verified yet, but he has over 190,000 followers on that platform and for good reason. Just as he was entertaining on The Bachelorette, he brings the same cringe-worthy charisma to his social media. And thanks to Bachelor in Paradise, Chad's not going anywhere anytime soon — regardless if that's a good or bad thing.
Images: Byron Cohen, Rick Rowel/ABC