The New 'Rogue One' Poster Might Signal A Shift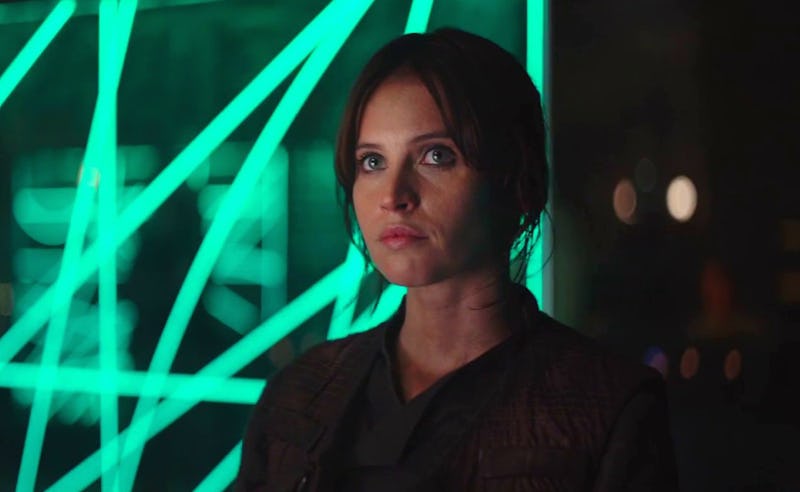 Is anyone else out there counting down the days until Dec. 16 when Rogue One: A Star Wars Story finally premieres in theaters? Yeah, me too. Honestly, if you're anything like me, that day can't come fast enough. But, just in case you are miserable at the idea of having to wait a whole two months more to get a peek at this new standalone Star Wars film, you are in luck. The new Rogue One: A Star Wars Story poster is here, and it puts Felicity Jones front and center. Of course, given she's the star of the movie, she should be front and center — but, the fact of the matter is, a major sci-fi franchise like Star Wars putting a strong female character first like could indicate not only a major shift for the franchise, but also the entire sci-fi genre as a whole.
Women kicking butt isn't a new thing for Star Wars: Princess Leia is a hugely strong character — one of the strongest in movie history — and Star Wars: The Force Awakens' Rey is definitely on her way to being just as historic as her. But even the poster for The Force Awakens — as lovely as it was — doesn't portray Rey as largely as Rogue One's poster portrays Jyn Erso.
Just think about what the marketing for Rogue One has been like: Most of the publicity around the cast has been promoting Jones' involvement in the film. This poster is just another sign that the franchise could be starting to focus on showcasing its female leads even more than the men. Between the characters Rey, Jyn, and even Leia, it seems as though women are taking center stage in the Star Wars movies, and even that the trend could continue with future films.
Whether or not this poster will indicate a true shift in the franchise remains to be seen, but for now, it's definitely a welcome change in the genre.
Image: Walt Disney Studios (3)