The Rubberbandits Will Leave Their Mark On MTV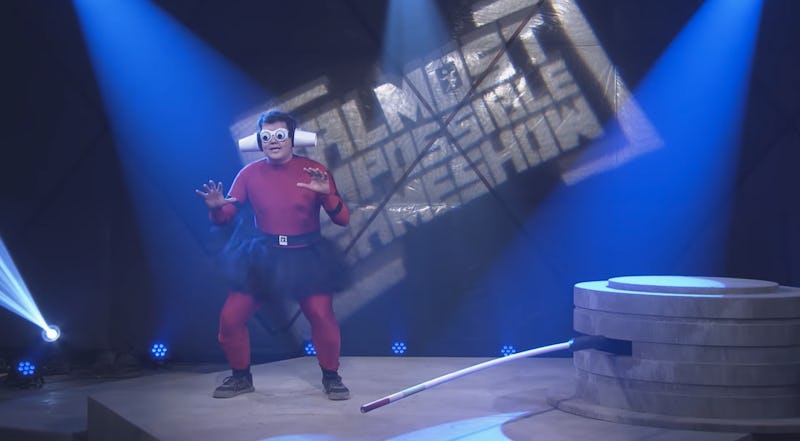 In its 35 years as a network, MTV has gained a reputation for many things, but I always like to think that it will forever be known as giving us some of the wildest and weirdest game shows ever. From Remote Control to Singled Out to Room Raiders, what is so amazing about MTV's game shows is that the contestants often seem to have more fun competing than actually taking home the grand prize. Will that be the case for those who appear on MTV's newest game show, The Almost Impossible Game Show, which premieres Thursday, Oct. 13 at 10 p.m. ET? We'll just have to wait and watch to find out, although with hilarious commentary from The Rubberbandits, I know viewers at home will have a blast. But I wouldn't blame you if you asked, "Who are the Rubberbandits, and why will they make me laugh on The Almost Impossible Game Show ?"
Answering the latter part of that question is easy. Just go over to The Almost Impossible Game Show 's website and check out some of the preview clips of the series. Now, you won't see the Rubberbandits, a duo consisting of two guys who go by the names Blindboyboatclub and Mr. Chrome, but you'll hear them provide irreverent and sardonic narration of the ridiculous and ridiculously hard tasks facing the contestants.
Though this will be virtually the first time mainstream American audiences will be introduced to the Rubberbandits, they've already made quite the impression in their home country. Get to know more about the Rubberbandits below, and you'll probably never forget them.
They're Not From Around Here
If you've watched a little bit of The Almost Impossible Game Show already, you probably noticed that the Rubberbandits don't sound like they come from these parts (and by "these parts," I mean the United States). Go with that gut instinct because you're absolutely right! This duo actually hails from Limerick, Ireland, according to their bio on MTV's website. Now that sounds more like it.
This Isn't Their First Foray Into TV
The Almost Impossible Game Show is based on a TV show in the United Kingdom with the same name, according to MTV News. It also featured commentary by the Rubberbandits. It looks like the only place where the American version will differ is in the accents of the contestants.
They Have A Signature Style
Since the Rubberbandits provide the narration for The Almost Impossible Game Show, we probably won't really ever see them. And if you do see other photos or video of them, you won't really know what they look like anyway. That's because the Rubberbandits always wear plastic bags on their heads, completely covering their faces with just holes for their eyes, nostrils, and mouths. If you're wondering why they've adopted this style, well, they've given a few different answers over the years, and I'm not sure if any of them are serious. If you're really dying to know what one-half of the duo looks like, Mr. Chrome was spotted without his plastic bag on his head (gasp!), Independent.ie reported in August.
They Made It Big With A Viral Video
The Rubberbandits really rose to fame after they released the video for their NSFW single "Horse Outside" in December 2010, which you can check out above. Soon enough, it went viral, according to TheJournal.ie , and has more than 14 million views on YouTube, as of the time of this writing. As for the deeper meaning behind the tune, whose lyrics describe a guy trying to get a woman to go home with him — and not the other dudes with fancy cars — because he literally has a horse outside, "There simply weren't enough songs about horses in the charts - we wanted to bring equine song back on the radio," the Rubberbandits told TimeOut London in July 2013. Sure, why not?
They Make Lots Of Kinds Of Art
Even though they've conquered the worlds of TV and music, the Rubberbandits don't consider themselves singers, comedians, actors, or what have you. They call themselves "artists," according to their bio on MTV's website, which says, "They use music, comedy, performance and social media to deliver their irreverent work." That explains why they've performed everywhere from the Edinburgh Fringe to the Venice Biennale to Shakespeare's Globe.
You Can See Them Live
And now you can see the Rubberbandits in action for yourself — if you're in Ireland later this month, that is. The duo is performing a duo of shows in Dublin and Galway at the end of October, according to the Rubberbandits' official website.
But perhaps you want to wait and see if you even dig the Rubberbandits' humor on The Almost Impossible Game Show. That's cool, too.
Image: MTV