The 11 Best Miranda Sings Videos Pre-'Haters'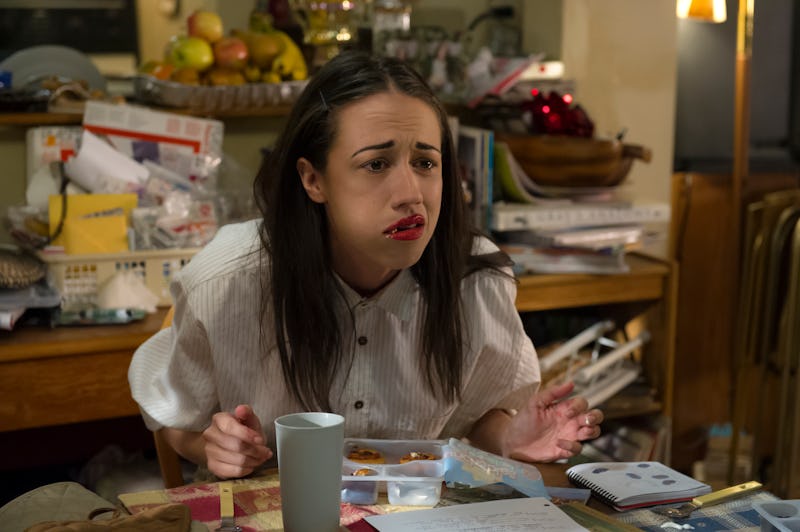 Many YouTube stars are finding their way onto TV this fall. Issa Rae of the Awkward Black Girl webseries currently stars in HBO's critically-acclaimed Insecure and Colleen Ballinger's Miranda Sings will go from YouTube to Netflix's Haters Back Off , now streaming. To help you prepare for Haters Back Off, you can see why Miranda has taken the internet by storm with the best Miranda Sings videos. According to her YouTube Channel, Miranda Sings has over seven million subscribers and over one billion views since joining the streaming service in 2008 with her trademark bright red lipstick and catchphrase, "Haters back off."
Those words are naturally the title of Miranda Sings' Netflix series, which follows the delusional and awkward, but ambitious wannabe pursue fame on YouTube and interact with her family. Don't let her name fool you — Miranda does way more than sing in her videos, but there's a lot of that, too. The videos also feature the title character giving humorous tutorials on DIY Snapchat filters, Kylie Jenner lip kits, prank calling people and businesses, making something called "Galaxy Mashed Potatoes," and more. Ballinger told London's Sunday Times that Miranda started as character who satirized other YouTubers vying for fame in their posted videos.
"I saw all these girls trying to make a career out of putting videos on YouTube for thousands to watch, clueless to the fact that they were terrible," she told the outlet. "The characters were so ridiculous, I wanted to make one of my own. Miranda was created out of spite."
Check out some of the best of Miranda Sings below.
1. "How To Wrap A Present"
Miranda discusses the unfortunate coincidence that her birthday falls on Christmas Eve, which causes everyone to forget her special day. She declares that her mom and uncle will receive "the gift of my love" for the holiday and wraps herself up as a present, complete with a bow.
2. "Starships" Cover
Miranda attempts to cover the Nicki Minaj hit while frolicking on the beach. Hilarity and weird looks from children, of course, ensue.
3. "Gangnam Style" Cover
Remember that Psy song that inexplicably became a huge sensation a few years ago? Well, Miranda put her own hilarious spin on the tune above.
4. Miranda Invades "Shake It Off"
In one of her most popular videos, Miranda hilariously inserts herself into every single scene of Taylor Swift's music video while covering the 2014 hit song.
5. "Where My Baes At?"
She's known for her covers, but this is a Miranda original in which she gives tips on "how to bae."
6. Charlie Charlie Pencil Challenge
Miranda attempts to "summon" Charlie with two pencils and a piece of paper that he can use to communicate with her.
7. Kylie Jenner Lip Challenge
Miranda takes the challenge with a paper cup rather than a shot glass.
8. Slurpee Bath
This video shows Miranda taking a love of Slurpees to a whole new level in the bathtub.
9. Reaction To Ariana Grande's "Focus"
Miranda loves to do videos either covering the pop star's songs, hanging out with Frankie Grande, or reacting to the music videos of her "protégé" — the YouTuber proudly states that she vocal-coached Grande. Miranda even panics that Grande "dies" in the video.
10. "How To Kiss"
In 2014, Miranda posted a kiss "tutorial" with JoshuaDTV, who was Ballinger's real-life husband Joshua David Evans. She makes him kiss a hairbush and they barely kiss each other. (Earlier this month, Evans and Ballinger announced that they will divorce.)
11. Miranda Reacts To Kids Reacting To Miranda Sings
When the "Kids React" videos were all over the internet, Miranda posted this meta video of herself reacting to a video of kids reacting to her videos. It's like YouTube inception.
Haters Back Off will bring more of Miranda's hilarity and is streaming on the site now.
Image: Carol Segal/Netflix