The Fascinating History of Jeans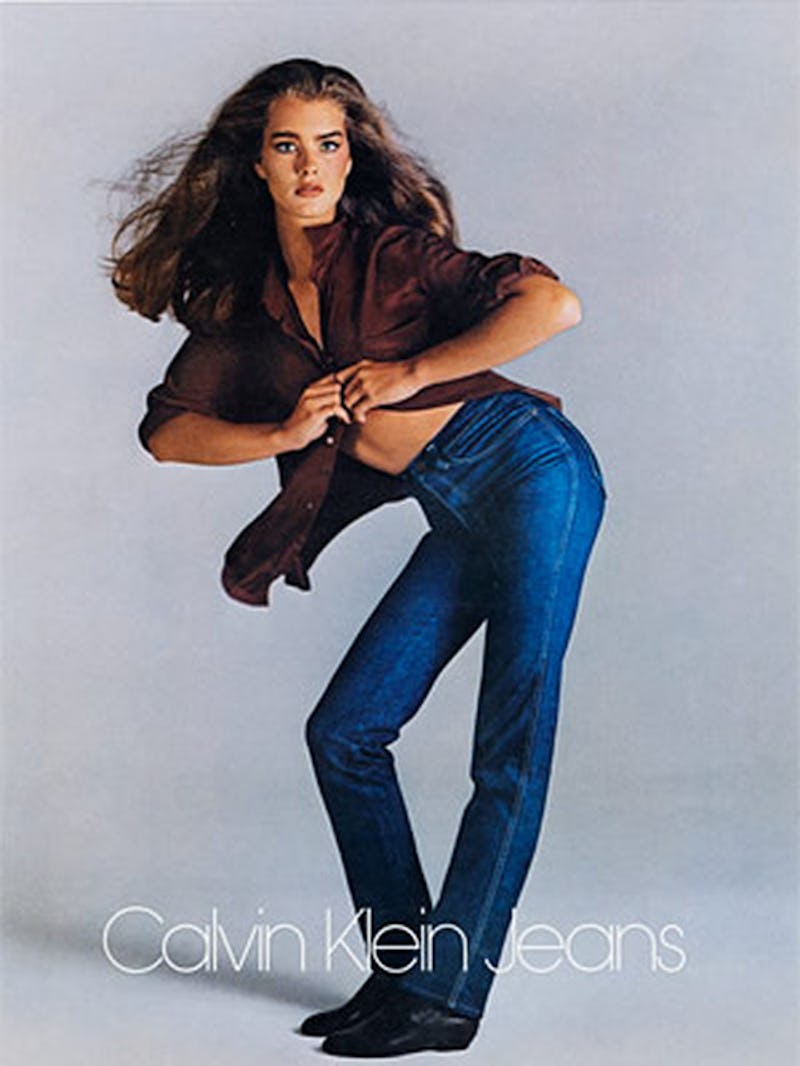 While you might be used to throwing on your skinnies without a second thought, the history of jeans is an interesting one, starting in the trunks of gold diggers, heading west, and weaving its way into the shelves of modern day wardrobes. Denim is one of those rare pieces that everyone can get behind, from your grandma shuffling around the house in her waistband jeans to you slipping on your favorite pair to feel smokin' on a Friday night.
I personally can still remember the moment I switched over from my mom-bought khakis to my first pair of denim. They were bell-bottomed with cow trim on the cuffs, and as I turned backwards and forwards in the Sears dressing room, I couldn't help but imagine the slow-mo scene of me walking through the hallways that was going to happen. Papers and books would crash to the floor in a frenzy of awe and I'd marinate in the fact that they were the definition of cool.
These days, things are no different: From Khloe's Good American line to the revival of Calvin Klein's '90s jeans, we're still using denim in the constant pursuit of cool. But this is now — what did jeans mean over a hundred years back? It turns out the history of jeans is completely fascinating. Sit back and relax in your favorite pair and find out how they came to be.
Origins
At the age of 24, Levi Strauss made a cross-country journey out west to open a new branch of his brothers' New York wholesale dry goods business. What he found was an opportunity to start an empire, passed to him by a customer.
"One of Levi's many customers was a man named J.W. Davis, a tailor in Reno, Nevada," Tracey Panek, Levi's Historian, shares in an email interview with Bustle. "In a letter to Levi, Davis ordered supplies and also invited Levi to take out a patent. On May 20, 1873, Patent No. 139.121 was issued to Levi Strauss & Co. and J.W. Davis for the first riveted pants, known today as blue jeans."
Originally called "waist overalls" because they stopped at the waist, they were made while the Gold Rush was at its peak. Men were heading west in search of riches and they would spend months camping out in rough terrains that would easily mangle traditional fabrics. Blue jeans, though, were able to weather the rougher life.
"Levi Strauss & Co.'s riveted pants, or waist overalls, were made for working men from miners and cowboys to railroad engineers and carpenters. These blue collar workers needed durable pants that could withstand lots of wear and tear. Denim was a traditional work fabric — strong and in a dark color that hid dirt and stains," Panek describes.
The fabric was so durable, in fact, that the pants were able to change hands many times over before being retired in the bin. "LS&Co.'s pants were tough enough to be worn out, patched up and passed on to other workers," Panek says. "Our oldest pair called 'XX' date to about 1879 and show evidence of patches and knee marks in several heights indicating more than one man who wore them."
The Wild West
While blue jeans stayed true to their origins as a working class symbol for decades on, there was a blip of upper crust east coast dabblement in the '30s thanks to the rise of spaghetti westerns. With cowboys staggering into saloons and running off bandits, the cowboy look — and Levi's in particular — became synonymous with a life of independence and adventure. The upper class began trading in Hampton vacations to come to dude ranches instead.
Tapping into the elite's need to channel their inner John Waynes and Bill Codys, Levi followed the zeitgeist towards a brilliant marketing spin.
"In the same era, Levi Strauss & Co. selected the cowboy as its symbol for marketing and advertisements. The dude ranching phenomenon, the company's authentic roots in the west, and branding focused on the cowboy all helped promote Levi's products to a broader range of customers," Panek explains.
Despite the interest in cowboy culture, this period in the life of jeans was generally an experimental one. In fact, most wealthy folks who bought jeans at dude ranches simply brought them back as souvenirs, not for everyday wear.
World War II
Denim stayed a getaway novelty until after the World War, where massive changes in society signaled the end of a rigid social-class era.
While sailors and soldiers were overseas, they wore their favorite denim during days off and nights out, wearing them like off-duty clothes. "Soldiers serving abroad during World War II often wore Levi's jeans and a white T-shirt when they weren't in uniform. In fact, many people living overseas spotted their first Levi's jeans on soldiers wearing them as casual attire," Panek shares.
"One mother even recognized her son among a group of soldiers photographed in Saipan. Despite his military haircut, she knew him instantly by the cuff of his Levi's jeans — just the way he had worn them at home. The mother had shipped him three pairs in Honolulu and he had slept on them to prevent anyone from stealing them," Panek shares. In many ways, denim became a token of "home," a title which slowly nudged it towards becoming an American staple.
Stigma Against The Blue
While denim was slowly making its way into dresser drawers, not everyone was fully on board with it. Take, for example, the kerfuffle with singer Bing Crosby and a Vancouver hotel while he was on a hunting trip. According to Fortune, he tried to check in at the front-desk, but because he was denim-clad, the concierge wouldn't give him a room. Since he was wearing jeans, the clerk didn't bother to notice he was showing one of America's most famous performers the door.
To push back against the idea that jeans weren't elegant enough for formal attire, Levi's came up with a plan. "LS&Co. learned about the incident and made him a denim tuxedo jacket," Panek explains. From that moment on, the Canadian Tuxedo was born.
But there wasn't jean discrimination just in upscale hotels. It was also seen as a no-go thanks to the American youth and their leather-jacket-wearing, hair-slickin' ways. As movies like The Wild One with Marlon Brando and Rebel Without a Cause with James Dean started coming out, suburban boys clung to denim as their symbol of youth rebellion. They saw it as a way to live the independent life of a modern-day cowboy, skipping the hat but reaching for the cowboy's jeans. Which was something that schools all too eagerly banned.
"The media and fundamentalist churches depicted sloppily dressed teens as gang members, social dropouts, and potential troublemakers. Ministers burned Elvis posters. Schools and colleges banned denim attire because of the association of jeans with social alienation, beatnik verse, and juvenile delinquency, the antithesis of the conservative 'man in the gray flannel suit," Snodgrass explained.
Women In Denim
While men struggled to pass off their blue jeans as everyday wear, they've appeared in women's fashion magazines as casual pieces since the '30s. "By 1935, an article in Vogue magazine recommended that women vacation-bound for a dude ranch grab a pair of Lady Levi's jeans and a Stetson hat before heading out west," Panek describes.
Unfortunately, many saw this as a sign of relaxed standards in women's leisure wear, something not everyone was comfortable with. "Social analysts marked this era as the beginning of a decline in formal etiquette, a loss of class consciousness," Mary Ellen Snodgrass, author of World Clothing and Fashion: An Encyclopedia of History, Culture, and Social Influence, explained. The world wasn't ready to see skirts traded in for rolled cuffs.
Popularization Finally Hits
Working class greasers and West Coast surfers from the late '60s and '70s popularized the look, to the point where jeans took over the mainstream. "Within three years, from 1962 to 1965, teen clothing sales doubled, forcing preppy khaki school dress into the minority and filling the bins of children shops with jeans," Snodgrass offers. Denim started to lose its connotations and slowly began to become a wardrobe staple that was outside of those defined by their subcultures.
Personal expression with denim continued to grow in the '80s, where the designer jean craze swept up the decade. From 15-year-old Brooke Shields repping Calvin Klein jeans to Guess starting its bombshell brand, jeans had officially entered most people's wardrobe vocabulary. Even Vogue waved the white flag, admitting denim fit right into the glossy materialism of the decade. "In November 1988, Anna Wintour put the first pair of jeans on the cover of American Vogue , effectively admitting denim into the canon of high fashion," Vice observed.
From then on, the styles and types exploded. Hip-hop brought baggy jeans into the spotlight in the '80s, while punk rockers and metalheads favored skinny jeans. Bruce Springsteen's 501's became a symbol of American masculinity, and we've seen low rise jeans favored by body-glittered pop princesses of the early '00s, as well as the return of mom jeans and embroidered, patchwork denim in recent years.
While now jeans can be bought in a bevvy of different styles, colors, washes, and cuts, one thing is interesting to note: We took a clothing item that originally belonged to gold hunters and made it change hands many times over. Fashion always has a history, so it's worth getting curious the next time you open up your own closet doors.
Images: Levi's (7); Calvin Klein (1)