An Illustrated History Of Denim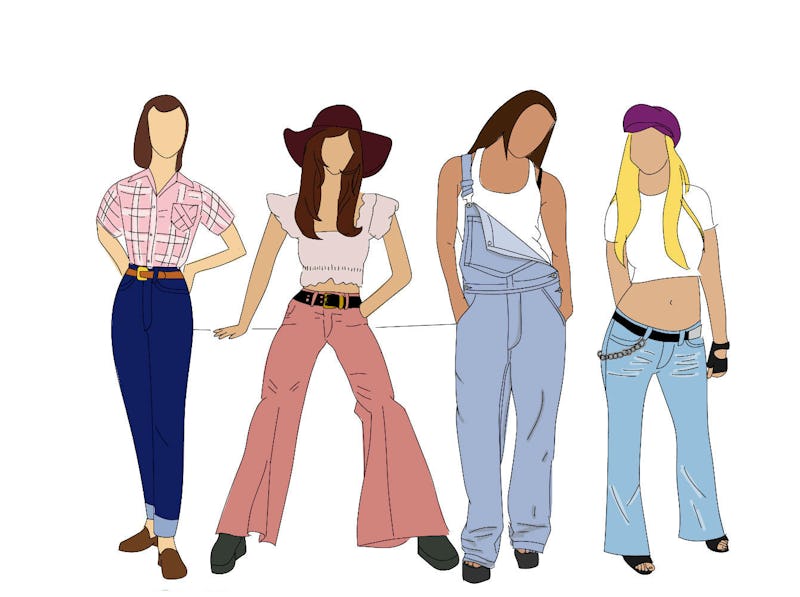 Denim is truly the chameleon of the fashion world. The same iconic material that dressed Britney and Justin in those head-to-toe atrocities and dragged on the floor through our middle school hallways has also graced the legs of every A-list celebrity of the past 100-plus years, covered all the top fashion magazines, and consistently evolved to maintain a permanent spot in our closets. We have memories tied to our denim and carefully built arsenals that cover everything from weekend boyfriend cuts to premium designer pairs that would stand out at even the most elite party.
I don't know about you, but I've definitely held onto the pairs that have meant the most to me over the years: my first "fancy" jeans from eighth grade, the ultra low-rise pair (sans back pockets) that I can't believe my mom let me wear in high school, and those pairs that are so perfectly worn that I can't imagine life without them.
Because jeans are such an undeniably permanent part of our lives, it's worth knowing their history. From their inception in the 1800s, through a whirlwind of permutations in the 20th century, and all the cuts we wear today, you're about to become a denim expert. We've teamed up with Abercrombie & Fitch to bring you an illustrated history of the one wardrobe staple we'll never give up.
1860s and '70s
Levi Strauss made the first jeans out of ultra-durable, heavyweight denim that had originally been used to construct tents. He began using indigo dye on the fabric, and thus the "blue jean" was born. In 1873, button flies and rivets were added to strengthen jeans and enhance durability. These were popular among miners and other workmen.
1890 — 1950s
Durable, practical blue jeans gained popularity among lumberjacks, cowboys, ranchers, and factory workers. Western women who worked on farms started wearing jeans too, but styles were still geared towards men.
1930s
Vogue showcased denim for the first time, featuring two upper-class women in "Western Chic" tight jeans. Department stores began carrying denim for women, which mostly had side fasteners as opposed to the men's style front closure.
1950s
Jeans become popular among teens and pop culture icons like James Dean and Marlon Brando — with a little bit of a rebellious edge. Men's trends included light washes, black denim, and cuffing, while girls were just easing into the staple. By 1958 jeans for women began featuring more body-consious cuts and deviating from the men's standard for widespread feminine appeal.
1960s
Women's jeans started to feature zip flies. Young people challenging the system in counterculture movements wore jeans to both identify with each other and reflect their support of the working class. Embellishing jeans with patches, embroidery, and paint became a popular way of customizing your denim. Bell bottoms, hip huggers, and denim skirts become super popular, while stone washing and colored denim also had a moment. This is also when people started making cutoffs.
1970s
Designer denim made its debut with no sign of stopping. By the end of the decade, super-tight cuts gained popularity with both men and women.
1980s
By now, jeans had officially become a wardrobe staple for men, women, kids, and teens alike. Stonewashed, acid-washed, ripped, skinny, and tapered cuts were most popular. Jeans became acceptable in more settings (like offices) and even got dressed up with sport coats and fancy shoes.
1990s
Baggy, oversized, and sagging jeans gained traction with the help of hip-hop and skate culture. Carpenter jeans, head-to-toe denim, overalls, and shortalls (looking at you, Rachel Green) also saw their day in the sun.
2000s
Ultra-low-rise pop star-inspired styles, flares, and bootcut jeans had a serious moment. "Genie In A Bottle" was essentially the height of fashion, and we were all on board.
Today
Skinny, distressed, boyfriend, and high-waisted cuts are all in regular rotation. Even "mom jeans" and flares have returned, and we're starting to see a decline in ultra-tight styles. Denim and chambray shirts have become a wardrobe mainstay as well.
Long story short, all denim is fair game, so beware of tossing those bad boys you thought were past their prime.
Images: Caroline Wurtzel/ Bustle
This post is sponsored by Abercrombie & Fitch.