This Is The Melted Matte You Need To Get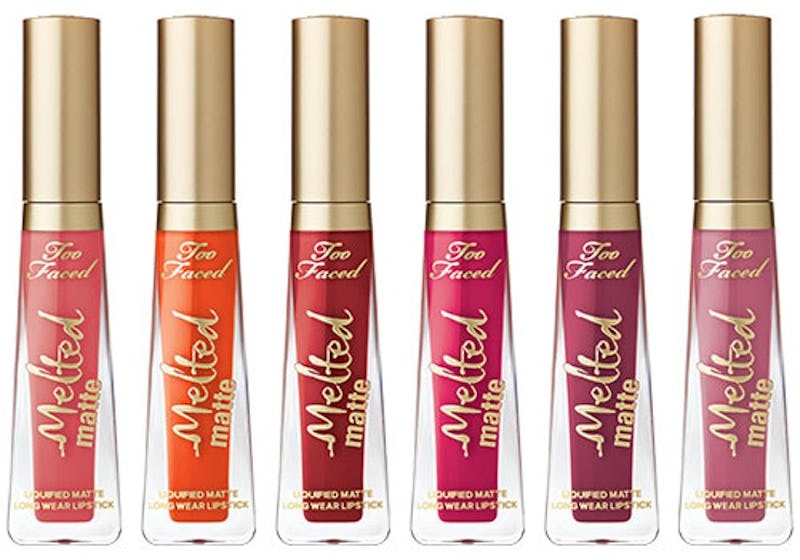 There is no shortage of mattes on the market. The matte lip trend remains huge, with every brand from Kylie Cosmetics to Kat Von D to Huda Beauty creating velvety, intensely pigmented liquid lippies for power pouts. Too Faced's Melted Matte collection is pretty stellar, from the shade spectrum — there are pinks, nudes, purples, and even a green Melted Matte on the way — to the creamy smooth texture. You have lots of Melted Matte choices when it comes to colors. These lippies are $21 and the product is super long-wearing. But the limited edition Candy Cane Melted Matte is the one in which you need to invest. Why's that?
Well, in addition to its non-permanent status and the cute, holiday-themed packaging, thanks to the candy cane stripes on the cap, the Candy Cane Melted Matte smells like peppermint mocha! So many lippies are infused with vanilla and smell like baked goods. Don't get me wrong — I lurve warm, spicy vanilla fragrances when it comes to my lip glosses. But it's refreshing that Too Faced opted for a festive, seasonal scent for this lippie. Taking a deep whiff and inhaling the aura while applying this lippie will wake up your senses.
The Candy Cane Melted Matte is a deep, hot pink. Yeah, it's gorge and smells yummy.
Whether or not you've started planning ahead for the holidays, be it compiling your "wish list" or coming up with gifts you want to purchase for loved ones, I think it's time for a personal shopping break. You should totally roll up on the Too Faced site and grab a tube of Candy Cane for yourself.
Whenever you paint your pout with Candy Cane, the smell will instantly transport you to the holiday season. You could wear this for a Fourth of July BBQ and you'll be fondly recalling holiday frenzy, since scent is tied to memory.
It's a va-va-voom shade, that's for sure.
The Candy Cane Melted Matte can withstand a few smooches under the mistletoe, too!
Images: Too Faced/Instagram (1); Courtesy of Too Faced (2)