The 'Rogue One' Trailer Gives Insight On Jyn Erso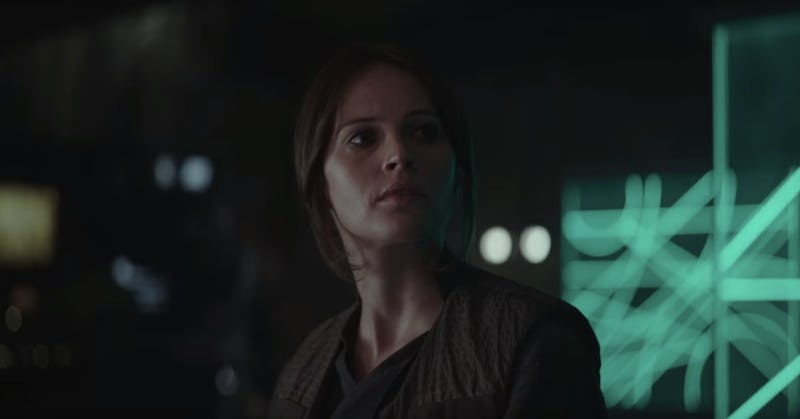 The Force was with Star Wars fans on Thursday morning when the second Rogue One: A Star Wars Story trailer was released. Aside from featuring yet another appearance from the classic character, Darth Vader, the latest trailer gives Star Wars fans more insight into the spin-off's main character. As it turns out, she's more connected to the Dark Side than we thought — at least, in a manner of speaking.
Luke Skywalker, Princess Leia, and Han Solo are out of the picture for the time being as Lucasfilm delves into the family history of rebel fighter Jyn Erso (played by Felicity Jones). Much like The Force Awakens' female protagonist, Rey, the events of Jyn's past have somehow led her into the war. Despite ties that are seemingly broken, the Rebellion calls upon Jyn for help when her father, Galen Erso, is believed to be involved in the production of the Empire's greatest weapon: the Death Star.
This leads Jyn and a band of heroes in search of her father so that they can shut it down. Armed with sheer hope, each other, and maybe even a little bit of the power of the Force, Jyn is the Rebellion's key to "save the dream." And, so far, she looks like she is more than up to the challenge.
Still, that's a whole lot of pressure for one rebel, right? However, Jyn possesses all of the traits of a natural born leader, and she shows a strong desire to set right whatever shady business her father may have gotten dragged into. In fact, while getting to know Jyn a bit more through these trailers, I'm seeing even more of a possible connection to Rey. It seems like the Rebellion would be lost without both of them, even with the years that separate their individual adventures.
Rogue One: A Star Wars Story hits theaters December 16, 2016. Until then, re-watch the trailer until you've memorized every line. I know I will.
Images: Star Wars/YouTube