17 Amazing Makeup Looks From James Charles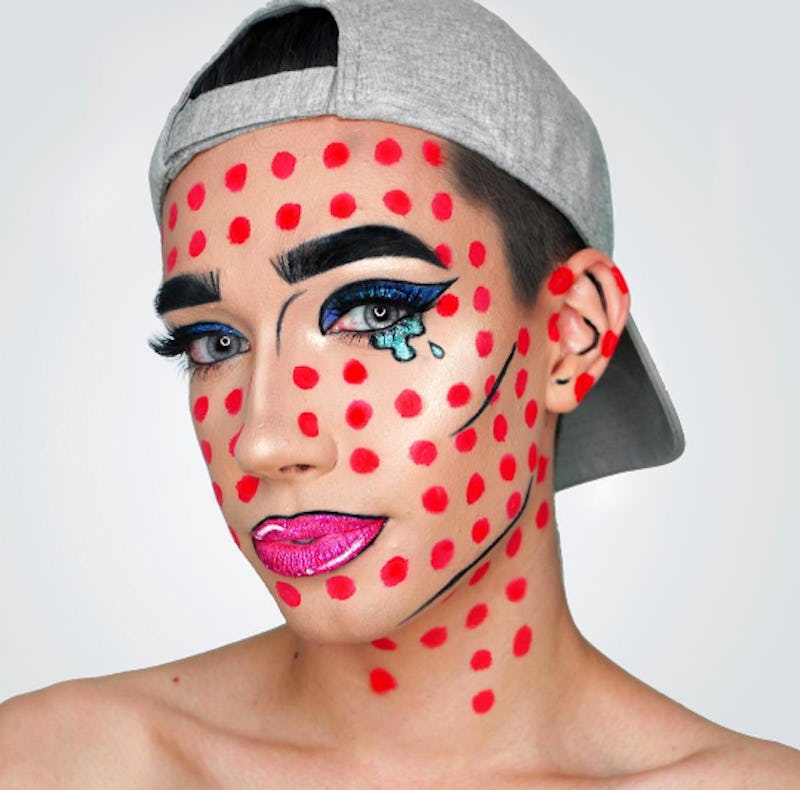 On Oct. 11, makeup brand CoverGirl made history by announcing their first male spokesperson James Charles. Charles will represent the brand alongside current celebrity spokesperson, Katy Perry. The social media star found cult following on YouTube with his makeup tutorials that not only served killer looks, but proved anyone and everyone can access and adore the beauty industry.
His Instagram account, however, is where James Charles debuts new makeup looks on a much more regular basis. The looks aren't just your basic glam — although the 17-year-old does pull those off with ease, too — but intelligent, creative designs that find inspiration from a huge array of sources. Not only can Charles blend an eyeshadow better than most, but who else could create an entire makeup look from the pattern of a butterfly's wing?
As someone with such a varied repertoire of looks, how do we choose the best ones to highlight? (Get it?) Mainly by the ones that really catch your eye, and stand out in a crowd/a sea of Instagram makeup pages. These looks aren't just executed with the skill of a professional, but are unique in their approach to makeup. They aren't following trends, they aren't making trends either — instead, James Charles is pushing the limits of his creativity through makeup.
1. Mermaid Skin
This look uses two colors to create a stunning aquamarine effect that is only helped by the sea backdrop. If you had never thought of using blue highlighter before, there's no doubt you want to now.
2. Mad Hatter
This is the kind of makeup you'd expect the best of the best to be rocking at Comic Con. Charles said he drew inspiration from the latest Alice In Wonderland film, Alice Through The Looking Glass . What makes this look truly special is that Charles didn't just copy the makeup look from the movie, but instead made it all his own.
3. Lilac Cut Crease
In honor of the passing of music legend Prince, Charles created this visually stunning lilac look that he titled "Purple Rain." And boy does it deliver — that glitter and lilac cut crease is ridiculously stunning.
4. Neon
Creating a neon look isn't easy, but somehow, Charles makes it seem like it is.
5. Thunder Storm
If you're looking for some killer makeup for your Halloween costume, this unique look is definitely one to draw inspiration from. The amount of creativity in Charles' looks is inspiring.
6. Watercolors
This splatter effect would be hard enough to get right on paper, let alone a human face.
7. Pixelated
You don't have to worry about low quality pictures if you become the low quality picture.
8. Blue
Fake freckles have been a huge trend recently, but why not take it one step further and add white freckles to a blue face for a truly stellar look?
9. Fake Beard
Cheat your way through no shave November with this incredibly realistic beard makeup.
10. The Countess
Inspired by Lady Gaga's character in American Horror Story: Hotel , this killer look is sure to get you noticed at any party, Halloween or not.
11. Cranberry Cat Eye
No matter how inventive your makeup skills may be, there's something to be said about a perfectly executed cat eye.
12. Sunset Inspired
This cut crease doesn't just stand as evidence as how a cut crease should be done, but shows a truly amazing understanding of color.
13. Dotty
This look uses three shades and two different types of spots to create a look unlike any other.
14. Fake Freckles
If you want to keep your dots a little more low key, this fake freckle makeup looks beautifully natural.
15. Drag
This look is inspired by RuPaul's Drag Race contestant Raven and even if you don't know who that is, you have to admit this is a killer drag queen makeup look in general.
16. Honey Bee
Not only does that bee look alarmingly real, but the honeycomb effect on Charles' face is to die for.
17. The Power Of Makeup
Inspired by Nikkie Tutorials' video on the power of makeup, this look stands as a testament not only to the powerful ways makeup can be used to change or enhance the face, but also as a celebration of makeup as an artform.
These posts, if nothing else, prove that James Charles is an excellent choice to be CoverGirl's newest spokesperson. His love of makeup speaks for itself through his crazily creative pictures and makeup styles and thankfully, now his talents can be shared on a much more global level.
Image: James Charles/Instagram