How Accurate Is 'Surviving Compton'?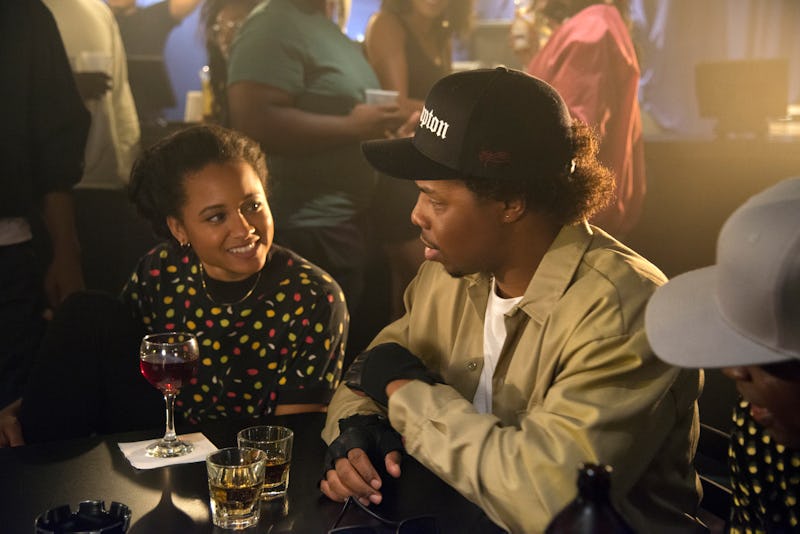 Often even when Lifetime movies are based on real events, you aren't too familiar with their origins, as they tend to adapt the stories of regular people who experience something shocking or tragic. However, that's not the case with the network's latest movie, which offers a different perspective into hip hop's origins than the one portrayed in Straight Outta Compton. But the question of the accuracy of Surviving Compton: Dre, Suge, & Michel'le cannot be answered conclusively, as it all hinges on one person's view. See, Michel'le isn't just portrayed in the TV movie, she's behind it. The male members of the story shared their perspective in Straight Outta Compton, and now Michel'le is showing her side of the NWA story and beyond.
Michel'le was one of the group's collaborators, and her distinctive voice and singing samples were a key part of Dr. Dre and Suge Knight's post-NWA producing success. Michel'le was also in a relationship with Dr. Dre for six years, which is one place where the accuracy of Surviving Compton has been disputed. Michel'le has claimed that Dr. Dre physically abused her and Surviving Compton portrays the alleged abuse; Dr. Dre has denied these allegations. After Michel'le and other women claimed that Dre had beat them following the release of Straight Outta Compton, which does not portray abuse, he said in a statement to the New York Times, "I apologize to the women I've hurt. I deeply regret what I did and know that it has forever impacted all of our lives." However, in a statement to Jezebel, Dre's attorney clarified that this apology was not addressing Michel'le's claims and said, "I can assure you that Dre's August 2015 apology for things he did decades ago was not in any way directed to Michel'le. Her false claims of being a victim arose for the first time more than 25 years after their relationship ended, coinciding with the success of Straight Outta Compton and her own efforts to sell a life story."
TMZ reported that Dre also threatened to sue Sony Pictures if Surviving Compton depicted him as abusing Michel'le and a title card at the end of the film states: "Dr. Dre, through his attorney, denies abusing Michel'le and challenges her credibility."
Michel'le addressed the overall accuracy of Surviving Compton in an interview with Jezebel and said that she understands the limits of turning multiple years into a short TV movie, but stands by the film. She does, however, acknowledge that it's almost entirely from her personal memories.
"The accuracy is as best as I can remember it. You know, we only had 80 minutes to talk about 20 years of my life, and we had to compress and combine and manipulate. I wanted so much in there, and I think what we captured, with the story that we were trying to get across, I think we nailed it."
Since the film hinges on Michel'le's side of her story, the accuracy can't truly be determined. But if you enjoyed seeing the beginning of modern hip hop in Straight Outta Compton, you should watch Surviving Compton when it premieres on Oct. 15 to see a different, lesser known perspective from a woman who was a major part of it.
Image: Katherine Thornton/Lifetime