This 'HTGAWM' Pregnancy Is A Big Surprise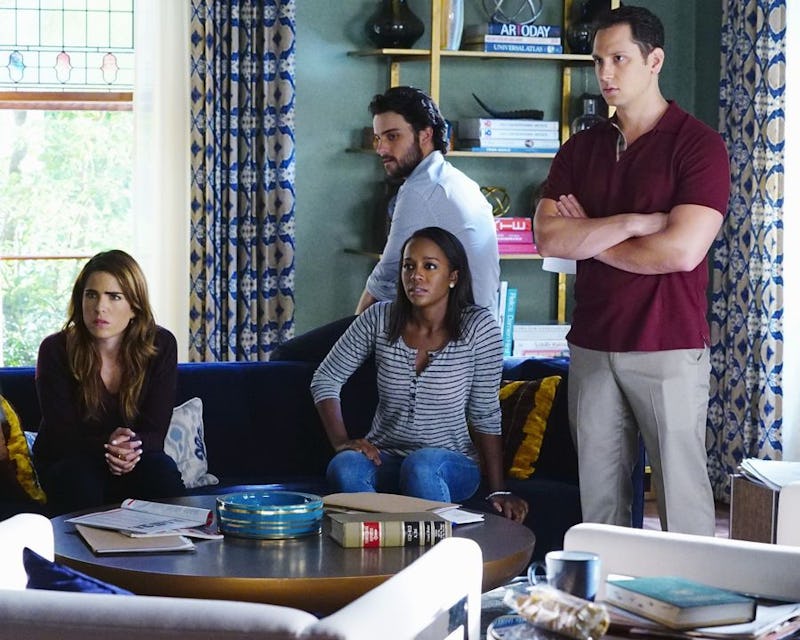 Someone is dead on How To Get Away With Murder, and every week, the show is crossing one more possible deceased member of the Keating Five off the list. This week, it was revealed that Laurel is safe, but there's something else to it — she's pregnant, too. Is Frank the father of Laurel's baby on How To Get Away With Murder ? If so, it means she's been lying to Annalise for a while now.
Laurel has been on the hunt for Frank since the beginning of the season, and once she figured out where he was, she lied to everyone, got a new phone (her dad was tapping hers), and kept the secret of his whereabouts. Laurel has been doing a lot of her own sleuthing when it comes to Frank, so it wouldn't surprise me if it turns out that she and Frank started seeing each other on the download. They're in love with each other, whether or not they still want to admit it, and there could be a Frankel baby coming after all of this explosion madness. Another thing — does Laurel even know she's pregnant? How far along is she? Who else could be the father of her child?
There's one other possibility — Wes. Laurel and Wes have this weird connection in which they make eyes at each other all the time. There's definitely something there between the two of them, even if they don't want to admit it. Laurel has Frank, Wes has Meggie (and Michaela poked fun at her name and it was hilarious), and that should be that, right? I still think that if given the opportunity, something could happen between Wes and Laurel, so let's not count that possibility out. Laurel may be pregnant on How To Get Away With Murder, but there are still a ton of questions.
Images: Richard Cartwright/ABC; Giphy