12 Weird But Useful Overnight Beauty Products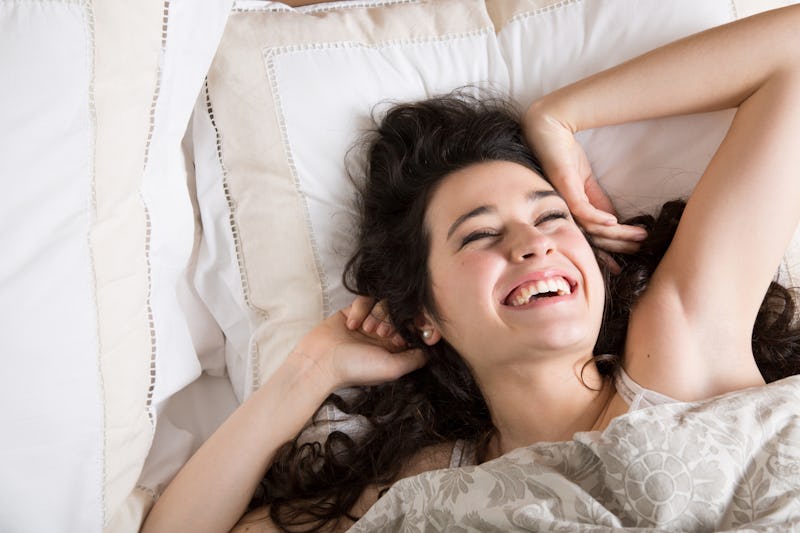 Whether you take any opportunity you can to nap, or think snoozing through the night is just a giant waste of time, sleep is just one of those things that everyone needs to do sooner or later. If you're looking to save time or become more productive even when you're passed out, incorporating some really effective overnight beauty products into your routine has the potential to help.
After all, you're technically multitasking! With the right products, your skin could be rejuvenating itself, your hair might be getting a deep conditioning treatment, and your eyelashes could be growing faster than ever before. So even if these weird beauty products prompt you to raise an eyebrow, they might be worth adding into your before-bed routine.
Studies have found that while you're asleep, your skin, hair, and other cells are already working at an increased rate to rejuvenate themselves. Overnight beauty products that really work can help speed up the renewal process even more. The more natural the product, the better, because your body is trying to cleanse and detoxify itself. Plus, anything that helps you with relaxation is a must, because the majority of cell rejuvenation happens at the deepest level of sleep (meaning that quality rest is imperative).
1. Intensely Moisturize Skin With Snow Water
Laneige Renewal Water Sleeping Mask, $19, Amazon
People can't stop raving about Laneige's water sleeping mask. It's loaded with snow water and other intensely hydrating ingredients that create a moisturizing barrier to hold water in. It's gentle on just about every skin type, so most people have no problem sleeping with it on every night and awakening with clearer, hydrated, and more elastic skin.
2. Rejuvenate Your Skin With Copper Ions
iluminage Skin Rejuvenating Eye Mask, $35, Amazon
While this Iluminage skin rejuvenating eye mask might just look like your average eye mask, the fabric is actually infused with copper ions, which absorb into the skin to jump-start the rejuvenation process. On top of that, it's ridiculously soft, comfortable, and helps to block out the light.
3. Heal Damaged Hair Overnight With Alterna Caviar
Alterna Caviar Anti Aging Overnight Hair Rescue, $23, Amazon
This Alterna Caviar Anti Aging Overnight Hair Rescue deeply penetrates your hair while you sleep to reinforce them with strength, moisture, and a silky feel. It's especially great for people who need deep conditioning healing after color treating or chemical processing, and it won't leave any residue on your pillow.
4. This Black Tea Bubble Mask For Temperamental Skin
Etude House Bubble Tea Sleeping Pack, $12, Amazon
This Etude House bubble tea sleeping pack actually uses black tea extracts and moisture capsules to infuse and plump up your skin with hydration by the time you wake up. It's especially good for balancing temperamental skin (for instance, if you've got a combination of dry and oily patches), and people say it smells great. As a bonus, it's so much fun to apply.
5. Hydrate Your Face With Rice
Cosrx Ultimate Nourishing Rice Overnight Mask, $13, Amazon
A mask made of rice extract might seem a little weird, but this Cosrx rice overnight mask is great for nourishment, hydration, brightening, and evening skin tone. It absorbs easily to help your face feel light and fresh, and reviewers say it's easy to sleep with it on because it's got little to no scent, and a non-sticky feel.
6. Skip The Dry Cracking Hands This Winter
Spa Moisturizing Gloves, $14, Amazon
With the cold winter months quickly approaching, these moisturizing gloves could just save your hands. They're infused with ultra-moisturizing natural oils like jojoba and lavender, so cracking and dry skin is something that you can heal overnight. They've also got finger cutouts, so you're not inconvenienced while you sleep.
7. Ease Skin (And Your Mind) With A Great Humidifier
Esonstyle Humidifier Diffuser & Sound Machine, $56, Amazon
The cool moisture from this Esonstyle humidifier, diffuser, and sound machine is particularly great for hydrated, wrinkle-free skin, but it's also got a relaxing color-changing function, an aromatherapy diffuser setting for use alongside your favorite essential oils, five built-in nature sounds, and an auto-shut off feature for your protection.
8. Grow Your Lashes And Brows Overnight
Body Merry Lash & Brow Elixir, $24, Amazon
Looking to grow your lashes while you sleep? This Body Merry Lash & Brow Elixir is infused with natural and nourishing ingredients like biotin and green tea to help hair follicles grow thicker, longer, and faster. Unlike other brands, it comes with a delicate mascara brush that makes it easy to apply this serum before bed.
9. Steam Away Dark Circles While You Rest
Grinigh Herbal Lavender Steam Eye Mask, $16, Amazon
This awesome Grinigh herbal lavender steam eye mask plugs into any USB port to provide a steady supply of warmth and steam to your eyes. It's great for relaxation and promoting circulation around the eyes to lessen dark circles, and the material itself is infused with calming lavender herbs.
10. Save Your Skin From Poor Circulation And Pressure
Save My Face La Petite Satin Champagne Pillow, $50, Amazon
Whether you're a back sleeper, side sleeper, or stomach sleeper, this Save My Face La Petite satin champagne pillow helps keep your face elevated to reduce blemishes and other issues caused by poor circulation. It can be folded in half and placed under your neck, or used on top of your favorite pillow for some extra lift. Additionally, it's got a satin fabric that's cool, smooth, and won't clog pores.
11. Wake Up To Bright, Rested Eyes
Eva Naturals Eye Gel, $17, Amazon
Because it uses nothing but great ingredients, the Eva Naturals eye gel is an awesome way to tone and rejuvenate the area around your eyes while you rest. It's great for warding off dark circles, and people say that it's super effective for sensitive eyes or oily skin because it's non-irritating and absorbs really well.
12. Deeply Condition Hair With Argan Oil
Natural Wonderful Argan Oil Hair Mask, $12, Amazon
Night time is probably the best time to smear a palm-load of oil onto your head, and this argan oil hair mask strengthens hair from roots to ends while you snooze. It's made with the highest quality argan oil that nourishes hair with vitamins and nutrients so you wake up with sleek, manageable, and frizz-free hair.
Images: Fotolia (1); Amazon (12)
Bustle may receive a portion of sales from products purchased from this article, which was created independently from Bustle's editorial and sales departments.