How Olaplex Works On Color-Treated Hair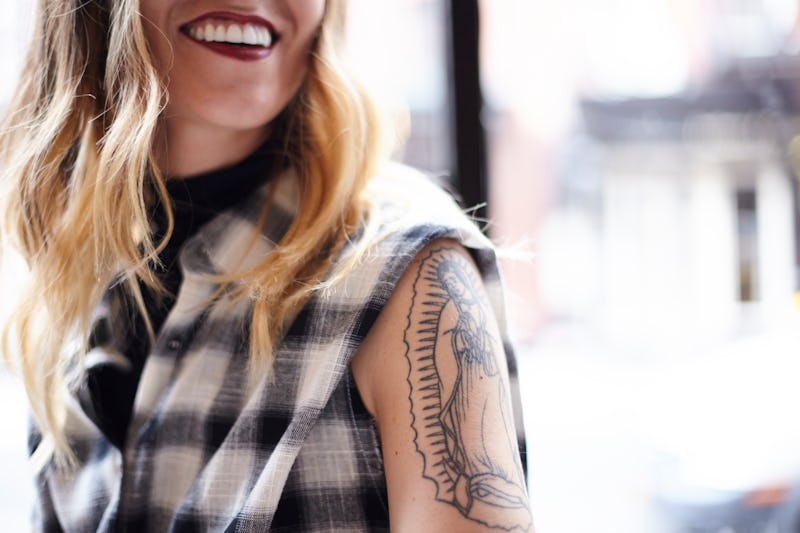 Whether you've gone overboard on the heat styling products, spent too long having fun in the sun this summer, or have pushed yourself too far with the bleach, treatments for damaged hair can be an absolute life saver for poor, exhausted strands. But with so many different options on the market, finding the right solution for you can often feel like minefield.
As somebody who has overdone it with the hair dye on far too many occasions, consulting a hairdresser was a definite must. Unsurprisingly, professionals in the field have a far greater understanding of how hair works than I did. By and large, one thing that hairdressers find hugely helpful for hair is Olaplex, a seemingly magic potion that promised to permanently rebuild any damaged disphulside bonds using an active ingredient called Bis-Aminopropyl Diglycol Dimaleate, a formula that can dramatically improve the condition of upset hair.
If you follow a lot of hair stylists on Instagram, chances are you've already seen the effects of Olaplex in salons across the world and noticed the abundance of hair models who have super shiny and sleek strands despite their obvious recent dye job. What was once seen as a potentially risky move, is easier than ever and you don't have to completely risk your hair's natural condition to get there.
According to Chicago-based hair stylist Rosemary Monica, "Olaplex rebuilds damaged bonds in your hair that breaks off during chemical services. In time the product adds strength, structure and resets your locks. Most deep conditioning treatments can not be added to bleach and will not rebuild hair or reset hair like Olaplex does. Not only has it strengthened (my client's hair) but it has added serious shine too," she says in an email to Bustle.
So, how does Olaplex work? It's a three-part treatment that rebonds, according to Monica,"like magic." The first two steps need to be done at the salon and the third step can be done at home. No.1 is a bond multiplier that is mixed into bleach and applied to hair in foils. No.2 is a bond perfector that is applied after the color treatment is rinsed out, left in for a few minutes and then rinsed out too. The No.3 serum is the hair perfector, a take home treatment that works as a mask when combed through clean damp hair and rinsed out after 15 minutes (or used as an overnight treatment and shampooed out in the morning).
Hair stylist Emma Graham says that Olaplex has given her the security net that she never knew she needed. "I don't know how I managed to do certain colors without it," she says in an interview, "Especially scalp bleaches! I don't think my nerves could take doing that service without it now. Now we have more freedom to get from one point to another without their hair being compromised. Their hair is healthier and shinier than before and their colors are lasting so much longer with Olaplex."
Although the miracle substance obviously works wonders for the condition of your hair, Graham warns that Olaplex is not technically a conditioner. "People get confused by this," she says. "Olaplex repairs the single sulfur hydrogen bonds which conditioner is unable to do. But you do need a decent conditioner to optimise the results because Olaplex does not add protein or moisture, that is a totally different issue, something that only a good conditioner and set of styling products can achieve."
Now that Olaplex exists beyond salons and is available to purchase from wholesalers and online retailers such as Amazon and eBay, there really is no reason to put some in your basket alongside your usual hair products. You won't have to deal with unhealthy hair ever again.
Images: Bustle