Glennon Doyle Melton Talks Being Fiercely Feminist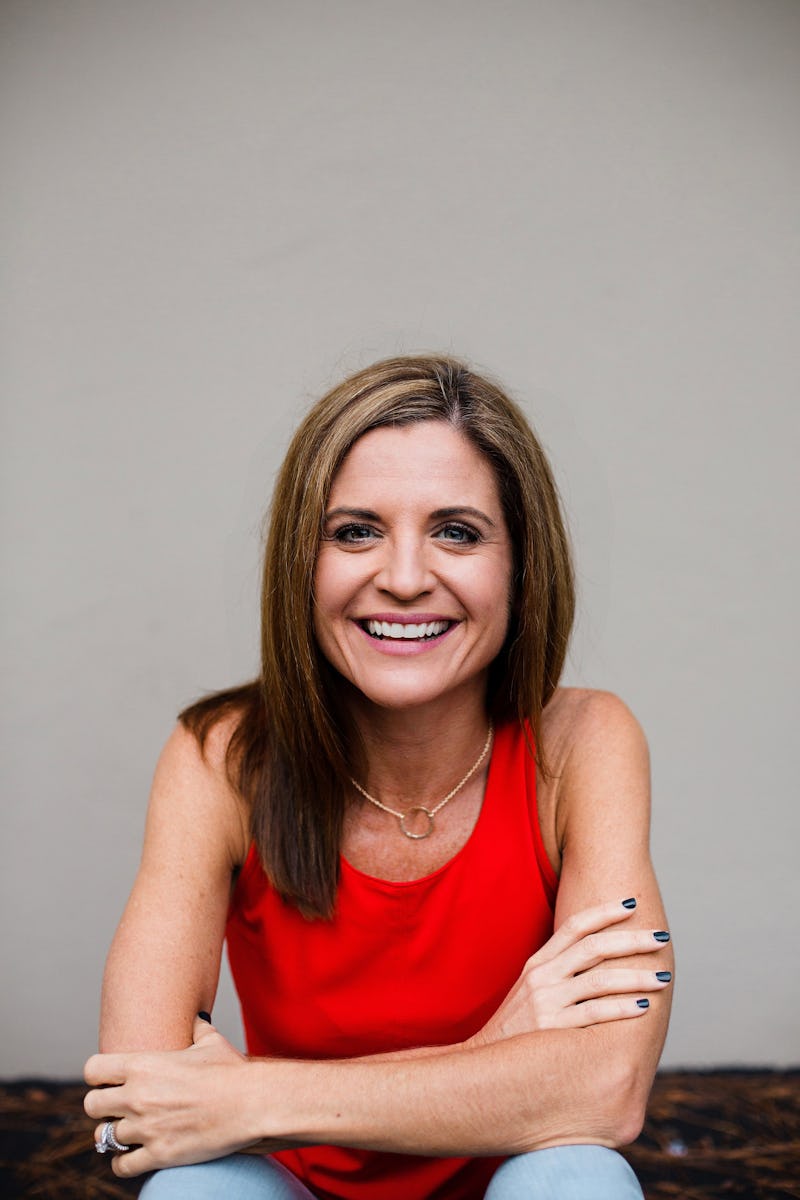 It's noon on a Thursday, and Glennon Doyle Melton and I are both in our pajamas. But while I'm settled in my home office, the author of one of this year's most celebrated memoirs, Love Warrior , is talking to me from a hotel, already three cities deep into her nationwide Together Tour celebrating storytelling, sisterhood, and female empowerment. It's been a busy fall for both Melton and her memoir; published in early September by Flatiron Books, Love Warrior quickly became a #1 New York Times bestseller, in addition to being selected as one of the latest Oprah Book Club picks — an honor that has transformed many a writer's career, and that shelves Love Warrior alongside modern must-reads like Cheryl Strayed's Wild, and literary classics like Gabriel Garcia Marquez's Love in the Time of Cholera and Toni Morrison's The Bluest Eye. But all that excitement didn't stop Melton from catching up with Bustle to chat about feminist mothering, the importance of listening to your body, and what the experience of writing Love Warrior was really like.
Love Warrior tells the story of one woman's journey through rebuilding her relationship with her most authentic self in the wake of her spouse's infidelity. It's also a memoir about the universal struggle that women face in unlearning the sexist messaging that permeates our culture in favor of listening to the messages our bodies send us instead. It's a lesson that hasn't come easily to Melton, who struggled with both an eating disorder and substance addiction before becoming pregnant with her first child. "What I was taught — and why I was so jacked up for so long — is what I wrote about in Love Warrior : that in order to be a successful woman you need to be small, quiet, pretty, agreeable, selfless. So then my whole life became an unlearning of that."
In a consumer culture still filled with sexist advertising and seemingly-endless selfie filters, that unlearning is definitely something most of us can relate to. It's also a hard-won unlearning that the feminist momma of three wants to make sure her own children suffer through less than she did. Within the first few pages of Love Warrior, Melton is already tackling body shaming with one of her young daughters, who is concerned about being "bigger" than her peers. And it's a conversation Melton has with her daughters on and off the pages of her memoir.
She cites a recent trip to the mall, where her daughter noticed a floor-to-ceiling advertisement featuring a lingerie-clad, liberally airbrushed supermodel. In moments like these, Melton isn't afraid to stop and have a conversation with her girls. "I'll say: 'can you tell me what women's bodies are for?' And she [Melton's daughter] says something different every time — she'll say to run, to paint, to write, to laugh. And then I'll say: 'okay, are women's bodies for selling stuff?' And she'll say 'No.' And I'll say: 'Well that's why that picture feels bad to you. It's because it's a lie.'"
"This is why motherhood is an insanely feminist place to be," Melton says. "I'm teaching these girls not to be blind consumers of culture, but instead to act upon it — to think of themselves not as victims, but as actual creators of culture. They're going to be different. They'll have their own challenges, but if I teach them to start seeing this poison early, they'll walk through the world differently and they're going to have less to unlearn."
"We have to get back into our own bodies and figure out what the hell we want to do. And then the next step is doing it without explaining ourselves."
As the parent of a son as well as her two daughters, Melton emphasizes the importance of working out these lessons with all three of her children. "What I want to do as a mother — and what I'm learning for myself, and what I learned in my own marriage — is to create fully human, fully whole little girls, and fully human, fully whole little boys, and to erase these ideas of femininity and masculinity. I actually think that we're all a huge mixture of femininity and masculinity, and I think we're moving towards a place where we're all going to understand that sexuality and gender are on a spectrum. The most powerful people are going to be those who understand that we are not either/or."
It's this feminist take on mothering that most drew me into Love Warrior in the first place. For Melton, motherhood is a feminist act — and as a Millennial who sees myself and many of my peers struggling to reconcile the act of mothering with our own feminist identities, this discussion is one of the things that makes Love Warrior an absolute must-read. "Everyone needs to define what feminism is for herself. So for me feminism can only be a woman who is unapologetically true to herself," says Melton. "If what you want is to be a mother then feminism is becoming a mother. And if that's you, then what you figure out is that creating the next generation — and fulfilling one of your own deep desires — can be totally freaking subversive. If your culture is telling you it is not feminist to do this, then it might be the most rebellious thing you can do. But feminism is also a woman who doesn't want to do that."
"Maybe the yes comes before the readiness. Maybe you say yes and then you become equipped to handle whatever is about to happen."
"I just think there are as many different versions of feminism as there are women. Feminism has to be defined as freedom. And if you're not free to do what the hell you want to do because you're trying to either match or rebel against culture, then I don't even understand your feminism," she says.
So yes, according to Melton, you can definitely be both a feminist and a mother (at the same time!) — if that's what you want. And she is definitely both. "I want to constantly be involved in the fight [for women's rights]. I want to be in the fray. I want to constantly be calling attention to inequality. I want to be marching. I want to do all the things. And I also want to be making chicken nuggets and raising little feminists."
But the key to figuring all that out is to learn how to start listening to your body again — something Melton herself had to learn and re-learn how to do, and something she sees other women struggling with every single day. "We don't know how to listen to ourselves at all. We don't know how to trust ourselves. We don't know how to pay attention to what's going on in our bodies. We don't know how to use our bodies as guides. We've been told to be selfless for so long that when asked what we want, we don't know. We just override the body because we don't trust it."
"I just think there are as many different versions of feminism as there are women. Feminism has to be defined as freedom."
But before you start listening to your body, you have find the space and quiet be alone with it. Melton references some key ideas from Virginia Woolf's A Room of One's Own , saying: "Just be still. Just get quiet enough each day so that all the voices of the culture are shut out. You have to find time when it's silent and you're going inward, because if you don't you will never know where you begin."
Melton definitely sees this listening as an ever-evolving undertaking, one we'll always be learning how to do, and do better, throughout our entire lives. "That's what Love Warrior was about for me — it's about a little girl trying to unlearn what the world told her about how she should be herself. It's about stopping the frantic search outside of ourselves and figuring out how to go inward. We have to get back into our own bodies and figure out what the hell we want to do. And then the next step is doing it without explaining ourselves."
You also have to be willing to show up for your dreams unprepared. "Maybe the yes comes before the readiness," Melton says. "Maybe you say yes and then you become equipped to handle whatever is about to happen — and I think that's just how I'm living my entire life now. What I'm figuring out is that every woman or man doing any kind of self-healing, or world healing, or bad ass work is just showing up totally unprepared and scared."
Love Warrior isn't Melton's only venture into baring her soul on the page. Her first memoir is the New York Times bestselling Carry On, Warrior , which focuses on similar themes of family, friendship, and feminism, and was published in 2013. She's also the founder of Momastery.com, an online community for sharing stories, concerns, and ideas about mothering, womanhood, and faith. And she'll still tell you: writing a book is not easy. "For me, all of my babies have been easier to bring to term than my books," says Melton, laughing. "I actually don't love writing books. I hated writing Love Warrior. I hated every minute of it. It felt so torturous. There is this quote my friend Cheryl Strayed said: 'Writing a book feels like you can't write a book.' That's how I felt the whole freaking time."
She believes that it's important for creative women to remember that once you put your art out into the world it is not your responsibility to follow that art around, protecting it and defending it and making sure it's understood by everyone. It's only your job to put it out there in the first place. "Creative people are simply meant to create things, and then put them out into the world, and then rest. And then create things, and put them out into the world, and then rest. There is no defending," Melton says. "Once you give your art to the world it doesn't belong to you anymore. You did what you needed to do and everyone gets to react to it, but now your job is to go create something else."
It's a distinction the memoirist has been able to make with her own writing. When asked about what role she hopes her memoirs play in the lives of women, Melton references a poem called Beautiful, Rowdy Prisoners by the writer Hafiz, who wrote:
The small manBuilds cages for everyoneHe knows.While the sage,Who has to duck his headWhen the moon is low,Keeps dropping keys all night longFor theBeautifulRowdyPrisoners.
It's a poem that Melton says gives her goosebumps every time she recites it. She also, in her reading of it, uses feminine pronouns. "When I listen to women, when I see women, when I feel their stories I also feel that they know they're beautiful, that they feel rowdy because they're not meant to be in all these little cages they're putting themselves in — that the culture is putting them in," explains Melton. "So all I want to do with my writing is to drop keys. I just want to live and speak and write with enough freedom that it feels like a key has been dropped there."
Glennon Doyle Melton's memoir, Love Warrior , is available now from Flatiron Books.
Love Warrior by Glennon Doyle Melton, $15.59, Amazon
Images: courtesy of Flatiron Books; Amy Paulson(2); YouTube