How To Style Ashley Nell Tipton's New Collection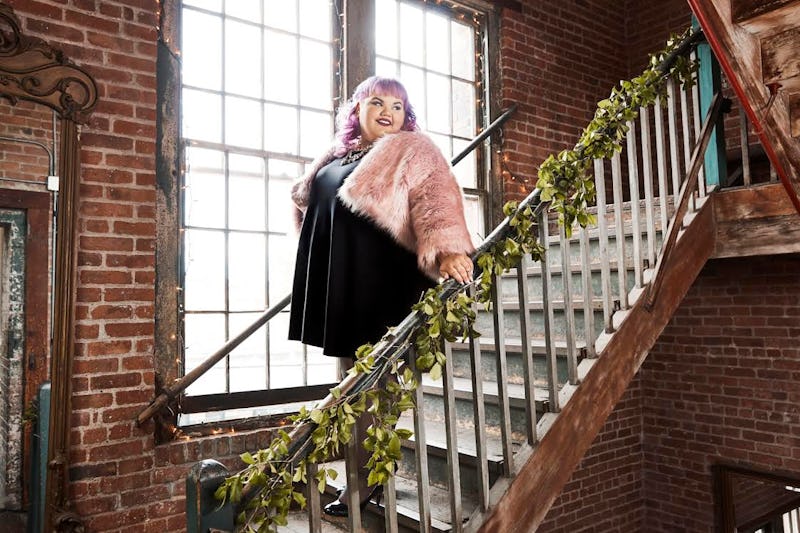 The moment that Ashley Nell Tipton won Project Runway will go down in history as a triumph for plus size fashion. She was not only the first plus size contestant on the show, but won the competition. Luckily for plus size fashion lovers, that moment was far from the high point of Tipton's career. She's designed two clothing collections for JCPenney's Boutique+ line, and has just introduced an Ashley Nell Tipton for Boutique+ holiday collection, set to hit stores on Oct. 28. Unsurprisingly, the nine piece line is everything you've ever wanted from a holiday collection — including plenty of glitz.
From pastel pink faux fur to all glitter everything, the new collection for Boutique+ doesn't just tick all the boxes for holiday wear, but stays in tune with all the trends of Tipton's designs. The collection references '50s style, as well as using pastels throughout. In fact, the plus size designer helps to make pastel as much a winter shade as it is a summer one.
With all nine items standing out as statement pieces, it may seem hard to decide which pieces from the collection to purchase, when to wear it and what exactly to wear it with. As much as a sequin crop top is a killer look, it may not be exactly comfortable to lounge around in after a big Christmas dinner. For advice on the how, when and where to wear her new line, Bustle spoke to Ashley Nell Tipton for some exclusive styling tips.
1. Friendsgiving With A Twist
Sequin Crop Top, $39.99 / Ball Skirt, $39.99 / nicole by Nicole Miller Drop Front Wallet, $20.00, jcpenney.com / Mixit Silver-Tone Moon Choker Necklace, $8.40, jcpenney.com / Belle + Sky Women's Pumps, $44.99, jcpenney.com
"This sequin top is one of my favorites! It brings just the right amount of glam to Friendsgiving and it's perfect for pairing with my hi-low skirt," Tipton comments in an email to Bustle. "Let the shirt speak for the outfit by going light in the accessory department. A cute choker and strappy heels is a great way to top off your look!"
2. Family Holiday Portrait
Ashley Nell Tipton for Boutique+ 3D Embroidered Cropped Sweater, $39.99 / Ashley Nell Tipton for Boutique+ Ball Skirt, $39.99 /nicole by Nicole Miller Piper Wristlet Crossbody Bag, $30.00, jcpenney.com / a.n.a. Stackable Ring, $10.80, jcpenney.com / Liz Claiborne Women's Pumps, $160.00, jcpenney.com
"I love being home for the holidays and being surrounded by my family. A house full of aunts, uncles and cousins makes me so happy," Tipton says. "For the annual holiday portrait, this cropped sweater is stylish while being festive and fitting for a family portrait. Add a little bit of edge by throwing on a ring or two, and add a strappy heel."
3. With Your Partner's Family
Faux-Fur Capelet, $74.99 / Swing Dress, $39.99 / nicole by Nicole Miller Crystal Gold-tone Stud Earrings, $7.20, jcpenney.com / Liz Claiborne Ankle Boots, $49.99, jcpenney.com
"It can be intimidating spending the holidays with your boyfriend's family, especially if it's the first time. I'm obsessed with this faux-fur capelet. It looks great on, feels amazing and will make a great conversation piece at the dinner table. Since this is such a statement piece — you need minimal accessories," she says.
4. Work Holiday Party
Lipstick Print Dress, $39.99
"I love the lipstick print on this dress! It's so fun and perfect for your work holiday party." Tipton comments, "I would definitely pair the dress with some cute tights and the right pair of heels for a retro holiday look."
5. Wardrobe Staples
Embellished Pearl Sweater, $39.99
"I took a classic silhouette with this sweater and wanted to find a way to make it stand out." Says Tipton. "The embellishment on each shoulder does just that! It adds a glamorous touch to a wardrobe staple. You can seriously pair this with a cute skirt or even a pair of jeans to jazz up your look!"
6. Chic Holiday Looks
Sequin Crop Top, $39.99
"I love a good crop top! I'm all about pairing it with a full skirt but also like the idea of styling it with a pair of high-waisted pants. Just throw a coat on for a chic holiday look." Tipton enthuses.
There's no need to worry over what to wear this holiday season — JC Penney and Ashley Nell Tipton have you covered. No matter what the occasion, there's no reason to not add a little sparkle to the whole affair.
Images: Courtesy JC Penney