When Will The Starbucks Red Cups Be Back For 2016?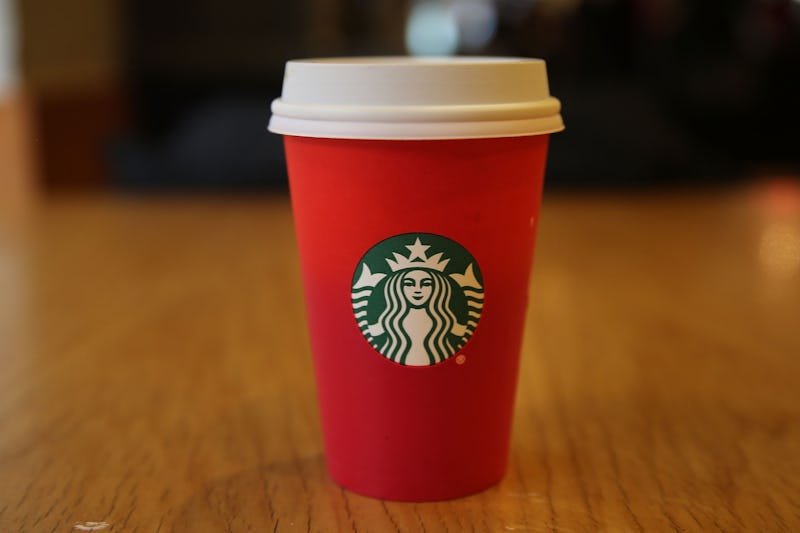 Spencer Platt/Getty Images News/Getty Images
If you are already roasting chestnuts on an open fire while listening to Mariah Carey's Christmas album on repeat, you've probably asked yourself when the Starbucks red cups will be back for 2016. For many of us holiday-lovin' caffeine enthusiasts, there is no better way to kick off the festivities than with a #redcup warming our hands. So when? When can we partake in the joy once more? The bad news is that a date hasn't been officially announced yet — but the good news is that, based on when they've appeared in the past, we can make a pretty solid educated guess on the return date of the mighty red Sbux cup. And if my predictions are correct, things are about to get a little more festive up in here quite soon indeed.
If, like Ebenezer Scrooge, we take a brief journey to Christmases past, we can see how Starbucks tends to time their seasonal releases. For one thing, they usually coincide with the day after a big holiday. Starbucks typically releases their Pumpkin Spice Latte the day after Labor Day, for example — and 2016 turned out to be no different, with the nationwide release of the PSL beginning Sept. 6 (though Starbucks rewards members and a few other enterprising individuals were able to order the special drink as early as Sept. 1).
Just as the PSL signals the start of fall, the red cups signal the beginning of the holiday season — and the arrival of the winter beverage list. (There is something comforting in knowing that like clockwork, Starbucks tends to be fairly predictable with their seasonal drink timing.) Usually, the start of red cup season falls at the beginning of November. in 2015, for example, red cups returned on Nov. 1, and in 2014, the big day was on Nov. 4. As such, it stands to reason that this year, the return date will likely be within that first week of November, too. Indeed, independent Starbucks fan site Countdown to #RedCups predicts that Starbucks will be rolling out their festive beverage menu Friday, Nov. 4 for the United States, Canada, and Australia, and Nov. 2 for the UK. (Again, though, it's a fan site, not an official Starbucks site, so it might be best to take the prediction with a grain of salt.)
Last year, Starbucks chose to forgo the classic winter-themed designs on their red cups, opting for a subtle ombre holiday cup. While it's what's inside the cup that really counts, this minimalist design unfortunately rubbed many coffee lovers the wrong way (where were the jolly snowmen? Or the plucky reindeer?). There's no word on whether the 2015 red cup controversy will affect this year's offerings, but whatever the 2016 design ends up being, I'm sure it's going to be fantastic.
Starbucks has been serving holiday drinks in special cups since 1997, and 2016 marks the 19th year of this tradition. And since November is coming, prepare yourself to ward off Jack Frost with a toasty cup of holiday cheer.
Images: Spencer Platt/Getty Images News/Getty Images; Giphy (2)