Wait A Minute, Kimmy Gibbler Has A Brother?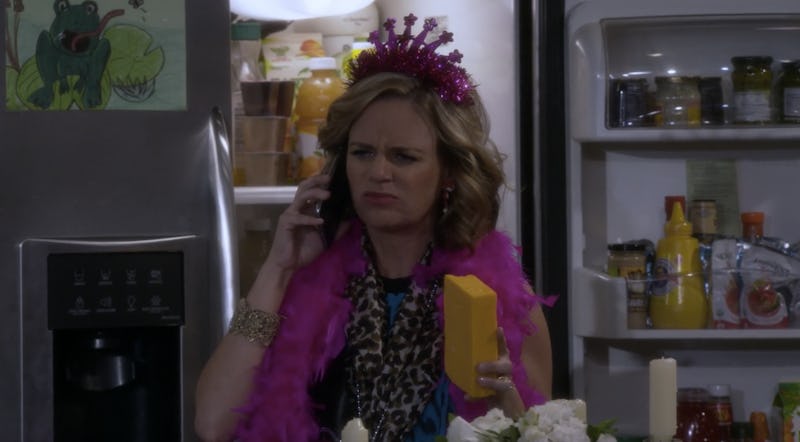 It looks like it's Gibbler Time on the next season of Fuller House. Out of thin air, Kimmy Gibbler's brother is making an appearance. Morever, Adam Hagenbuch, known for his recurring roles on Switched at Birth and Undateable, will be taking up the role as the aptly named Jimmy Gibbler. And while I don't have qualms with the casting, I have reserved a side-eye about why Fuller House is casting a brother for Kimmy Gibbler, as being wild and family-free seemed to be the initial foundation of her character.
And yes, why know that the Kimmy of 2016 has a daughter and on-again, off-again relationship with her ex-husband. But the Kimmy we see in the initial series sheds little light on her home life situation, and the leads to speculation that she needed to inject herself into the Tanner household to fill some kind of void. A bit dark from primetime TV, I know, and I'm sure you don't want to fall down that rabbit hole to recklessly. So before we proceed, let's look at what we actually know about the Gibblers... or rather, what little we actually know about the Gibblers from the early aughts of the original Full House.
Right off the bat let me ease your mind and remind you that there has never been mention of a Jimmy Gibbler in the original series. You're not going crazy, he didn't slip through the cracks like some non-Papouli Full House side relative. This is literally the first we're hearing of him. Kimmy has been more or less confirmed to have parents (instead of just being birthed from a gigantic seashell or something) and an older brother named Garth. In the pilot DJ mentions Kimmy has three sisters, but eh, it could've been a childish lie to procure her own room, and no substantial evidence exists. In short, the Gibbler family have gotten nothing beyond a passing mention or two at this point.
Which leads to a potentially concerning possibility: Kimmy's parents, for whatever reason, don't really care about her. Now, one could theorize that the other Gibblers are eccentrics like her and are fine with letting her roam around on her own while they're up to their own wacky misadventures. But what if it's more in the vein of, the Gibblers are just as annoyed with Kimmy as, well, everyone else is? And that's why they're fine with shipping her off to Disneyland with the Tanners, to grounding them at the full house instead of their own. What if the Gibblers just truly don't want to deal with Kimmy, choosing to neglect her?
Look, their absence in the show could've been a simple matter of budget constraints. The fact stands, though, that their complete absence from the original series suggests that Kimmy simply isn't close with them, and that would definitely explain why she leans so heavily on her friendship with DJ. It's why she would bust down that door to the full house every morning. And if that's the case, then how and why does a brother fit into this?
Well, the one clue we have about Jimmy may give us an idea. According to E! News, Jimmy is described as a, "male version of Kimmy." Now, if this means that their all-too-similar personalities have always clash in a hilarious way, then that would be a satisfactory explanation as to why we've never heard of him. Alternately, while getting accurate intel on Hagenbuch's age is difficult (his Explore Talent profile lists him at 25), it's safe to assume that he's younger than Andrea Barber. Imagining Kimmy with a baby brother she couldn't quite bond with during the Full House years, one that ends up with all her quirks, is also a comforting narrative I'd be willing to explore.
Ultimately there's not enough hard evidence to state that Kimmy couldn't have a brother named Jimmy, nor is there solid proof of a tumultuous home life. It just, if nothing else, seems incredibly suspect. However, this is the Netflix revival of a wacky, light-hearted ABC sit-com from the '80s. It's presented for nostalgia purposes, and the haziness of nostalgia doesn't need to bring up hard facts.
Whatever the case may be, meeting Kimmy's family in any context should be a hell of a ride for the Tanner household. And if he is anything like Kimmy... well, I would start dead bolting the kitchen door.
Images: Netflix (1); Giphy (3)