Who Is The Real Villain Of 'Fantastic Beasts'?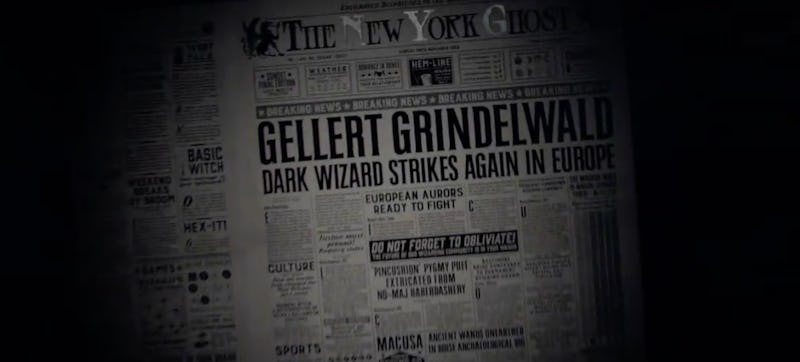 If you have, like me, been freaking out non-stop since the announcement that Fantastic Beasts and Where To Find Them will be a five film franchise, then buckle up: I have more exciting news for you. During the global fan event last week, director David Yates alluded to the fact that yes, Dumbledore and Gellert Grindelwald will be showing up and double yes: they'll be showing up as their younger selves. What do Dumbledore and Grindelwald's appearances in Fantastic Beasts mean for both the film and the franchise? Crucially, could Grindelwald actually be the true villain in this next phase of the Harry Potter film canon?
Well, we have a fairly good idea of how Dumbledore figures into Fantastic Beasts narrative. In early trailers, we heard Auror Percival Graves say that Dumbledore defended Newt Scamander from expulsion at Hogwarts. But we've always known the Dumbledore was a good guy, a great defender of his students. Dumbledore may actually play a similar narrative role in Fantastic Beasts as he does in the Harry Potter films: a sage counselor. While it will be exciting to see what a young Dumbledore actually looks like (in Fantastic Beasts, Dumbledore will be in his 40s), what's got me curious is how Grindelwald will actually figure into all of this mischief.
We know from Harry Potter and the Deathly Hallows that Grindelwald is considered one of the most dangerous Dark Wizards to have ever lived, second only (depending on who you ask) to Voldemort. Grindelwald was, additionally, very close to Dumbledore. While the upcoming films in the Fantastic Beasts franchise may include the conflict between Dumbledore and Grindelwald — one-time BFFs — I believe that Grindelwald may be set up as the true villain of the film franchise. In a similar vein to Voldemort's role in the Harry Potter films, Grindelwald's appearance is alluded to in the trailers for Fantastic Beasts. Grindelwald could be the unseen force lurking in the shadows, just as Voldemort was in the three Harry Potter films, waiting to appear at just the right time as the main oppositional force to Newt.
Newt, by mere association with Dumbledore, could pose a threat to Grindelwald. If Dumbledore and Grindelwald's conflict is brought to the big screen, then Newt could be drawn in as well to defend the wizard/mentor who once defended him. It's not the craziest idea, guys, so stay with me. We already know that Grindelwald's appearance is coming in one form or another. I doubt Yates would have confirmed that detail if his name was simply going to appear as a headline in newspapers. Right? I suppose we'll just have to see how things shake out when Fantastic Beasts hits theaters in November.