Is Rachel OK In 'Crazy Ex-Girlfriend' Season 2?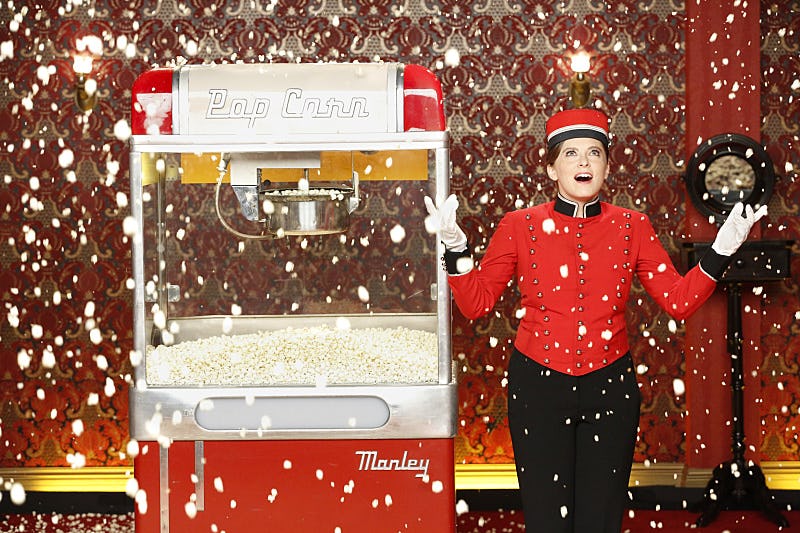 It may comes as no surprise that things are going to get even wackier for Rebecca on Crazy Ex-Girlfriend in Season 2, but with the release of the revamped intro theme song, we have a better idea of just how shaky the ground is for our fave ex-girlfriend. The new theme song has been a mainstay in reminding us each week (and perhaps reminding Rebecca, too, in meta fashion) of exactly why she came to West Covina. Now, in the newly released Season 2 theme song, it sounds like Rebecca is even further down the rabbit hole, continuing to mistake progression for regression.
The actual look of the theme song is aesthetically similar to a Golden Age MGM musical set-up. Rebecca and her chorus girls are are dressed in pinks and red, singing in high-pitched, ultra-feminine voices. Rebecca seems especially chipper, the kind of chipper demeanor she often assumes when she is actively trying to thwart people from assuming the worst. This, in and of itself, not only indicates that Rebecca's tendency to fantasize is still working overtime, but that she may still be on a hair-trigger to having her "normal girl" façade cracking at any moment.
Then, there's the lyrics. Oh boy. Take one look and you know that Season 2 is going to be chock full of very crazy moments.
I'm just a girl in love
I can't be held responsible for my actions
I have no underlying issues to address
I am certifiably cute and adorably obsessed
They say love makes you crazy
Chorus Girls: Therefore you can't call her "crazy"
So when you call her "crazy"
You're calling her "in love"
All is definitely not well in Rebecca's world and she still may be unwilling to acknowledge her deeper issues, emotionally and psychologically, as was part of her arc in Season 1. This manifested big time when, in the Season 1 finale, in a state of post-coital bliss, she told Josh that she did indeed move across the country to be with him. Remember the look of terror on Josh's face?
While the Season 2 trailer left us with the implication that Josh wasn't exactly running away in terror, that doesn't mean all is well for Rebecca. In the theme song, she is actively trying to dissuade viewers from thinking she is still unhinged or that she's here for the wrong reasons. Her chorus girls trying to re-define the word "crazy" to fit a more socio-normative vision but I think we can all agree: Rebecca is not pulling the wool over our eyes. And her overt attempt to tell us she has no more underlying issues to address? Yeah, I think she's definitely still running away from her problems and that's not a good thing.
So what actions will she be taking that she is asking us not to hold her responsible for? Is she going to fall deeper into the well of loved-up craziness for Josh, leading her to do more impulsive and possibly self-destructive acts? All I know is that the final word we heard in this theme song — "Blam!" — might actually give us the truest sense of Rebecca's state of mind when we join her in Season 2.
Images: Robert Voets/The CW; The CW Television Network/Youtube