Wait Until You See Dry Bar's New Merch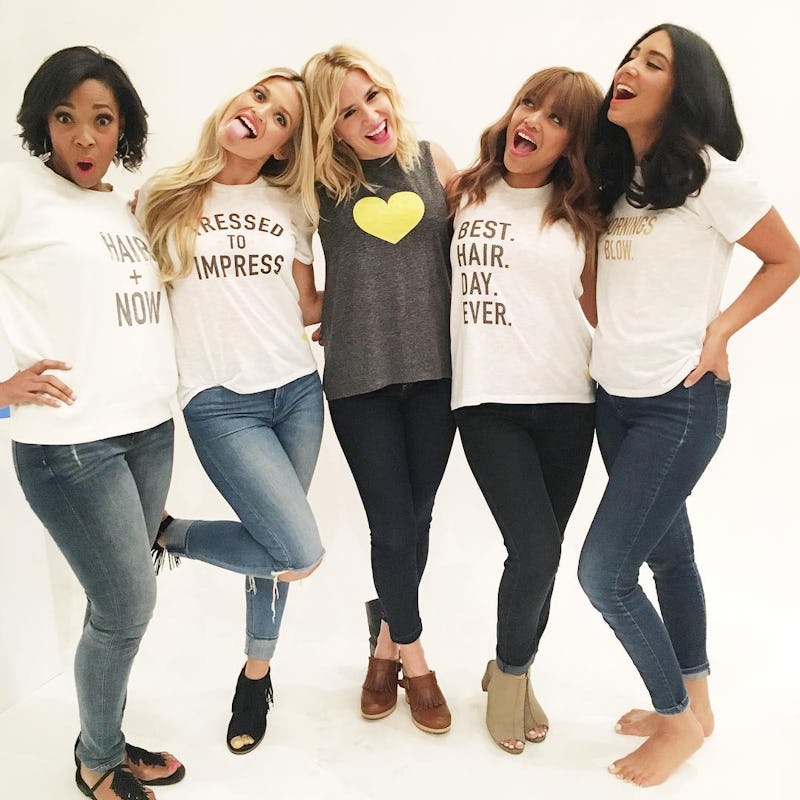 If you're a fan of treating yourself to a blowout, you may have been to the popular blow dry salon Drybar. Known for being able to get your hair done while sipping on mimosas and watching rom coms, Drybar is a godsend for many women across the country, and it just keeps on getting bigger. The salon is not only is adding more locations throughout the U.S., but recently launched a limited-edition clothing line to continue your Drybar obsession even after your salon visit.
Drybar already has a line of hair products that the stylists use in the salon that customers can also purchase to use at home for DIY blowouts. With fun hairstyle options, such as the big teased and curled hairdo called the Southern Comfort, and products, like their hairsprays called The Warden and The Sheriff, the company isn't shy to fun and sassy branding. To extend the Drybar brand, the company is launching a merchandise line that is available online and will be in stores on Tuesday, Oct. 18.
To show your love for Drybar, you can rock several items including tees, tanks, and a comfy pullover. You can even snag a cute cosmetics bag to hold all of your favorite Drybar items to style a blowout anywhere while you're on-the-go. Shop some of the best items from the limited-edition collection now at The Dry Bar.
1. Best Day Ever Muscle Tank
Best Hair Day Ever Tank, $33, The Dry Bar
Seriously, how many bad hair days do you really have? If you're loving your hair one day, you'll want to rock this tank that has a high/low hemline.
2. Big Hair Big Heart Pullover
Big Hair Big Heart Pullover, $53, The Dry Bar
Everything is bigger at Drybar, especially your 'do. Layer this pullover with a button-down — the neon yellow heart is also the cutest touch!
3. Hair Speaks Tee
Hair Speaks Tee, $40, The Dry Bar
Like Gretchen said from Mean Girls, sometimes your hair is "full of secrets."
4. Let's Blow This Town Cosmetic Bag,
Let's Blow This Town Pouch, $22, The Dry Bar
Travel with all of your favorite hair products with this stripped pouch with a dryer zipper pull.
5. Mornings Blow Mug
Mornings Blow Mug, $14, The Dry Bar
Start your mornings with this foiled gold mug.
Images: Courtesy of Drybar