Is There Any Hope For Chad On 'Scream Queens'?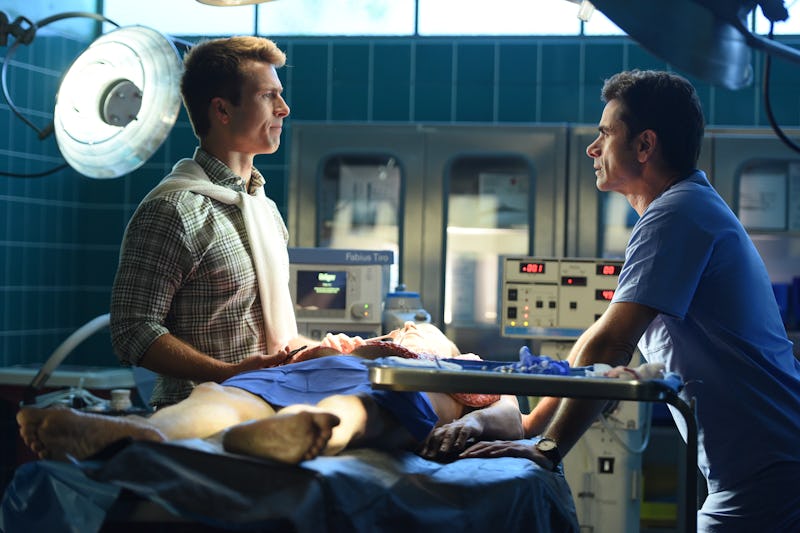 Ryan Murphy, why must you mess with my heart in such a cruel manner? In the second episode of Season 2 of Scream Queens, Chad Radwell made a dramatic return dressed up as the Red Devil (he has the best sense of humor, am I right?) and I quite literally jumped for joy because the season premiere had felt incomplete without him. Then, just one week later, the unthinkable happened. Chad proposed to Chanel in the most romantic way possible — by asking her to read and sign a detailed prenup, and the wedding was swiftly arranged. But, on their special day, things took a murderous turn. As Chanel waited for Chad at the altar, it appeared that he may have gotten cold feet... and then his dead body fell straight into the chapel and landed directly on top of Chanel. I may just be in denial (it's a natural part of the grieving process, guys), but is there a chance that Chad Radwell will return to Scream Queens?
Although it's not unheard of for Scream Queens characters to come back from the dead, in this case it's safe to assume that Chad is a goner. As much as I don't want to believe he's really dead, Glen Powell is no longer a series regular. Pair that with the fact that, three episodes into the season, all the major characters were still standing, and it does makes sense that Chad had to be the sacrificial lamb. Based on social media reactions, this turn of events has certainly riled up viewers in a way that the previous Season 2 murders failed to do. (Mainly because they were random CURE patients who got axed by the Green Devil approximately 10 minutes after we met them.)
But, that doesn't mean we've seen the last of this glorious character. A quick look at the episode 4 trailer and synopsis show that Chanel will ditch her typical Chanel-O-Ween tradition and, instead, attempt to "make contact with the killer's latest victim from beyond the grave." Will we at least get to see Chad's ghost and be allowed to say a proper goodbye? Although IMDb isn't a foolproof source of information, the cast list indicates that we'll get to see Chad one last time — according to the site, Glen Powell's last appearance as Chad will be in the Oct. 18 episode "Halloween Blues." And, as we saw in Season 1, ghosts are known to make appearances to Chanel — remember when Ariana Grande's deceased character showed up to warn the queen bee that she was in danger?
Don't get me wrong, Ryan Murphy, I still deeply resent what you put me through — but, if Powell was only available for a limited number of episodes, killing off Chad does make sense. The Season 2 main cast is significantly smaller than the show's freshman season, so it's way too early to start killing off major characters. Although there's been no shortage of bloodshed in Season 2, the victims have all been minor characters who we'd never even met before. Chad was a main player in Season 1, so his death came as a shock and packed a major punch.
Although this is a devastating turn of events, I suppose we can take solace in the fact that we'll very likely get to see Chad one last time in "Halloween Blues" — and, let's be honest, he's going to be the most hilarious ghost ever. So, I suppose that will maybe ease the pain just a little bit.
Images: Michael Becker/FOX; Giphy (2)